Hello Games on Thursday began taking preorders for No Man's Sky, its procedurally generated journey to the center of the universe.
No Man's Sky will become available for PlayStation 4 and PC on June 21 in North America, and on June 22 in Europe, priced at US$60 per unit. In addition to digital versions, physical releases will be available for consoles. The game will launch on June 24 in the UK priced at Pounds 50 for the PS4 version, and Pounds 40 for the PC.
Sky Watchers
No Man's Sky appeared seemingly out of nowhere one December evening during the 2013 VGX awards. Hello Games' Sean Murray nervously introduced the game, setting the unsuspecting industry abuzz.
Two years later, that buzz still surrounds the game.
During the announcement roughly two years ago, Murray shared Hello Games' vision of a game that will put players in the cockpit of a spacecraft, commissioned to find the center of the universe.
In the days that followed, it became clear why Murray was so nervous during his presentation. No Man's Sky is one of the most ambitious video games ever created, and it is being built by a team of fewer than 20 employees.
The magic behind No Man's Sky is a game engine carefully knitted with complex code that produces a massive, procedurally generated universe.
Stars and planets in the distance are more than a backdrop. Players can visit each one of them, whizzing around stars and seamlessly dropping planetside for excursions.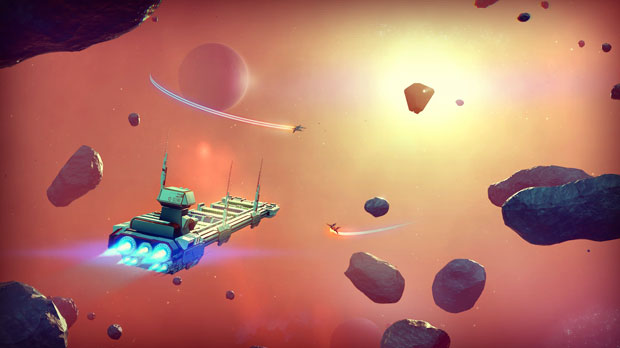 No Man's Sky is so big and so complex that Hello Games doesn't know for sure what's out there.
Some planets may look a lot like home, while others appear to be alternative versions of Earth, and still others may bear little resemblance to anything Earthlings have ever encountered or dreamt up.
"No other title offers such a huge open area to explore, and No Man's Sky, despite its relatively small team and budget, promises to be a landmark release in terms of procedurally generated content and open world gameplay," Schramm told TechNewsWorld.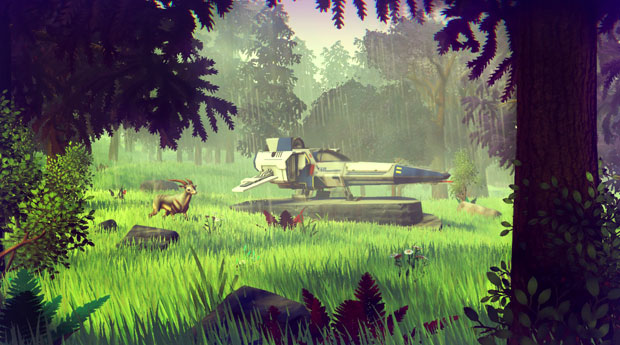 Gamers have been excited about the prospect of playing in a world populated by 18 quintillian planets, having the ability to search for resources on any of those heavenly bodies, as well as the chance to communicate with alien factions, noted Mike Schramm, head of the qualitative analyst team at EEDAR.
Ground Control
For No Man's Sky developer Hello Games, it may appear that the sky is the limit, but there is a lot riding on this venture both for the studio and partner Sony.
No Man's Sky is certainly Sony's most anticipated digital-first title, according to Schramm.
The game gives the PS4 "a nice mid-year and possibly even late-year advantage against other consoles," he said."The game is also priced at $60, which is relatively high for a digital release, but most players have agreed this week that the game is likely worth the money."
Although it may seem incredibly ambitious and promising, if No Man's Sky falls short of the hype generated for it in the past two-and-a-half years, its $60 price tag could do it a lot of damage.
There's the possibility that early reviews could be weak, and the game could miss its mark.
That "could happen if the game doesn't create enough compelling reasons to constantly explore its quintillions of worlds. The title could turn out to be less successful than Hello Games and Sony apparently plan it to be," said Schramm.
"If the title can deliver on its promises of creating an engaging and huge open universe, however, it will likely land as one of the most popular games of 2016," he added.
The price tag could be especially damaging for the PC version if the game should come across as being optimized for the PS4, suggested Rob Enderle, principal analyst at the Enderle Group.
"It really will depend on the level of promotion, though, and this falls in the epic game category," he told TechNewsWorld. "So with good promotion and good playability, it could hold price on both platforms."
A strong, field-tested exclusive will be important for Sony going out of the summer and into another holiday buying season, according to Enderle.
"With a lot of the emphasis falling off consoles this year, as VR begins to ramp up, it remains critical for these platforms to continue to demonstrate strong games to remain relevant," he said. "If this game is as good as it looks, it could do just that."