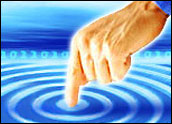 Today a tattoo is a popular way of showing off a little individuality, but historically tattoos were used as a form of communication. Roman soldiers and slaves were tattooed on the hands, arms or even face as a way to alert those around them to their status, allowing authorities to more easily keep track of those in bondage.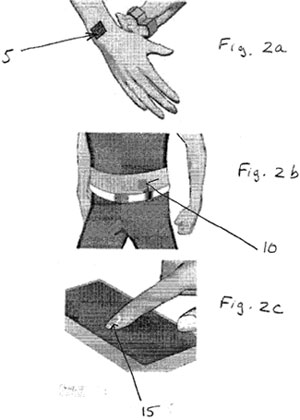 Fig. 2a is a diagram of an apparatus — that is, a material capable of detecting a magnetic field and transferring a perceivable stimulus to the skin — attached to a user's arm; Fig. 2b shows it attached to a user's abdominal area; Fig. 2c shows the apparatus attached to a user's fingernail.
Soon tattoos might be used for communication again — but for a very different purpose. Nokia has filed a patent application with the U.S. Patent and Trademark Office (PTO) for a magnetic tattoo that could alert the "wearer" to incoming calls or messages to their mobile device. The application was first uncovered by Unwired View.
While this may sound like science fiction, it is likely technology that will one day be commonplace — the question is when.
"All the mobile phone companies have R&D labs that look very far into the future," said Ian Fogg, analyst for IHS Screen Digest. "Typically, these patents are coming out of the longer-term development programs. Any practical applications may still be years off."
So, those eager to get inked and have their tattoo alert them to incoming calls should plan on waiting just a bit longer.
"This is ahead of where consumers are today," Fogg told TechNewsWorld.
From the Pocket to the Arm
The Nokia patent application is also an indication that technology that we now carry in our pockets could soon be attached to our bodies.
"I never rule out the prospect for any wearable or implantable technology," futurist Glen Hiemstra, founder of Futurist.com, told NewsNewWorld. "It is very hard to predict whether people would use it, but it is certainly a step in that direction. What we're seeing is a move from clothing-wearable to body-wearable IT devices, and I would assume there could be a market for that."
This could also be the beginning of implanted devices.
"Technology will get to the point where it will be implanted into your skin, in your ear or on your wrist," said telecommunications analyst Jeff Kagan. "This will change the way we interact with our devices and we won't have to carry them. But that's still several years down the road."
Nokia's Pre-emptive Move
There is also the possibility that Nokia has no intention of ever following up with this technology, but rather wants to ensure it benefits should another company or inventor cash in with an actual product at some point.
"It could very much be a pre-emptive measure," Kagan said to TechNewsWorld. "I don't think we'll see this on the market any time in the next six months or a year. But if they're patenting the technology, then that is a sign that industry in moving in that direction at some point."
Moreover, this may not just be about a tattoo, but rather the beginning of the convergence of a multitude of technologies. Factor this in with Moore's Law, which anticipates devices that are smaller, more powerful and cheaper, and the possibilities become quite interesting.
"You need to see the patent in the context of the convergence of multiple technologies," explained James Canton, Ph.D., CEO of the Institute for Global Futures.
"When you consider the nanobiology and synthetic biology applications, the possibilities of having a fully functional local device attached to the body becomes very likely," he told TechNewsWorld. "With this convergence, you start to see a new technology platform, one that could make mobile phones of today seem like a very minor story."
Uses and Acceptance
Another factor is going to be acceptance by the masses — it could be a long time before consumers head to their mobile carrier's store for serious body modifications. If the technology can provide a benefit, though, it shouldn't be hard to attract users.
"This is still two steps ahead of practical and personal applications," said Screen Digest's Fogg, "but looking back, 20 years ago a Bluetooth headset would have been very difficult to sell — and very few people would have said they would ever use it. Gradually, all sorts of these devices became acceptable."
Another possibility goes beyond communications to the world of entertainment, which could become all the more interactive.
"When considering its application, one must consider entertainment as well as telecommunications," said Josh Crandall of NetPop Research. "I can imagine this type of technology being used for tactile response from games, in particular. Perhaps it would spawn a new category for computer 'shock' games."
Before anyone expects Nokia to introduce a device — or Nintendo to incorporate this into the next game console — it is still worth remembering that it is just a patent application.
"There is a lot of technology that sci-fi talked about that exists now — and a lot that doesn't," said Kagan. "This is really on the bleeding edge."