Nokia on Tuesday unveiled the Lumia 625, its latest Windows Phone 8 device and the one with the largest screen so far — 4.7 inches.
Apart from that, it has little to distinguish it from other models in the Lumia lineup, and its 1.2 GHz processor appears weak beside the 1.6- and 1.7-GHz CPUs sported by some high-end smartphones.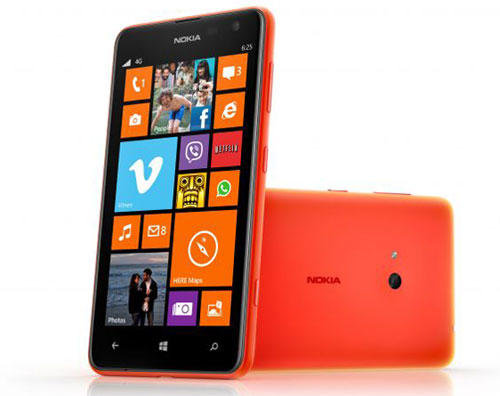 Nokia Lumia 625 Hero
The 625 "provides many innovations found in the recently announced flagship Nokia Lumia 1020 — including a range of integrated camera applications," Nokia spokesperson Chris Hollis told TechNewsWorld. "Combined with 4G speeds, the large display and an accessible price point, the Lumia 625 is another example of how Nokia is delivering leading smartphone innovation and experiences at every price point."
That's the same business model Samsung has adopted — throw everything at the wall and see what sticks — and it may be the new paradigm for smartphone manufacturers.
"OEMs are trying to get the price down and are experimenting with different features and different sizes," Vinita Jakhanwal, a research director at IHS iSuppli, told TechNewsWorld.
Features of the Lumia 625
The 625 will come with five brightly colored changeable shells — yellow, bright green, orange, white and black.
Lumia 1020 features that have trickled down include Nokia Smart Camera, which lets users remove unwanted objects from pictures, and Nokia Cinemagraph, which lets users add animation to still photos.
The Lumia 625 comes with the Lumia Amber Update: It includes Bluetooth 4.0 support and Glance, which lets users wake their smartphones with a double tap, and displays the time and missed notifications.
Live Tiles update directly to the home screen, and the 625 offers access to more than 165,000 apps including Vimeo, Temple Run and WhatsApp. It runs the Internet Explorer 10 browser and supports a 64-GB SD memory card.
The Lumia 625 will be offered in Asia, Europe, the Middle East, Africa and Latin America in Q3 for about US$290.
It's the Experience, Stupid!
The Lumia 625 has a 1.2-GHz dual-core processor, but smartphones with quad-core processors rated at 1.5 GHz or higher are now available from Sony, HTC, Pantech, Samsung and LG.
However, "the jury's still out on whether consumers will notice the difference," Ramon Llamas, a senior analyst at IDC, told TechNewsWorld. "What's important is not the specs — although I don't want to go back to a 400-MHz device — it's what the consumers get."
Does Size Matter?
Sales of devices with larger screens are increasing, as are those of devices with smaller-sized screens.
"One trend is that OEMs are experimenting with larger form factors because of the need to accommodate increased multimedia content and Web browsing and using mobile phones or smartphones as replacements for some of the basic stuff your laptop PC used to do," iSuppli's Jakhanwal pointed out.
"OEMs are no longer constrained by a form factor that requires a physical keyboard, and they can use new touch features such as zoom," she noted.
The other trend is emerging in developed countries where the smartphone market has been saturated, Jakhanwal said.
OEMs are experimenting with smaller sizes — between 4 inches and 4.5 inches — "because the argument is that these are easier to carry, put in users' pockets, and have better portability and usability," she pointed out.
While there's a trend toward bigger screens, "most users will be choosing screen size based on their requirements when the novelty of that wears off," said Boris Metodiev, a senior analyst at the Yankee Group.
The experience with larger screens "is an eye opener" for consumers who have previously had smaller smartphones, he told TechNewsWorld.
The 625 will "be a good proposition in emerging markets because of its price," Metodiev continued.
Further, it "should be popular with mobile operators in general," he said, "because it is one of the cheapest with LTE capabilities, and operators have been trying hard to promote their 4G services."