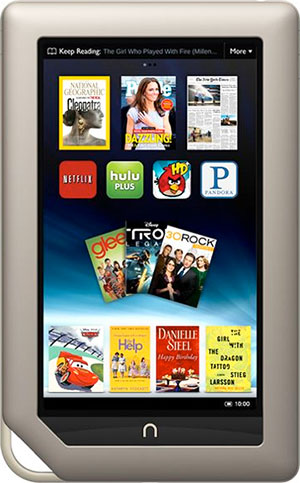 The Nook Tablet
Bookseller Barnes & Noble expanded on its Nook line of handheld devices and unveiled the Nook Tablet on Monday.
The company also announced upgrades to its Nook Color, a device that was previously offered as its entry into the tablet market, and its Nook Simple Touch e-reader.
The Nook Tablet, which is available for pre-order online and at the bookseller's stores, is priced at US$249 and is scheduled to ship by around Nov. 17.
"When it comes to all consumer electronics across all segments, the sweet spot for the average selling price is $200 to $250," Michael Morgan, a senior analyst at ABI Research, told TechNewsWorld.
"I suspect this price point will resonate for consumers," Morgan added.
"We took all the past 12 months' learning [since launching the Nook Color last year] and put it into this new device, and so we're furthering our device," Theresa Horner, vice president of digital content at Barnes & Noble, told TechNewsWorld.
What the Nook Tablet's Got
The Nook Tablet has a 1 GHz dual-core processor, 16 GB of storage and 1 GB of RAM, Barnes & Noble said. Its battery handles 11.5 hours of reading time or nine hours of video viewing.
The device runs Barnes & Noble's customized version of Android Gingerbread.
The Internet radio app Pandora is preloaded on Nook Tablets; Rhapsody, Grooveshark and MOG are available with free 14-day trials. Nook Tablets also have built-in music players so owners can listen to stored music.
The Nook Tablet has a 7-inch VividView screen from LG Electronics; comes preloaded with Netflix, Hulu Plus and Pandora; and will offer "thousands" of Nook apps, including the ubiquitous "Angry Birds," "Rio," "Scrabble" and "Ms. PacMan."
Other content includes more than 250 newspapers and magazines available through the Nook Newsstand. These include Time Magazine, People and National Geographic.
Apps for kids, such as Drawing Pad and Dr. Seuss's Cat in the Hat, are also available for the Nook Tablet, and more are on the way.
The Nook Tablet also lets users browse the Internet, and it comes with built-in email capabilities. Owners can share books and browse and borrow books from Nook friends, and users' content is stored on the Nook Cloud.
The Other Nook Products
The Nook Color will get what Barnes & Noble calls its largest software update ever in December. The company also officially slashed the device's price to $199 as of Monday.
The software update will be performed over the air. It will provide access to Netflix and Hulu Plus, music services, and the apps currently offered on the Nook Tablet.
Given that the $199 Nook Color will get access to many of the same apps and media as the more expensive Nook Tablet, why would a user choose to fork out the extra $50 for the latter?
"The Color is still going to do rich media, it's just that the Nook Tablet is designed to optimize that experience," Barnes & Noble's Horner said. "Programs and content will open faster, and you can switch back and forth between applications with ease."
Further, Horner said, the Tablet has twice the onboard memory the Color has, its processor is twice as fast, and it weighs less — about 14 ounces as compared to the Color's nearly 16 ounces.
The Nook Simple Touch has been upgraded with what Barnes & Noble claims is the market's most advanced e-ink display, with page turns 25 percent faster than other E-ink products on the market.
The device's battery life has been extended further.
Taking On Amazon
Monday's announcements place Barnes & Noble squarely in competition with Amazon.
In September, Amazon announced the Kindle Fire together with three other devices in the Kindle family, at different price points.
"This tablet market is becoming strategically important to both Amazon and Barnes & Noble because they've learned, by having their first round of products out there earlier, that they can sell content and they can sell it in their stores," ABI's Morgan pointed out.
"More books are being sold in e-reader format than in paperback," Morgan added.
In its earnings report for Q1 fiscal 2012, released in August, Barnes & Noble stated that the consolidated Nook business across all its segments, including sales of digital content, hardware and related accessories, increased 140 percent in the first quarter to $277 million. Traditional physical book sales fell during that period.
The company expects the consolidated Nook business will total $1.8 billion this year, double the $880 million chalked up in FY 2011.
However, the Kindle Fire, which has experienced strong demand, is priced at $199 — $50 lower than the Nook Tablet.
Barnes & Noble is also implementing its own version of Apple's Genius Bar concept.
"We've just announced our digital boutiques, which will be in 700 physical stores nationwide, and customers can come into these boutiques and get free support without making an appointment," Barnes & Noble's Horner said.