Barnes & Noble on Friday announced a software update enabling its Nook HD and Nook HD+ devices to access content at the Google Play store. This opens the Nook to more than 700,000 Android apps and games, as well as millions of songs. Nook users will also get Google services with the update, including the Chrome browser, Gmail, YouTube, Google Search and Google Maps.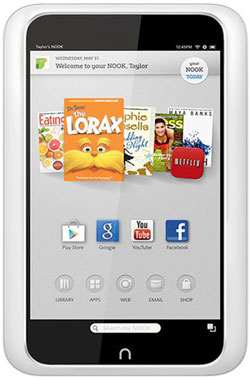 One app in particular may be game-changing. Users now can install the Amazon Kindle app on a Nook, which means B&N loyalists will be able to buy e-books from Amazon.
Barnes & Noble declined to provide further details.
New Page for B&N
Barnes & Noble has slipped out of the top five rankings for tablet makers, according to IDC, claiming just 1.9 percent share of the worldwide tablet market. Apple, Samsung, Asus, Amazon and Microsoft now hold the top positions.
B&N has been aggressive in its pricing; the Nook HD is now available for $199, while the Nook HD+ starts at $269.
B&N launched the HD versions of the Nook last September, in an effort to take on Amazon's Kindle Fire and other tablets. Like Apple and Amazon, B&N relied on its own content ecosystem. This latest update repositions the tablet as no longer confined to a walled garden.
"It definitely makes the Nook a stronger play as a general purpose Android tablet, rather than being primarily a reader," said Charles King, principal analyst at Pund-IT.
"B&N is under pressure from a number of fronts. This could make the Nook a more attractive product, but whether it is enough to revive B&N's fortunes is anyone's guess. The growing popularity of the 7-inch tablet, including Google's Nexus, is proof that these can successfully be used as readers," he told TechNewsWorld.
The addition of Google Play certainly could help the Nook, but it may not be enough to effect a total turnaround, as the market remains highly competitive.
"Barnes & Noble is pretty far out of the money with the Nook," said Roger Kay, principal analyst with Endpoint Technologies Associates.
"Android has shown that a Google platform can level the playing field for hardware makers," he told TechNewsWorld. "This move seems pretty 'Hail Mary-ish,' but it might be Barnes & Noble's best option."
Laying the Cards on the Tablet
What the addition of Google Play certainly indicates is that B&N needs to do much more than just cater to the faithful.
"We have to look broader than that," said Rhoda Alexander, senior manager for monitors and tablets at IHS iSuppli.
"If you look at the approach that both B&N and Amazon took as spinoffs from Android, they were both locked out of Google Play in the beginning, so it makes sense that B&N is relooking at this," she told TechNewsWorld.
"We have seen the vendors had offered more silo devices with 'my device, my content.' Now the vendors are stepping back and providing devices that are more open," Alexander pointed out. "This device provides that broader access without limiting the content that B&N provides, so really it is a best of both worlds situation."
Will Amazon Redirect Its Flow?
Given that B&N's Nook devices will now be able to support Kindle content, does this place Amazon in a difficult position?
"It places more pressure on Amazon, which basically took the Android OS and branched off as their own branded product and branded app," said King.
"With the profile of B&N doing this, it also opens the door for other third-party developers to leverage Google Play, and that could change the marketplace," he suggested.
"Amazon is the 700-pound gorilla in the reader market, but their enthusiasm in the tablet platform has lagged behind Google, so it is possible that they might pursue a strategy similar to what B&N doing," King told TechNewsWorld.
On the other hand, Amazon could simply keep doing exactly what it has been doing all along.
"If you look at where Amazon and B&N were, Amazon was further down the road, so they have the option to do other things," said Alexander. "Amazon could still choose to stay with the silo approach, but it is possible they would make a similar move themselves."