Nvidia offered a bold new strategy at this week's International CES in Las Vegas. The company, which has been a leader in hardware graphics technology for decades, recently has expanded into the realms of artificial intelligence, deep learning and automotive tech.
Graphical support and video delivery will however remain a key component of the company's strategy, according to Nvidia CEO Jen-Hsun Huang.
Nvidia's GeForce NOW Service will expand to millions more PCs and Macs, he announced in his keynote address at CES.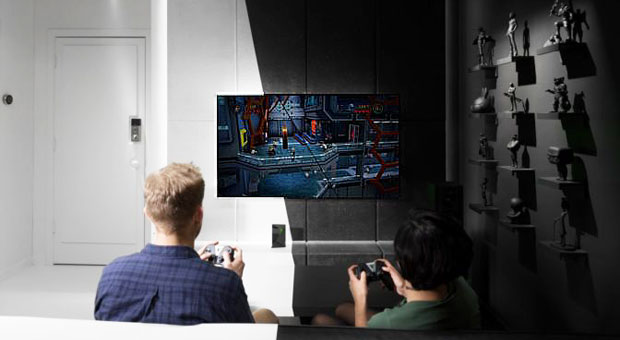 Huang also launched a new version of Shield — Nvidia's streamer technology. Shield is at the very center of Nvidia's home AI strategy. It is the first third-party Android TV device to feature support for the hands-free Google Assistant, Huang said.
The open platform Shield will support 4K HDR casting via Nvidia GameStream, and allow gamers to access on-demand PC games, including Ubisoft's catalog of AAA titles, as well as the vast library of new Android games.
Shield, which is optimized for TV, allows users to control various smart-enabled devices via voice commands. It is designed to learn and adapt to the user's lifestyle.
Shield already allowed conversational searches. It now can respond to users' voice requests to turn on or turn off lights, change TV channels, adjust the thermostat, and even call for an Uber.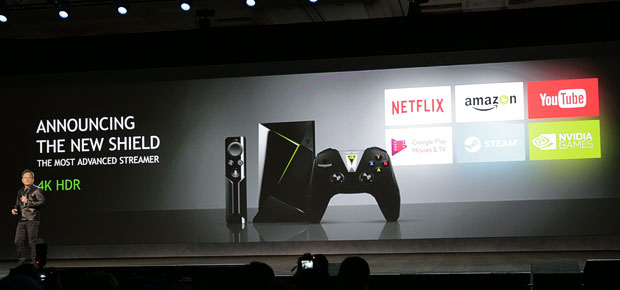 Nvidia on the Road
The other half of Nvidia's new wide-reaching technology strategy is built around BB8, the company's in-development self-driving car, which is outfitted with the Drive PX 2 AI self-driving computer.
In a demo video, it negotiates stop lights, stop signs and intersections, and even makes its way to the freeway before handing control back to the human in the driver's seat.
BB8 runs on Nvidia's DriveWorks software, which was developed over the past 18 months to run on its PilotNet deep neural network. It allows the car to drive safely in complex and dynamic environments.
The AI Co-Pilot software uses natural speech recognition to pick up spoken commands, while face recognition technology allows the vehicle to set personal preferences.
Nvidia isn't hitting the road alone. It is working with mapping companies Here and Zenrin, Huang noted, as well as two of the world's leading automotive supplies, ZF and Bosch. Audi's showcase vehicle also runs with an Nvidia car computer.
Different Strategies
Nvidia's moves into automotive, gaming and home tech may seem unconnected — but such an expansion strategy is not unprecedented. Many tech companies have ventured beyond their respective core businesses.
Google is no longer just a search engine company, for example, and Samsung did not start out as a TV and smartphone maker. It actually began as a trading company and was focused on food processing and textiles before entering the electronics industry in the 1960s.
"Essentially, Nvidia is looking at diversifying and moving away from pure computing and gaming hardware," said Scott Steinberg, principal analyst at TechSavvy Global.
"They are expanding to other areas of the tech world as tech permeates more parts of our daily world," he told TechNewsWorld.
Nvidia's growth is a logical extension of a core strength, observed Roger Entner, principal analyst at Recon Analytics.
"It is their key competency in display technology that is allowing them to extend to different markets," he told TechNewsWorld. "That is the one thing that links this together but also differentiates them from a Samsung, which makes so many different things."
Bold Move
However, the fact that Nvidia is developing AI is a bit of a departure for a company that was known primarily for graphics.
"Nvidia has been bolder than, say, AMD in branching into new businesses," said Roger Kay, principal analyst at Endpoint Technologies Associates.
"Jen-Hsun Huang has a great degree of confidence in himself and his company, and therefore is willing to take risks others might not," Kay told TechNewsWorld.
Those risks limited, though, suggested TechSavvy's Steinberg.
"This is just a case where the company has identified some of the biggest markets and is expanding in those directions," he suggested.
"Tech companies need to move with the market, and the market now moves at light speed," Steinberg observed. "Many companies now expand into areas we may not be aware of, so it is natural that Nvidia is expanding their reach."
A Stretch Too Far
The question is whether Nvidia can be taken seriously as both a gaming hardware and automotive technology maker. As Apple, Microsoft and Google have shown, it is possible to move in multiple directions successfully. Whether Nvidia can be as successful as those other tech giants is the question.
"Gaming is, of course, a strength for both Nvidia and AMD — but automotive is a pretty big stretch, as is TV," said Kay.
"There's no doubt that graphics engines and ARM cores will find their way into many new areas, including those — as well as robots, AI, VR and cloud computing," he said.
"Nvidia is positioned to address these opportunities primarily through partners, who would use Nvidia engines in their environments," noted Kay. "In other words, Nvidia won't become a car company, but it will sell chips to car companies. And why not? It just has to beat the competition."