Nvidia has launched the first graphic processing units (GPUs) based on its next-generation Kepler graphics architecture, which offers the promise to deliver superior gaming performance, according to the company.
One of the key components of video games on the PC is, of course, the graphics, and as long as there have been games, there have been attempts to take video performance to the next level.
The Kepler graphics architecture is reportedly the result of more than 1.8 million man-hours of work over the past five years. Designed for gaming PCs, the chips include the Nvidia GeForce GTX 680 GPU for desktops, and the GeForce 600M line of GPUs for Ultrabooks.
"The Kepler architecture stands as Nvidia's greatest technical achievement to date," said Brian Kelleher, senior vice president of GPU engineering at Nvidia. "It brings enormous performance and exceptional efficiency. Gamers will love the GTX 680's performance, as well as the fact that it doesn't require loud fans or exotic power supplies. Ultrabook users will love the GT 600M family for its performance and power efficiency."
Will PC Gaming Get a New Life?
The Kepler architecture could also give PC gaming a boost. The platform had seen a decline as gamers moved to video game consoles such as Microsoft's Xbox 360 and Sony's PlayStation 3 — and even to mobile devices. However, the rumors of PC gaming's death have been — to paraphrase Mark Twain — greatly exaggerated.
"If anything, PC gaming when you include casual games is growing," said video game analyst Mark Baldwin of Baldwin Consulting. "The casual games don't push the graphics too much, but these have encouraged people to consider the PC as a platform."
Interest in graphics could also change in the post-Flash era on the Web.
"I think HTML 5 will push graphics a bit further, and these chips will take advantage of that," Baldwin told TechNewsWorld.
Attracting the Masses
There is also another area where PC games continue to attract crowds — the massively multiplayer online roleplaying games (MMORPGs). These online games, which include such addictive titles as the long-reigning champion "World of Warcraft" and the recently released "Star Wars: The Old Republic," have continued to capture a dedicated following.
"The massively multiplayer games are pushing graphics and those are very much in the PC markets," noted Baldwin.
Nor could consoles ever fully overtake this market.
"There are games on consoles, but the interface and keyboard required make the MMORPG really a game that you must play on the PC, and that's where the market is," Baldwin pointed out.
Game On
Beyond the MMORPGs, PC games are ever becoming more demanding with graphics, and this is a market that has long been willing to pay for the best performace.
"Enthusiasts are the type of people that will spend money on their systems," said Wanda Meloni, founder and senior analyst at M2 Research. "Pricing is a huge component, and we've seen a substantial drop in the cost of these components. It is a more attractive price than a decade ago."
In fact, while the GeForce GTX 680 GPU costs US$499, this price is actually a decrease from the cutting-edge chips of just a few years ago. Gaming PCs, which once costs several thousand dollars, have fallen sharply in price, and this has allowed more people to get a "dream machine."
However, cost will be still be a factor for those on a budget.
"It is still more expensive than the $600 … that the Sony PlayStation costs," said N'Gai Croal, chief consultant for Hit Detection.
"Clearly, price sensitivity is going to matter," he told TechNewsWorld, "except for those who want the PC experience with those games you can't get elsewhere."
PC Entertainment in the Living Room
One long-cited reason for the decline of PC gaming was that the console systems brought gaming to the living room, while the PC was still a system used on a desk in the bedroom or den. With Nvidia GPUs heading to Ultrabooks, come new possibilities for the PC to compete with consoles on their "home turf."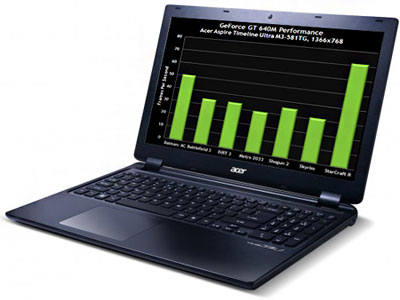 Nvidia's new range of laptop GPUs will debut in the Acer Aspire Timeline Ultra M3.
This could be especially true as the Xbox 360 and PlayStation 3 show their age. By some accounts, these systems have squeezed out what can be done graphically. With Kepler, the PC could get a jump.
"This is really going to be an opportunity for the PC to build and prove that it is a strong gaming platform," said M2's Meloni.
The fact that many new games have been coming out for both consoles and PC — notably the latest "Call of Duty: Modern Warfare 3" from Activision and "Battlefield 3" from Electronic Arts — shows that PC gamers have an edge.
"These games are just more exciting to play on the PC," said Bryan Del Rizzo, manager of GEForce and consumer desktop products at Nvidia.
"There is also a great synergy across these platforms," he told TechNewsWorld, "and the PC systems can be hooked up to a big screen TV to really provide a great experience."