President Obama on Monday announced US$240 million in new pledges from private businesses, schools and foundations across the country for STEM (science, technology, engineering and math) education.
The president also announced that a national goal set four years ago to provide 98 percent of Americans with high-speed wireless Internet has been reached ahead of schedule.
The occasion for the announcements was a formal gathering at the White House after Obama met with more than 35 student teams exhibiting projects at the White House Science Fair.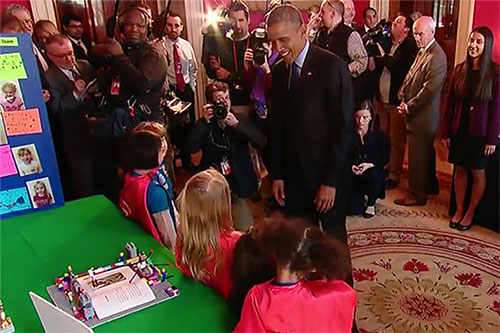 President Barack Obama speaks with the youngest exhibitors at the 2015 White House Science Fair.
That broadband project allows young scientists and entrepreneurs — and others — to access the Internet from almost anywhere in the country.
"That is a big deal," the president said, adding that the administration planned to make broadband access an even bigger deal in upcoming years.
As part of that effort, he signed a presidential memorandum creating a new group, the Broadband Opportunity Council, led by the Commerce and Agriculture Departments. Leaders from 25 government agencies and departments will work with businesses and communities to encourage investment in next-generation Internet nationwide, and to reduce barriers to its deployment.
"This is not only going to be a key for your ability to learn and create. It is also a key for America to compete and lead in the world," Obama told the students at the event.
The president's actions will help address a worsening STEM skills crisis that "threatens the economic vitality and well-being of our nation," according to Vince Bertram, president and CEO of Project Lead The Way, a national nonprofit organization dedicated to STEM curriculum and teacher training.
"We must prepare our students — at the earliest grades possible — for the next generation of STEM-related jobs through integrated, project-based learning that equips them with not only STEM knowledge, but also critical-thinking, problem-solving and collaboration skills," he told TechNewsWorld. "The president's STEM initiative is an important step in bringing organizations together from across all sectors to help solve this crisis."
Funding Windfall
The additional $240 million in STEM funding brings to $1 billion the total financial commitment to the Educate to Innovate campaign, launched five yearsago. The money will help more than 1.5 million students at 120-plus universities to help train 20,000 new engineers to tackle the toughest challenges of the century.
"No person in America should miss out on the chance to excel in these fields just because they don't have the resources," Obama said.
Those critical resources must be available in early education, observed Mellissa Morrow, career and technical education curriculum director for Florida Virtual School. Students are most likely to become interested if they have the opportunity to explore STEM careers early, as part of a Kindergarten-12 curriculum.
"In fact, students need to have the opportunity to build skills in networking, cybersecurity, programming and Web developing before they even enter high school," Morrow told TechNewsWorld. "Then the interest must be actively nurtured. Studies have shown that 60 percent of students who enter high school with an interest in a STEM field like high-tech lose interest by graduation."
Lukewarm Reactions
Despite the administration's enthusiasm, neither students nor employers so far have embraced the STEM program fully.
STEM is limited because it focuses on particular segments of student achievment while ignoring others, suggested E. Michele Ramsey, associate professor of communication arts and sciences and women's studies at Penn State Berks.
"We need all disciplines to best educate our students," she told TechNewsWorld. "Data suggests two things: We perhaps do not need more STEM education; and the types of skills that employers most often actually ask for and complain many students do not have upon graduation" are not provided by STEM.
STEM learning is simply not as clear an issue as industry would have us believe, Ramsey explained, and if you flood the market with STEM majors, then wages go down.
"If there was really a STEM employee crisis, we would see wages in STEM going up dramatically right now, but that is not happening," she said.
Missing Its Mark
Part of the issue over STEM's long-term success is localized with student interest rather than potential employers, noted Ramsey. The skills that have the most support are grounded in liberal arts and communication courses.
"With the job market changing as technology changes, students steeped in soft skills have transferable skill sets," she explained. "They did not just learn how to do one thing, making them quite adept at shifting with the changing winds of the job market."
As many as 50 percent of STEM graduates actually did not have a job in a STEM field, one study shows. On the flip side of this issue is the oft-repeated claim that the liberal arts have little to offer students or employers.
However, "if you look at the data — and it has been pretty consistent for the over 20 years I have been teaching — STEM skills and knowledge are not the top attributes employers say they actually want in students. In fact, they point to skill sets most often, though not only, perfected in liberal arts majors. … Communication, both written and oral, is generally at the top of that list," Ramsey said.
STEM Counts
Still, President Obama's efforts to boost funding efforts for STEM are significant and necessary, said Jonathan Hill, associate dean of Pace University's Seidenberg School of Computer Science and Information Systems, and codirector of the STEM Center Collaboratory at Pace.
"The administration's emphasis on STEM has helped to drive awareness among schools, universities, industry and parents about the need for better, more inclusive STEM education," he told TechNewsWorld.
"Consistently good STEM education — the kind that helps students over their math-phobia, engages them in science labs where they can do grade-appropriate research, and allows them to use their computers as more than texting tools — requires investment," Hill maintained.
Just as investment in more-effective teaching pedagogy is needed, he said, so is investment in modern, tech-enabled classrooms — as well as investment in the kids themselves, he said. Only then will students have the opportunities to gain the skills needed to land the jobs that a STEM-based economy will create in the years to come.
Changing Times
The United States has experienced a shift from a national analog industrial economy to a global digital information economy.
U.S. social institutions — including education, finance, government, media and health — were created for the former, observed Patrick R. Riccards, director of the Woodrow Wilson National Fellowship Foundation. That's a problem, because Americans live in the latter, in a society that demands we transition from the models of the past to those needed today.
"This is particularly true in education," he told TechNewsWorld.
"As a sector, we have been reluctant to embrace change, whether in the form of research findings, shifting demographics, technological advances, or similar triggers that demand change in other fields. Even as our methods of old work less and less well than they did previously, we have too often resisted the necessary transitions," Riccards explained.
"Slowly, though, we are seeing a transformation in public education. This has been particularly true in the ways we prepare children with the science, technology, engineering, and math skills they will need to be college and career ready," he pointed out.
If we truly see STEM as our future, the focus must be on developing a generation of excellent STEM educators for our schools — particularly our high-need schools, Riccards urged.
All the love in the world for STEM is meaningless, he said, if schools are staffed by ineffective teachers who are not truly versed in the STEM disciplines.