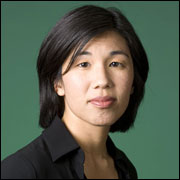 The Obama administration appears to be sending a message to privacy advocates that it's taking their issue seriously by creating a new position devoted to it — and choosing a high-profile tech lawyer to occupy it.
The White House reportedly is tagging Nicole Wong, Twitter's legal director for products, for a top privacy post — either as a chief privacy officer or as a senior advisor to federal Chief Technology Officer Todd Park.
The White House and Twitter did not respond to a request for comment for this story.
News of Wong's pending appointment was first reported by CNET, which initially said Wong would be hired as chief privacy officer but later changed the position to senior adviser to Park.
Wong has been working at Twitter for less than seven months. She moved there from Google, where she worked with that company's engineers to review new products for copyright and privacy considerations.
Defending Privacy at Google
At both Google and Twitter, Wong has received kudos for defending the privacy of consumers when the government tried to access company information collected on users.
"She's concerned about protecting people's privacy, as well as balancing that with the need for information," Kurt Opsahl, a senior staff attorney with the Electronic Frontier Foundation, told TechNewsWorld. Opsahl worked with Wong when she was a partner with Perkins Coie from 1997-2004, and locked horns with her over privacy issues at Google.
"Our issues with Google have been over consumer privacy issues," he said, "while generally we've been satisfied with how they have been on privacy via a vis the government."
During Wong's tenure at Google, the company took a stand against government accessing Internet search information of consumers. "Google fought a government subpoena for that information which, at the time, was unusual," Opsahl said.
"Nicole and Google were correctly seeing that people have trust that Google won't give their search queries to the government lightly," he added.
That's not to say that Google and Wong didn't have conflicts with privacy advocates. "Google has gotten mixed reviews from the consumer privacy community," Marc Rotenberg, executive director of the Electronic Privacy Information Center told TechNewsWorld.
"Many of us," he noted, "actually see Google as one of the main obstacles to the adoption of major privacy legislation."
Important Appointment
Although only at Twitter for a short time, during that period the microblogging service received a score of six stars out of six in the EFF's ranking of companies' protection of consumer data when the government comes knocking at their door.
Establishing a high-level position on privacy in the federal government is long overdue, observed Joel R. Reidenberg, a professor of law at Fordham University.
"Nicole Wong is a very skilled and experienced person in the privacy sphere and the public policy arena," he told TechNewsWorld.
Wong's appointment is important because privacy is so important to the Information Society. "It's essential that the White House be on top it," Reidenberg said.
"When we look at the kinds of surveillance and data systems that are being created in the public sector, and we look at similar things in the private sector, as well as the business models that rely on personal information, there are great opportunities and great risks," he added.
"As a country, as a society," Reidenberg said, "we have to really be keeping the privacy questions front and center to be sure that we're getting these programs and policies right."
If reports of Wong's hiring prove to be true, it will show that the president takes privacy more seriously that past White House occupants. "This is a way to signify that privacy is important to the White House," Justin Brookman, director of the Consumer Privacy Project at the Center for Democracy and Technology, told TechNewsWorld.
"Obama was the first president to call for a comprehensive privacy law for the United States," he said, "so this is something they're very serious about, and this is another signal of that."