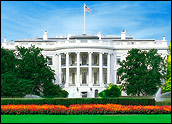 President Barack Obama on Thursday signed an executive order intended to make broadband construction along federal roadways and properties in the United State more effective and up to 90 percent cheaper.
Building a nationwide broadband network will strengthen the U.S. economy and put more Americans back to work, the president said.
The White House also announced the establishment of U.S. Ignite, a public-private partnership aimed at creating a new wave of services that will bring together software developers and engineers from government and industry with representatives from communities, schools, hospitals and other institutions.
"We are creating and transmitting data at a rate of 8 trillion bits a second, and the road is just not large enough," W. Hord Tipton, executive director of (ISC)2 and former CIO of the U.S. Department of the Interior, told TechNewsWorld.
What the White House Wants
The executive order will require the U.S. Departments of Agriculture, Commerce, Defense, the Interior, Transportation and Veterans Affairs as well as the U.S. Postal Service to band together and offer carriers one approach to leasing federal assets for broadband deployment.
It also requires that available federal assets and the requirements for leasing be provided on departmental websites, that the Federal Infrastructure Projects Dashboard will enable public tracking of regional broadband deployment projects, and that departments help carriers to deploy broadband infrastructure when streets are already under construction rather than having to dig them up all over again.
U.S. Ignite will create a national network of communities and campuses with programmable broadband services operating at up to 1Gbps. This network will become a test bed for designing and deploying next-generation applications to support national priorities such as education, healthcare, energy and advanced manufacturing.
About 100 cities, corporations and non-profit entities will team up with more than 60 national research universities in U.S. Ignite. The program will challenge students, startups and industry leaders to create the new apps.
Spend, Spend, Spend
Carriers like Verizon and Comcast are announcing new pilot cities on their networks that will participate in U.S. Ignite, the White House said. Non-profits such as the Mott Foundation are working with U.S. Ignite to deliver new community programs such as hack days and startup weekends to speed up the transition of newly developed next-generation apps into the market, according to the White House. Meanwhile, the U.S. National Science Foundation (NSF) and the Mozilla Foundation, supported by the U.S. Department of Energy, have launched a design competition for the development of apps for high-speed communities.
Elsewhere, the NSF is committing US$20 million to prototype and deploy new technologies to speed up the development of ultra-high-speed programmable broadband networks. The NSF already has invested about $40 million in the Global Environment for Networking Innovations (GENI), which connects more than a dozen universities through next-generation broadband. That network serves as a virtual lab and testbed for next-gen apps in the areas US Ignite is expected to cover.
Meanwhile, the Departments of Commerce and Agriculture are supporting U.S. Ignite by funding six carriers to expand their broadband networks while creating new community-based services. The Department of Defense is connecting military families on base with new services from Ignite, the White House stated.
Too Many Hands in the Pot?
The broadband initiative faces many obstacles, one of which is that the different agencies and departments that must collaborate to make it easier for carriers to deploy broadband infrastructure all have different mandates.
"The one thing simplification efforts often don't do is make things simpler," Rob Enderle, principal analyst at the Enderle Group, told TechNewsWorld. "I think the intent is there but often federal agencies do their level best to assure these things won't work as intended largely because of turf issues."
"Any time the federal government gets involved in the high-tech industry, bad things come of it," Jim McGregor, principal analyst at Tirias Research, told TechNewsWorld. "I think [the single approach to leasing federal assets] is a horrible idea."
The need for more data channels is real, (ISC)2's Tipton remarked. "Well-intended actions to address timely issues are a positive thing." However, "in my experience, decisions and actions are difficult to come by through high-level committees."