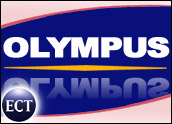 With so much sizzle being created in the consumer electronics market by digital media players, it's tough for a traditional gadget like a digital voice recorder to grab much consumer mindshare. That hasn't stopped recorder makers likeOlympus from continuing to introduce innovative and interesting products.
A case in point: Olympus' new additions to its DS series of voice recorders — the DS-30 with 256 MB of memory (US$149.99), DS-40 with 512 MB ($199.99) and DS-50 with 1 GB ($249.99).
In addition to beefing up the memory of the recorders in this series, Olympus has enhanced the units' audio attributes. It has added a new recording mode, XSHQ, which is equal to the sound quality of most CDs. The sound quality of the new mode wasn't apparent when played through the speaker of my DS-30 review unit, but it was startling when played through my desktop computer's speakers.
Audio quality is further enhanced by the removable stereo microphone included with the recorder. The mic plugs into a combination microphone-remote control jack on the top of the unit. Making the microphone removable is a clever touch by Olympus because it gives the user the flexibility to use the mic jack for other peripherals.
Audible Commands
Another new twist introduced into the series is voice help. When you select a menu item or perform a command, the recorder will audibilize it. While I found this feature helpful initially, it became annoying after a short time, and I turned it off.
The new DS series units are very thin and sleek. With its microphone, my DS-30 measured 4.4 by 1.5 by 0.6 inches and weighed a scant 2.6 ounces.
Controls for the unit were intuitive and logically arranged.
On the left side of the recorder, there was an earphone jack, mini USB port and microphone sensitivity slider. The microphone could be set at three sensitivity levels: lecture, conference and dictation.
On the right side of the device, there was a slider control for powering up the unit or freezing its controls, as well as buttons for playing, recording and stopping the recorder.
The front of the unit is dominated by a monochrome LCD, which measures 1.5 inches diagonally.
Below the display are buttons for quick access to system folders, lists of files and podcasts, as well as adding index points to voice files.
Below the buttons is a navigation dial that makes moving through menus and selecting items a piece of cake.
Software Worth Installing
Ordinarily, I don't give a second thought to software packaged with consumer electronics products. Most of it, to be kind, has flaccid functionality; to be less kind, most of it is crap. However, Olympus is one of the few hardware makers that includes software with its products that is actually worth using.
With its digital recorders, it bundles an application called DSS Player. While the name of the program may lack pizzazz, I've found the software perfect for transcribing interviews. Functions such as fast-forward, rewind and play can be controlled with the function keys on a computer keyboard.
The application also has an "auto-backspace" function. Transcription is usually done in chunks. You listen to a passage, stop the player, type the passage and restart the player. During the stops between passages, it's often necessary to rewind the player to ensure no words were missed between stops. Auto-backspace automatically rewinds the player for a customized time period. The feature can save a transcriber a lot of time and effort.
Podcast Support
The latest version of DSS player, version 7.0, adds support for podcasts. Subscribing to a podcast is as simple as dragging an XML or RSS icon from a Web page to the podcast folder in the DSS Player.
By the way, the player not only supports DSS files but WMA, WAV and MP3 files, as well.
You can listen to music on DS series recorders, too. Tunes can be transferred to the recorder using Windows media player. I chose to move music to the recorder manually by dragging MP3 files to the music folder on the device. That worked without a hitch.
If you're searching for a digital audio tool that's good looking, reproduces sound exceptionally well and has some attractive trimmings, like digital music and podcast support, you need search no further than Olympus's DS series of recorders.
---
John Mello
is a freelance business and technology writer who can be reached at
[email protected]
.
---