Apple raised the curtain Monday on its much anticipated mixed reality headset in a video presentation at its World Wide Developers Conference on the Apple campus in Cupertino, Calif.
The Apple Vision Pro headset, priced at $3,499, won't be available until next year but promises to usher in a new era of "spatial computing."
"This is an extremely important product in the history of computing," declared Tim Bajarin, president of Creative Strategies, a technology advisory firm in San Jose, Calif.
"Apple gave us the Mac with the graphical interface," he told TechNewsWorld. "Then it gave us the iPhone with pocket computing. It gave us the iPad with tablet computing."
"Each one broke new ground," he continued. "Now it's giving the world another whole new interface with gestures, eye-tracking, and speech recognition."
"The technology goes way beyond anything we've seen," he added. "There is no headset in the world of virtual reality that comes close to this. This is a full computer in a headset."
Best-In-Class Hardware
The Vision Pro, which looks like a pair of ski goggles, is bristling with technology, including sensors that enable a user to control virtual displays with their eyes, hands, and voice, and a 3D camera.
Apple Vision Pro is designed for high-performance tasks and is capable of operating for two hours on a single charge. (Image Credit: Apple)
---
"It looks like it will comfortably slot in as best-in-class hardware, of course, with a price point to match," observed Eric Abbruzzese, research director at ABI Research, a technology advisory company headquartered in Oyster Bay, N.Y.
"Eye tracking, dedicated silicon, high pixel density screens, and a substantial sensor array are all great values for a VR headset," he told TechNewsWorld. "I don't believe there has been as feature complete a headset as Vision Pro, but the price highlights why that is."
"It's also interesting that the device has the Pro moniker as a first gen product –usually there is at least one iteration of a 'normal' device before Pro branding hits, but this feels intentional to allow that 'normal' product to slot in under the Pro in both price and performance," he added.
The long-anticipated product met expectations, noted Mark N. Vena, president and principal analyst at SmartTech Research in San Jose, Calif.
"This is a spatial computer that you wear on your head," he told TechNewsWorld.
Vena added that Apple demonstrated several compelling use cases for the device, from watching entertainment and sports to increasing productivity to extending the desktop through virtual displays.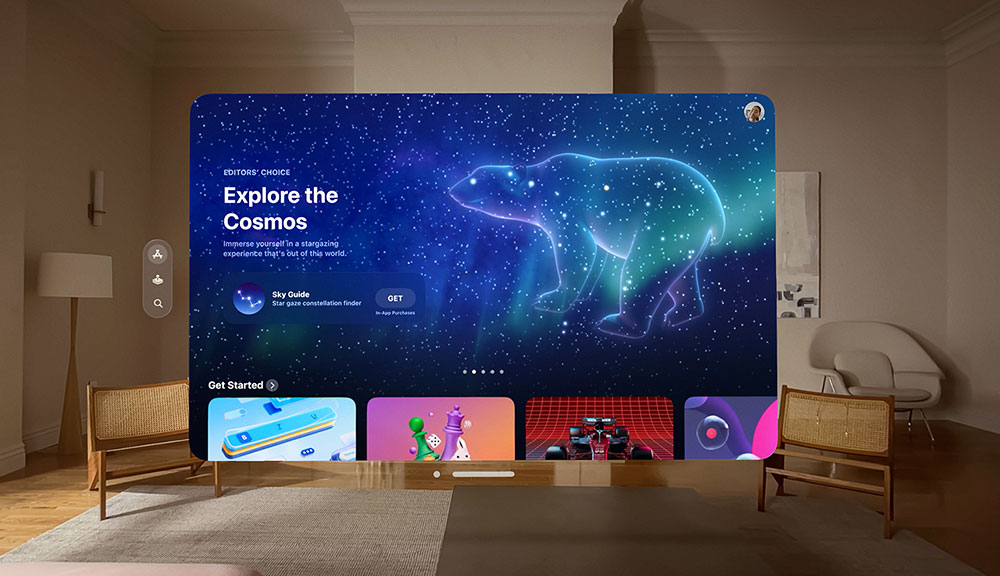 The visionOS spatial operating system lets Vision Pro users experience digital content that is blended into the user's physical world. (Image Credit: Apple)
---
Disney's Enthusiasm
Disney CEO Robert A. Iger, who appeared in the Apple presentation, was enthusiastic about Vision Pro.
"We're constantly in search of new ways to entertain, inform and inspire our fans by combining extraordinary creativity with groundbreaking technology to create truly remarkable experiences," he said. "And we believe that Apple Vision Pro is a revolutionary platform that can make our vision a reality."
"The first time I tried Apple Vision Pro, the thing that struck me the most was how it would allow us to create deeply personal experiences to bring our fans closer to the characters they love and more deeply immersed in our stories," he continued. "This platform will allow us to bring Disney to our fans in ways that were previously impossible."
The device will also raise the visibility of augmented reality technology.
"In the consumer space, there is low familiarity with the term augmented reality," Kristen Hanich, an analyst with Parks Associates, a Dallas market research and consulting company, wrote in the Connected Consumer Newsletter.
"However, most consumer use is of popular applications such as Pokémon Go, Snapchat, and Instagram — smartphone apps that are being used not because they are augmented reality, but because the core experiences resonate with consumers," she continued.
"Apple's expected announcement today in this category will help lift awareness and adoption given brand power, content ecosystem, developer relationships, and Apple's focus on premium experiences," she observed.
Straddling Worlds
Virtual Reality gets a lot of press because it promises to take you to another time, another place, added Gartner analyst Tuong Nguyen.
"With Vision Pro, because it does pass-through — which some other devices do, as well — it keeps you rooted in the physical world while adding digital elements on it," he told TechNewsWorld.
"You can use the headset and still be in the moment," explained Ben Arnold, an analyst with Circana (formerly NPD), a global market research firm.
"To me, that's different from what we're seeing on the market now," he told TechNewsWorld
Apple's announcement reflects where mixed reality is today, noted Ross Rubin, the principal analyst with Reticle Research, a consumer technology advisory firm New York City.
"A similarity we're seeing among mixed reality makers is heavy leverage of today's content and applications because there isn't a lot of mixed reality, augmented reality content," he told TechNewsWorld.
"So if you're Apple, and you have this incredible library of applications," he continued, "it makes a lot of sense to put that on the device and build some added value around it, whether it be immersion or running multiple apps on tiles in front of you."
New 15-inch Air
In addition to introducing Vision Pro, Apple made several other hardware and software announcements.
The expected 15-inch Mac Air based on M2 silicon will be available next week at $1,299. The 13-inch M2 Air will sell for $1,099 for its base configuration, and the 13-inch M1 Air continues to be part of the lineup at $999.
Showcasing its vibrant starlight, space gray, silver, and midnight hues, the 15-inch MacBook Air, with its MagSafe charging and two Thunderbolt accessory ports, also includes a 3.5mm headphone jack. (Images Credit: Apple)
---
Milestone Shift to All Apple Silicon
Apple also announced it would make its Mac Studio computer with its M2 Ultra and M2 Max silicon. Starting at $1,999, those models will also be available starting next week.
The Mac Pro got an upgrade, too, to M2 Ultra silicon. It will sell for $6,999 and will be available next week.
Apple also refreshed its iOS, iPadOS, and watchOS software lines.
"Most of the other announcements seemed like nice to haves rather than significant products," observed Abbruzzese.
"The fact that all Apple products are now on Apple silicon is a milestone, one that everyone knew was coming but took an appropriate amount of time to happen," he said.
"Vision Pro running M2 as well as a dedicated XR chipset is also not surprising but still interesting," he continued. "Qualcomm has dominated the XR chipset market, and now they have a strong competitor for 2024 and beyond."