Amazon launched two new versions of Echo last week: the Echo Dot and the Amazon Tap. I've actually had the chance to look at both, and they flesh out the line nicely — but I think the Dot actually could outshine the original Echo.
I'll share some of my reactions to both devices and speculate about what could come next as Amazon expands this product line.
I'll close with my product of the week: Given that I just returned from a vacation in Hawaii, it is the wonderful (but far from inexpensive) resort I stayed at there.
The Echo
The Amazon Echo is one of the few products I've ever brought into the home that my wife absolutely loves. She likes to listen to music much more than I do when she works and cooks (I mostly just listen to music when I'm exercising).
Even though I've popped a Sonos speakers into virtually every room of the house, the patio and garage, the Echo has become her go-to music solution.
So, to net this out, I spent nearly US$5K on Sonos, but my wife, who listens to more music than I do, prefers the $189 Echo. She doesn't use it just to listen to music, either. It is her cooking timer, it's where she creates shopping lists, and it's the thing she uses most often to prove my memory of something is wrong. Sadly, it actually is pretty good at that.
The only issue with the product has been that from time to time, it hears something that sounds like "Alexa," its wakeup name, and it then appears to go rogue. Since we've bought it, Amazon has added significant additional functionality. It now will command Insteon, Wemo, Samsung SmartThings, Hue and Ecobee.
It connects to services like Domino's Pizza and Uber (though I still prefer to use my smartphone for the latter). It now connects to Spotify, Pandora, iHeartRadio and TuneIn. Unfortunately, it doesn't connect to Slacker, but I've largely shifted to Amazon Prime Music now, so that isn't as big a problem as it once was.
In short, the Amazon Echo was the closest thing we had to an iPod in 2015, but there is a better alternative out this year, and it is Echo's little sister.
My New Love: The Echo Dot
Here is the issue with the Echo I never really thought through. As good as the built in speakers are — and they are very good — most folks have their own sound systems. If, like me, you have something like a Sonos, the Echo is a tad redundant.
Well, the Echo Dot is the Echo — for about $90 less — and without the big built-in speakers.
It does have a built-in speaker that isn't bad in a pinch, but it's nothing like what the original Echo has. As for appearance, it looks like Amazon lopped off the Echo's head. The resulting hockey puck-like product really isn't bad looking at all, and it's incredibly intuitive to use if you've already experienced the Echo.
Ideally you plug this into your own stereo or speaker system (like Sonos), and you turn your high-end system into an Echo. So for less than half the price of the Echo, you potentially get better sound through the system you already have.
You can use its Bluetooth capability to put the unit next to where you sit and still connect to your system in your stereo cabinet (I used an Amazon Basics Bluetooth receiver). The end result is both cheaper and sounds better than the Echo.
Perhaps the coolest thing is that once it is connected to the Sonos, if you set the Sonos app for external source from the connected speaker, then the Echo Dot controls all of your linked speakers throughout the home.
So, for $89, you can enable voice control for Sonos or any connected speaker system — even one of those in home speaker/intercom systems, as long as it has an accessory-in port.
I literally bought as many of these things as they let me (which is two at the moment) and hardly can wait to voice-enable my whole house. Be aware, right now, you can order the Dot only if you have an Echo, because you need to order it over the Echo. I think Amazon knows this is the best deal of the bunch.
Amazon Tap
The Amazon Tap is a portable Echo, but it has one glaring fault that I'll get to in a minute.
Unlike the Echo and the Echo Dot, it looks very different. That's because of a critical need to preserve its battery. That means no halo ring on top, but it has lights that do pretty much the same thing and show its state of charge. While it does look very different, it actually may be the most attractive product in the family, so the difference isn't as bad as it otherwise might be.
It has a charging base that uses a physical connection rather than an inductive one, which means you have to watch it around moisture and dirt. Both could get into and possibly damage the connection. While it clearly has smaller speakers than the Echo, it still has them, and they sound surprisingly good for such a small device — but don't expect good lows, as the speakers are just too small.
The Tap is for people who want their sound to move with them, and its use is more similar to a Bluetooth speaker for your phone. This is where the problem crops up: To save battery, Amazon designed the Tap so you can't just speak a command as you can do with the other Echo offerings. You have to hit the microphone button first.
For anyone who's become used to Echo's original button-free experience, this is kind of annoying. I'd give it a command from across the room, and it would just sit there looking at me like it wanted me to say "please." The button-pushing is to save battery, but I'd expect a future patch so that either you could turn on hands-free functionality, or it would come on automatically when the Tap was in its charging cradle.
Having said that, the Amazon Tap is still one of the best Bluetooth speakers on the market in terms of sound and convenience, but I found it far better to use the Alexa app than voice command, thanks to the darn speaker button. It has an impressive nine hours of battery life.
Given that most of its features require a WiFi connection, the Amazon Tap likely is best for folks who know how to turn on tethering on their smartphone, or those who carry a mobile WiFi hotspot.
Wrapping Up: Nice Family and What's Next
Of the Echo line of products, the Dot is by far my favorite. It provides the greatest value if you have your own speakers. It has the greatest flexibility in terms of solution, and its design is consistent with the original Echo. It got me thinking about what could come next:
A family control feature that you could use to control more than one Echo in the house. It would let you link them all, so that a command to any one of them would command all of them. That way, when connected to Sonos or just playing individually during a party or while you are cleaning, you could just tell them all to do something at the same time.
A way to disable the push-to-talk button on the Tap. That would make a massive difference to me, particularly if it happened automatically when the device was in its dock.
A pocket or headphone solution for gyms and exercising. It would have radio capability so you could listen to the TV in the gym if you wanted to, and get the Echo experience during a bike ride, walk or run.
An outdoor version that you could leave plugged in to use the Echo outside, and that wouldn't be impacted by the weather.
An automotive solution (you could likely do this with the Echo Dot, a DC power supply, and a Bluetooth link to your radio now) that would give you the Echo experience in your car. The Dot and Tap both use a generic smartphone charger. However, it would be better if it were easier to connect a phone to the car as well — otherwise, it would be too painful for many to use it this way.
Much of this can be done with software — and some with just a unique accessory or two — but it will be interesting to see what Amazon comes up with next. For now, we just have the Echo, Echo Dot and Amazon Tap. I expect that for most, that will be more than enough. Who would have thought a decade ago that what once was largely the iPod market would move to Amazon?

I don't go on vacations often — I think my last one was about three years ago. So when I go, I like to go someplace a bit different and approaching spectacular. My last really impressive vacation was Atlantis on Paradise Island, which was marred only by the marginal rooms, which didn't tie into the huge Jules Verne Atlantis theme of the rest of the resort. The water slides, though, were amazing.
Montage Kapalua Bay is very different, in that initially it was designed to be a high-end time share facility. When the market crashed, it was sold and turned into a high-end hotel.
The rooms, food and views are spectacular, because you basically are renting a condominium with high-end appliances, full kitchen, washer and dryer, huge master bedroom and master bathroom, and a real luxury feel.
The owners have shifted to selling condos at the facility; they sell in the $4M range, so this isn't a cheap date. It has a decent gym and spa, but prices are where you'd expect them to be for a high-end service. We got a couples bath and massage and felt like royalty for about 90 minutes.
Insulation on the rooms was very good, so if there were festivities outside just closing the windows shut out the noise so we could sleep. There weren't a lot of kids there, and it generally was a great place to relax and be a bit pampered.
If you want to experience what millionaires likely take for granted, the Montage is a really nice choice for Maui.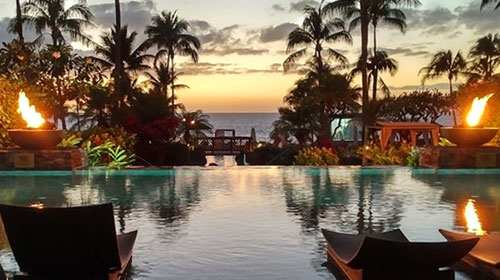 Montage Kapalua Bay
Just don't take Waze to the resort, because it will take you around the back side of the island and onto a one-lane road with cliff drop-offs and few passing locations, and where the rental car companies tell you your insurance is void.
I had a large Chrysler 300, and the road would have been tight for a Miata so the drive was far more exciting than I intended. (I should point out that the views — those few times I could take my eyes off the road — were spectacular.)
In the end, Montage was one of the best vacation locations I've ever been to and certainly one of the most spectacular in Hawaii. I'd go there again, and it is my product of the week.