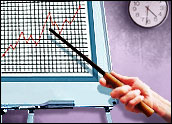 For more than a decade, marketers have promised that the Internet was going to be a key way that consumers would experience their brands — someday.
Someday has finally arrived. The potential of Internet advertising is truly starting to be realized.
"The media landscape has clearly changed with more and more marketers realizing that there is much to be gained from online advertising," said David Silverman, partner, assured services, PricewaterhouseCoopers, the consulting company. "With the increase in broadband penetration further enhancing how messages get delivered, we should continue to see a favorable environment for increased Internet ad spending."
Spectacular Show
Ad sales for the fourth quarter of last year — just recently released — demonstrate that online advertising is not only growing, the growth is explosive.
"As consumers continue to embrace the Internet as an integral part of their everyday lives, marketers continue to acknowledge that interactive is a crucial medium to engage their customers and create deeper brand experiences," said Greg Stuart, chief executive officer of the Interactive Advertising Bureau (IAB), the New York City-based trade group for digital advertisers.
A survey by the IAB and PricewaterhouseCoopers released last week shows that online ad sales last year surpassed US$12.5 billion, a record, 30 percent increase. That's on top of a record of $9.6 billion in sales in 2004.
"The continued increase in spending supports the cross-media research that proves interactive, as often the most cost-effective way to drive increased ROI," said Stuart.
Sales for the fourth quarter of 2005 were $3.6 billion — the second straight quarter in which Internet ad sales were over $3 billion, the survey said. That's a 35 percent increase itself over the same period in 2004. The survey was based on data from 15 top online ad sellers.
Big firms, however, appear to be the ones embracing online advertising technology, not smaller firms. They're turning to blogs, wikis and other online tools.
A majority of business owners polled in the latest Wells Fargo/Gallup Small Business Index say that word-of-mouth marketing — and ads in local publications — are the top two most effective forms of advertising. The fourth quarter, 2005 index showed that of the 55 percent of business owners questioned who spent money on advertising in 2005, 67 percent did so in their local newspaper or magazine. More than half of small business owners surveyed believe that customer recommendations are more effective than paid advertising.
Community Focus Online
"Small businesses traditionally have a very strong community focus, and it is clear from these results that this extends to how they prefer to advertise their businesses," said Rebecca Macieira-Kaufmann, executive vice president for Wells Fargo. "A small business owner is more likely to talk to the hairdresser, the plumber, or the neighbors about his/her business, rather than spending his or her hard-earned capital on advertising. Those who do advertise clearly prefer their local community newspaper or business journal."
Many small business owners are now starting to turn to the Internet — but in their own way.
With blogs, wikis, and online reviews becoming more accepted forms of creating customer buzz, the Internet is also becoming a critical tool for small businesses.
According to Yolanda Collazos Kizer, president of Builder's Book Depot and CASA Fenix Enterprises, the Internet helps her company spread information by virtual word of mouth. "They — the customers — share that information with their friends and family, either face-to-face or on the Web, it engages them in our brands and makes them feel a part of the company. That's the best form of advertising I could ask for," said Kizer.
From my perspective, this point of view will increasingly, once again, come to dominate Internet advertising in the future. Back in the early days of the 'Net, everyone thought banner ads, or streaming video, or streaming audio, would be so provocative, they would drive online sales.
Turns out that people just want to talk — about products, and other people — rather than just have massive ad campaigns forced on them. Duh. That's what people were saying about the "interactive" nature of the Internet — before the advertisers even arrived online. It has always seem reasonable to me. I hope the major marketers are listening.
---
Gene Koprowski
is a Lilly Endowment Award-winning journalist, TechNewsWorld contributor and nationally syndicated columnist.
---