Welcome to 2022 in Linuxland. Last year closed out with solid developments in the open-source world. Expect that progress to continue as this new year moves forward.
2022 arrived on the heels of three key European rulings that lend support to the open-source concept:
The German government embraced the idea that government-made software funded with public money should be open-sourced;
the European Commission wants more agencies to use open-source products for the betterment of society; and
an Italian court ruling bolstered the legal status of open-source license requirements.
Meanwhile, Linux distributions continue to debut new features amid a flurry of innovative releases. These include newcomer Maui's desktop shell, a new Enlightenment upgrade, a "shifty" novel approach to switching out desktop environments without reinstalling OSes, and a "droid" compatible MakuluLinux beta.
Use Open Source for Society's Benefit, EU Commission Says
The European Commission wants to encourage greater use of open-source technology. To that end, it is adopting new rules around using open-source software.
The Commission announced early last month a commitment to release its software under open-source licenses. That decision followed its recent study that found investment in open-source software leads on average to four times higher returns.
The EC suggested offering its eSignature set of free standards, tools, and services. That software package can speed up the creation and verification of electronic signatures that are legally valid inside the EU. Another example is open sourcing its Legislation Editing Open Software (LEOS) which is used to draft legal texts.
The EU introduced its new rules one week after the new German government embraced the notion of Public Money, Public Code that pushes the concept of software created with public funds should be accessible to the public. The EC hopes its action leads other European countries to open source their code.
Italian Courts Find Open-Source Software Terms Enforceable
A first-time ruling by Italian courts on Dec. 13, 2021 rejected a claim by two former software company developers that their modified code release complied with open-source license requirements.
The law court of Venice, Italy affirmed the legal enforceability of open-source software licenses. The case involved the GNU General Public License in a test case within the country.
Ovation, an Italy-based limited liability company and the plaintiff in the case, said in a press release after the court ruling that it marks an important step in strengthening the protection of intellectual works distributed through free software licenses in all their forms.
The case involved Ovation's GPL licensed Dynamic.ooo software, a plugin for the open-source Elementor platform for building WordPress websites. The company filed a civil suit against two former employees and Venezia, Italy-based Nerds Farm, which is owned by one of the two former employees.
Ovation claimed the defendants redistributed the software without including acknowledgment of the original work, including information about changes the defendants had made to the software, and made no mention of the software's copyright holders. Ovation also contended the defendants ignored the formal termination notice. That notice, according to Ovation, is the first protection tool to safeguard the developers who decide to share their code in a free form.
The court ordered the defendants to cease distribution of the software until it complies with the license and imposed a fine of about US$113 for each day the defendants delay before bringing the software into compliance for the first 15 days. That fine increases to $339 daily afterward.
In addition, the court ordered the defendants to publish an excerpt of the order on a page of their website with a reference on the site's home page that is displayed twice the normal character size of the site. The same rules apply to the company's Facebook page. In addition, the court ordered the defendants to pay the plaintiff's litigation costs, an amount that exceeds $5,664.
New Maui Shell Moves In
Maui is a convergent desktop shell for Linux and mobile devices the Nitrux development team introduced Dec. 26. The developers hail this new desktop shell as a milestone presentation of the initial idea of the Maui Project, a simple and unobtrusive desktop environment meant for different form factors.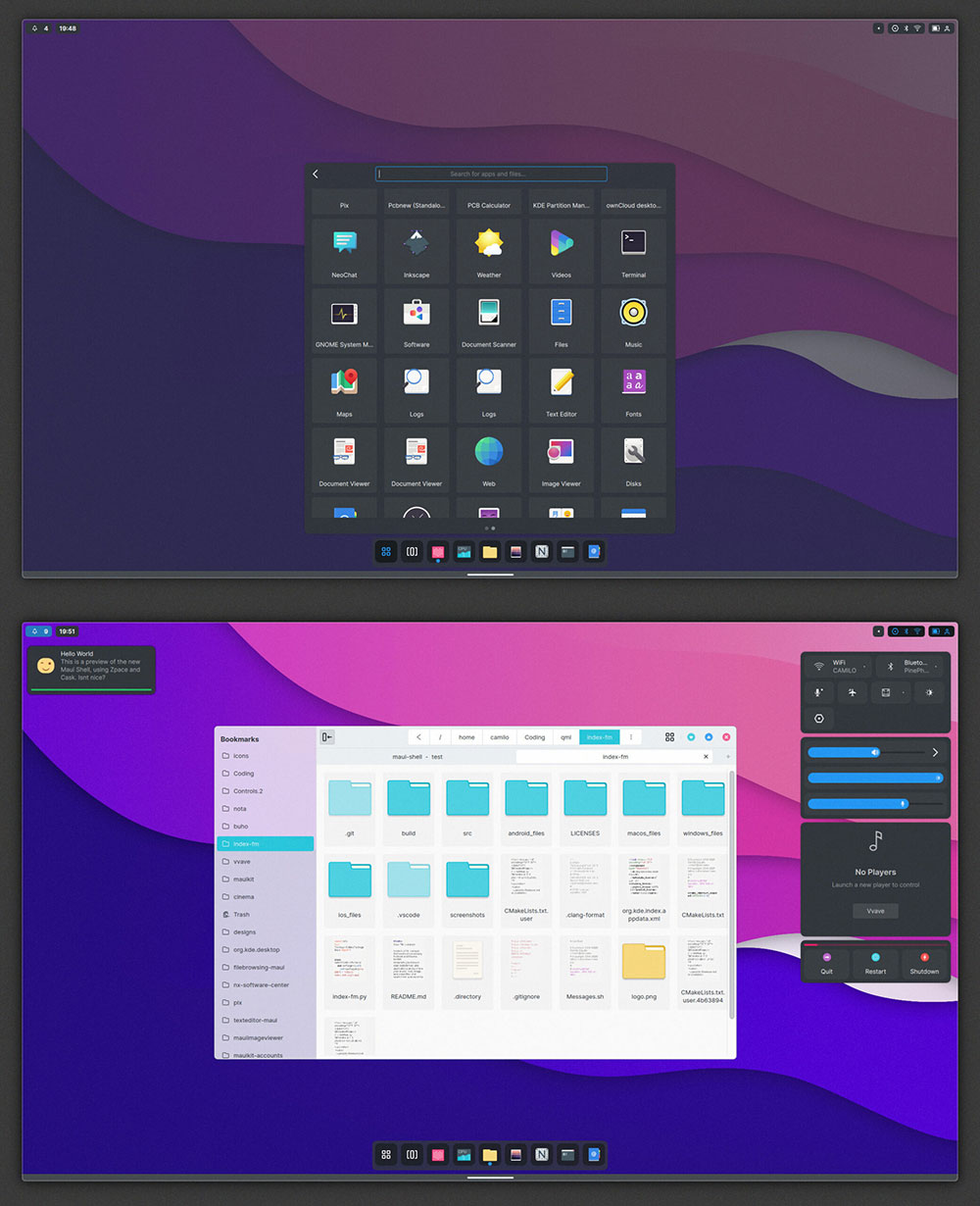 Maui Shell on desktop (Image Credit: Nitrux)
---
Nitrux Linux, based on Debian's unstable branch, ran the in-house NX Desktop until this latest development. NX, an enhanced offshoot of the KDE Plasma desktop, was designed to combine aesthetics and functionality. The mid-December release of Nitrux Linux 1.8 debuts as a testing release.
The unique distro uses redistributable, portable applications dubbed Maui Apps via the AppImage format. The Maui Shell can converge to also work on mobiles devices, such as Linux phones and tablets, as well as desktop and laptop computers.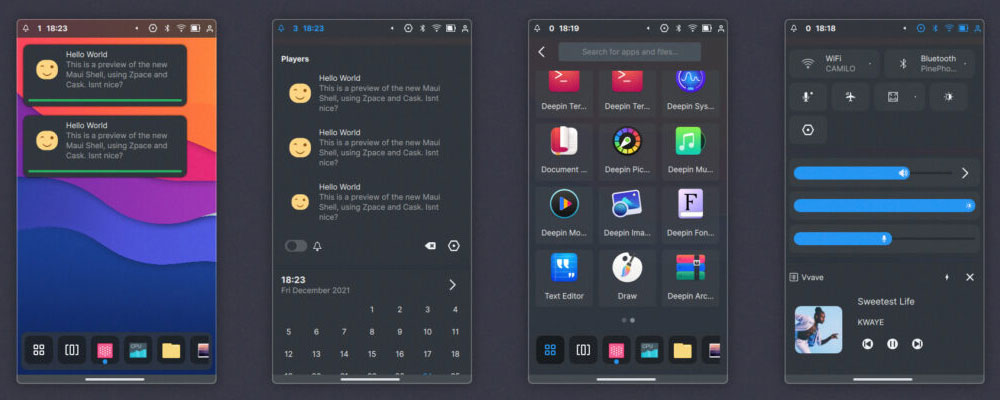 Maui Shell on smartphone (Image Credit: Nitrux)
---
The Maui Shell adapts to various form factors without needing multiple versions, according to Camilo Higuita, the developer. The Maui Shell consists of two main components. Cask is a shell container, and Zpace is a compositor.
It was unclear at press time if the Maui shell will be available for use in other Linux distros and portable devices as a separate entity. Only the ISO for the complete Nitrux installation is now available. Maui is under active development so expect things to change as its development continues.
Enlightenment 0.25 Desktop Environment Release Has Flat Look
Enlightenment developers on Dec. 26 released Enlightenment 0.25 desktop environment as a major update with a new flat look and other improvements for this lightweight and modern Linux desktop.
The upgrade comes more than one and a half years after Enlightenment 0.24 and brings new gesture recognition bindings for touchpads, fingerprint support in desk lock via the libFprint library, a new tool to configure fingerprints, a new binding action that lets users switch profiles, plus a palette editor and selector tool to set up custom colors.
Also new in this release is a Procstats module to display memory and CPU usage in the titlebar, new "grow window in direction" actions, and new options for setting up animation multiplier to speed up or down the transitions. Also included are a recent files menu to access recently opened files and a new Screen Setup menu entry in the Quick Settings menu.
Among various improvements is a default setting for the initial splash screen to always show, optimized handling of XKB keymap changes, updates the Mixer with VU meters for both audio input and output, and icons to show apps that currently play sounds and recording.
An icon now shows battery level for Bluetooth devices, if supported. Gone are the offline/presentation mode and custom desk lock command.
MakuluLinux Births Major Shift Update
A new version of MakuluLinux Shift went live Dec. 20. It absorbs several separate distro offerings by letting users change the desktop look and feel on the fly within one operating system.
In essence, this latest MakuluLinux release eliminates the duplication and overlap of features previously available with multiple in-house MakuluLinux OSes.
Jacque Montague Raymer, developer and creator of the MakuluLinux family of distributions is developing three versions of the unique Shift distribution. Each one is a variant designed for specific build purposes — Debian-based, Ubuntu-based, and a 32-bit version of Shift which is also Debian-based.
The 32-bit variant is particularly noteworthy. It is optimized to run on older computers with X686 processors. This version is slightly different from other 32-bit varieties of Linux distros.
Raymer's goal is to create a similarly styled OS that remains fast and not be resource-hungry since older computer chips lack the power of modern hardware. Thus, he cut out some of the standard MakuluLinux elements, namely Conky desktop displays, special effects, and the Google Chrome web browser, which is only 64-bit.
Instead of Chrome, he substituted Firefox. Otherwise, everything else on the front end looks and feels just like its 64-bit counterparts.
Shift is unique with its ability to rapidly modify major design elements effortlessly. Hence, its name. Nothing like it exists anywhere.
Other distros can change the layout of the desktop. But those are merely simple overlay theme changes or moving of a panel or dock, noted Raymer. Shift moves to another level fully uninstalling the old design elements like wallpapers, themes, icon-sets, cursors, extensions, and effects.
Then, on-the-fly, Shift installs the new sets of wallpapers, themes, icon-sets, extensions, cursors, and visual effects. That entire process takes between 10 and 30 seconds depending on hardware and occurs offline without needing to download scripts or packages.
Desktop Design Options
MakuluLinux Shift comes with eight desktop design options that are offered separately in other MakuluLinux distros: LinDoz, Core, Flash, Simple, Dash, Unity, Plasma, and Gnome.
Each desktop environment has its own distinguishing look and feel. Raymer plans to add more and deliver them via upcoming over-the-air (OTA) system updates as part of the partial rolling update distribution process.
The difference between Shift Debian and Shift Ubuntu comes into play with how each handles system updates. For instance, Shift Debian gets system updates from the Debian testing repositories. Gnome framework updates come more regularly to the Debian version of Shift, causing the risk of Gnome extension incompatibility.
The Ubuntu variant of Shift gets its updates from the Focal repository of Ubuntu. The build is permanently locked on the current Gnome version. This provides absolutely near Zero risk of extensions breaking. So the Shift Ubuntu variant is the "stable" Shift distro. The Debian build is more of the "testing /unstable" build, noted Raymer.
Debian Shift targets more-experienced Linux users. The Ubuntu variant targets less-experienced users who do not want to bother with potential problems or prefer constant stability.
A new release, MakuluLinux Droid, runs Android apps within the MakuluLinux OS environment.