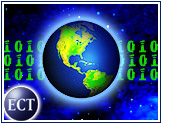 In an attempt to gain some legitimacy for its industry, a group of peer-to-peer (P2P) Internet companies has announced a "code of conduct."
The companies — collectively called P2P United — offer services that, among other things, allow people to exchange music files over the Web, a practice that has ignited a massive litigation campaign by the Recording Industry Association of America (RIAA).
The announcement by P2P United was made on the same day reports emerged that the RIAA has settled 20 percent of its 261 lawsuits filed against alleged music pirates using file-sharing services.
Call for Negotiations
At the Washington, D.C., news conference to unveil its conduct code, the P2P group asked the U.S. Congress to force all parties involved in file sharing to the negotiating table.
"Discriminatory lawsuits that run roughshod over the public's right to due process have got to stop, and everyone with a stake in the future of electronic commerce needs to sit down under Congress' watchful eye and get serious about building the 21st century's online marketplace," P2P United executive director Adam Eisgrau said in a statement.
"It's really important for the future that Congress step in as soon as possible," Blubster CEO Pablo Soto observed in an interview.
"The situation right now is really bad," explained Soto. "It's bad for P2P companies. It's bad for technology developers. It's bad for users. And it's bad for the RIAA because its members are losing sales."
Soto noted that P2P United is releasing its conduct code to establish a uniform method for its members to conduct business. "We want to make it clear that this isn't a business to take the money and run," he said. "We're trying to create a serious industry and one that's here to stay."
Not Legit Yet
Those sentiments, though, did little to warm the RIAA's icy attitude toward the P2P band of brothers.
"It is refreshing to see that P2P United is acknowledging that their members should be more active in educating their users about the consequences of illegal file sharing that is rampant on their networks, as well as the other risks these networks pose to personal privacy and security," senior vice president for communications Amy Weiss told TechNewsWorld.
"But, let's face it, they need to do a whole lot more before they can claim to be legitimate businesses," she said.
Most of what's in the code is either "hazy" or "baloney," Jarad Carleton, a Frost & Sullivan IT industry analyst, told TechNewsWorld.
The provisions for complying with applicable law illustrate that, he said. He added that all the companies are saying in those provisions is that they will tell people that if they trade files illegally, they're breaking the law. "They're not doing anything in that section that would address the concerns of the RIAA," he observed.
Compulsory License
In addition to pulling the wraps off its code, P2P United also floated some ideas to address the RIAA's concerns.
"Congress has, time and time again, helped create viable marketplaces for new kinds of intellectual property — like VHS tapes and webcasts — by making it possible for anyone who wants to distribute copyrighted music or other material to do so without individually negotiating a license," Morpheus CEO Michael Weiss said in a statement.
"They simply pay into a royalty fund at a negotiated rate so that artists can be fairly paid," he said. "It's high time to put this idea of a compulsory license on the bargaining table, but the recording industry won't be at the table unless Congress makes their attendance compulsory first."
Kazaa Absent
"I don't think that kind of bare-bones royalty scheme is going to work," Frost & Sullivan's Carleton contended. "What P2P United is doing here is too little. They're going to have to go further to address the concerns of the RIAA."
Noticeably absent from the alliance of P2P companies was one of the major players in the market, Sharman Networks, maker of Kazaa. Last week, Sharman filed its own lawsuit against the entertainment industry, accusing it of using unauthorized copies of Kazaa to catch alleged music poachers.
Some 261 of those poachers subsequently were hit with lawsuits by the RIAA, which has settled with 52 of the litigants for sums reportedly between US$2,500 to $7,500.
Amnesty Nets 863
The RIAA also said 863 people have requested amnesty from future lawsuits in exchange for a formal admission that they illegally shared music and a pledge to delete the songs from their computers.
"The music community's efforts have triggered a national conversation — especially between parents and kids — about what's legal and illegal when it comes to music on the Internet," RIAA president Cary Sherman said in a statement.
"In the end, it will be decided not in the courtrooms but at kitchen tables across the country."