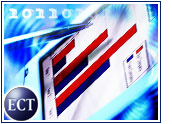 Palm lost its leadership position in the West European handheld computer market last quarter, but analysts expect the Santa Clara, California-based company's sales to rebound in the final frame of the year.
"We fully expect that Palm will regain the leadership position in Europe in Q4," Andrew Brown, program manager for European mobile devices at IDC, told TechNewsWorld.
Palm, too, expects good things in Q4. "That's usually when we see an uptick," said Palm's head of European product marketing, Rick Hartwig.
Edged by HP
Brown, who is based in London, is the author of a report released yesterday showing that HP elbowed Palm out of the top spot in the Euro market.
According to Brown, HP garnered 15 percent of the mobile devices market in Europe in Q3 with sales of 179,000 units, while Palm held 13 percent of the market with sales of 166,000 units.
During the same period last year, Palm had 15 percent of the market; HP, 9 percent.
HP Sales Double
Although Palm sold 8 percent more PDAs in Q3 this year than last, HP nearly doubled its sales compared with a year ago, in large part due to new product introductions, IDC reported.
Similar findings were released Tuesday by London-based research firm Canalys.com. Its Q3 analysis found HP with 13.5 percent of the mobile devices market, which includes mobile phones, and Palm with 12.5 percent.
"Last quarter, Canalys reported that HP had lost ground, but predicted it would have a much better Q3," the company noted in its report. "This has turned out to be the case with the firm enjoying an 87 percent year-on-year rise in shipments, propelling it past Palm to take the number-one spot in handhelds by some 15,000 units. Palm too managed to increase its shipments by 8 percent, with both firms benefiting from the introduction of new models."
No Reason To Crow
But HP's lead could be short-lived for several reasons, according to IDG's Brown.
Palm kicked off Q4 by introducing three new products at three different price points. "It's been the case over the last five years that whenever a company launches a number of new products, it has tended to boost market share in the short term," Brown said. "That will help Palm reclaim its position in Q4."
Palm also has the advantage of selling at more price points than HP, he added. "Palm has its Zire models playing at the very low-end price points, which will make a significant difference going into the holiday season."
Aggressive Marketing
Brown also expects Palm to do some "very aggressive" marketing and bundling of products in Q4. "They will be doing some music promotions in key retail outlets during the quarter," he said.
"HP will be aggressive in Q4 as well, so it's difficult to call, but the fact that Palm is playing at those low price points and they have new products coming in will be enough to push its leadership position in Q4 in Europe," he added.
Canalys analyst Rachel Lashford concurred with Brown. "Palm usually performs well in Q4," she wrote in a report. "So HP should not take this leadership position for granted; however, with the iPAQ h1900 and h2200 series, HP now has a much stronger consumer offering."
Low-End Snipers
In the long run, a much greater threat to Palm's European market share will be snipers at the low end of the PDA spectrum, according to Brown. "There are entry-level players beginning to make ground, finding the right price points to compete," he said. "Toshiba, Acer and others are taking away share from Palm, especially where they are playing at very low price points."
Although Palm's U.S. base appears strong and growing, he continued, its European appeal appears to be weakening. "The Pocket PC continues to gain ground," he said.
But Palm feels that with its most recent product launch, it is in a good position to fend off low-end pretenders to its throne. Hartwig said his company's low-end product, the Zire, attracted more new PDA owners than Palm had ever seen before and sold 1 million units faster than any product Palm had ever produced.
"Between that and the new Zire model, we feel we are in a great position," he said.