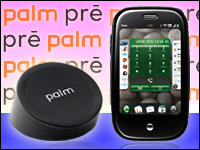 Aiming to rev up momentum behind its yet-to-be-released Pre smartphone, Palm has offered a few more details about the handset and the software running on it, webOS.
Palm will open up its Mojo software development kit (SDK) for webOS to more developers later this year. The Pre smartphone will also tap cloud computing capabilities.
In addition, an emulator from third-party developer MotionApps will be available to let users run old Palm apps on the Pre.
More Mojo Workers
Mojo is an application framework that lets users develop webOS applications. The SDK will include tools developers need to build and test their applications.
Palm is offering early access to the Mojo SDK for a limited number of developers. They have to go to the Palm developers' Web site to apply for early access. Those accepted will have to sign a confidentiality agreement that remains in effect until the end of the early access program.
Later this year, Palm will open up the Mojo SDK to everyone; however, a specific time frame has not been announced.
Palm and the Cloud
When the Mojo SDK is made generally available later this year, it will include the Mojo Messaging Service, an XMPP publish/subscribe service.
XMPP, the Extensible Messaging and Presence Protocol, is an open XML-inspired protocol on which the Jabber Instant Messaging and Presence technology is based. Originally created as an instant messaging protocol, it is being expanded into message-oriented middleware.
Developers will use the Mojo Messaging Service to publish live content to their applications or services via the Palm cloud.
Palm declined to offer further details. "We have the press release and the Palm blog," Palm spokesperson Jennifer Donahue told TechNewsWorld. "We're not doing any interviews."
Looking Back in Safety
Users of older Palm devices will be able to keep the apps they love — Palm has announced that MotionApps is creating an emulator that will let most Palm OS applications run on webOS devices such as the Pre.
MotionApps is a San Francisco-based company that makes software for smartphones, including the Treo, Windows Mobile phones, BlackBerry devices and the iPhone. Its emulator for the Pre, called "Classic," will run PalmOS apps roughly twice as fast as the Palm Treo 700p does, the company says.
Challenges Along the Way
While the Pre's hardware and software have captured a great deal of attention since they were first shown in January, Palm's choice of Sprint as an exclusive carrier may not have been a wise move, according to Julien Blin, principal analyst and president of mobile technology research firm JBBResearch.
"Sprint has been struggling, trying to keep their customers," he told TechNewsWorld. "They're both trying to make a comeback, but a lot of people are concerned about customer service at Sprint, and that might hurt Palm."
However, Palm's monogamous relationship with Sprint may be relatively short. "Palm's first agreement with Sprint probably has six months to go, and we're expecting something else in 2010," Ken Dulaney, a vice president at Gartner, told TechNewsWorld.
Palm is also reaching out overseas, and Dulaney expects French mobile network operator Orange to pick it up in Europe. Orange also services several countries in Africa as well as in the Middle East, markets that could help the Pre's success.
Clever Technology, Poor Timing
Based on what he's seen of the phone, Gartner's Dulaney has given its software a thumbs-up.
"The operating system is a good job, probably the only one comparable to Apple," he said. "I'd give it a heads up over Android at this point."
That may, however, be offset by Palm's timing in releasing the phone. It's entering a crowded market.
"They're one of the last smartphone vendors to come out with a touchscreen smartphone," JBBResearch's Blin explained. "The amount of competition is ridiculous."
A planned mobile apps store for the Pre is unlikely to set it apart from rivals.
"Everybody's coming out with a mobile apps store; there's probably 10 of them out there," Blin said.
"The Pre is a nice device. Palm is doing a pretty good job, but I wish they'd come out with that device six months ago," Blin added.