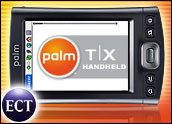 If handheld computers survive the onslaught on their market by mobile phones with their panoply of features that seem to multiply on a daily basis, it will be in large part, ironically, to their wireless capabilities.
That fact hasn't been lost on Palm, which can trace its lineage to the innovators who single handedly created the space from scratch. A case in point: one of its latest handhelds, the T|X (US$258-$299).
Slim and light — it's 4.76-by-3.08-by-0.61 inches and weighs 5.25 ounces — the unit sports both WiFi and Bluetooth support.
Smooth Surfing
With WiFi, you can connect to wireless hotspots or your home network and zoom about the Internet.
With Bluetooth, you can perform tasks such as synchronizing information between the T|X and a desktop computer or mobile phone or linking to a GPS device.
As I've discovered with other WiFi-enabled devices, connecting to the Internet with the T|X was very smooth. I tapped the Web icon on the main menu, the device found my home network, another tap to tell it to connect and there I was on the mobile Web.
I was impressed with the speed at which the T|X, which has a 312MHz Intel Bulverde processor, slid through cyberspace. Response time to my screen tapping was very brisk.
Perfect for Impulse Access
When you log onto the Net, you're taken to Palm's mobile site. It has links to a variety of Web outposts like Yahoo news and mail, Hotmail and ESPN.
Logging into to my Yahoo mailbox from the palm of my hand was quite a kick.
Needless to say, the Web scaled down for a mobile device doesn't have the sizzle of the full screen treatment, but for text information, it worked fine.
There are plenty of times when I've been ensconced on the couch, and a thought popped into my noggin that suggested Internet follow-up, but the notion of waiting for a computer to boot up scotched the idea. With the T|X, it's instant on, instant connection and instant information.
Landscape and Portrait Modes
The unit has a very attractive color display. It measures nearly four inches diagonally and has a high resolution of 320-by-480 pixels.
As with all Palm's top shelf handhelds, the screen can be instantly flipped between portrait and landscape modes with a stylus poke.
The landscape view is very handy for displaying photos, which tend to be horizontal, and videos. And, of course, spreadsheets, which would be very difficult to look at without this mode.
Lots of Memory
You can enter text into the T|X with an onscreen keyboard or by using the Graffitti 2 handwriting system. The second version of this system uses characters that are more natural than the original version.
Unlike some past Palm models, the T|X has a "soft" Graffitti area. That means the area can be wiped from sight, allowing more real estate for other functions.
Historically, Palm handhelds were known for getting a lot done with very little memory. But multimedia files like music and video take up lots of space so Palm has appropriately provided the T|X with lots of internal flash memory — 128 megabytes — and an SD slot that takes cards with as much two gigabytes of storage.
If you're Microsoft Office user, the T|X will make you feel at home with its Documents To Go software, by DataViz. It allows you to view and edit documents created in applications like Word, Excel and PowerPoint.
New Spark for Handhelds
In addition to those business programs, the Palm unit includes some entertainment software.
Pocket Tunes lets you listen to MP3 files and Podcasts. You can create playlists with the program as well navigate through your tunes based on album, artist or genre. Sound through the device's stereo headphone jack is very good.
There's also a video player and photo organizer that will let you create slideshows on the fly accompanied with tunes from your music library.
With the T|X, Palm has pumped new life into the handheld platform, and it's done it without losing the elegant simplicity that's been its hallmark since its inception.
---
John Mello
is a freelance business and technology writer who can be reached at
[email protected]
.
---

Read More Reviews…
---