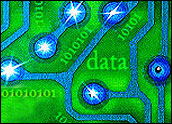 Panasonic has unveiled the world's fastest SDHC (Secure Digital High Capacity) card, with a whopping 32 GB of memory.
The new card, to be released April, will comply with the Class 6 speed specification of the SD Card Association, which develops and publishes technical standards for SD card technology.
Class 6 guarantees a minimum data transfer speed of 6 megabits per second (Mbps) at the best fragmented state, where the card being written to is blank.
The other specs are Class 4 and Class 2, with minimum data transfer rates of 4 Mbps and 2 Mbps, respectively.
Size Is Everything
SD card vendors have begun rushing 32 GB cards to market, and Panasonic is not the first to unveil a card with that capacity.
"There's a general move towards more speed, more capacity and more functionality," SD Card Association spokesperson Kevin Schader told TechNewsWorld.
In January, Toshiba released a 32 GB SD card to the market.
SanDisk unveiled a 32 GB SD card in its SanDisk Ultra II line on January 31 at the photo industry's PMA 08 international convention in Las Vegas.
However, both the Toshiba and SanDisk cards are Class 4 cards, which means they're slower than Panasonic's.
The Panasonic Card
Users will be able to write on labels on the front and back of Panasonic's card, and the company will introduce this feature in its other SD memory cards.
The card will also bear both the SDHC logo and the SD speed class logo.
This is mandatory for all SDHC cards with more than 4 GB of capacity under the SD Card Association's rules.
Cards without these logos are not compliant with the association's standards, and may not work as advertised. On its Web site, the association warns visitors to make sure they use cards compliant with its standards.
"Consumers should look for the brand as a way to verify that the product will work as promised," Schader said. "It's buyer beware."
Secure Digital is a flash memory card format developed jointly by Panasonic, SanDisk and Toshiba for use in portable devices.
There are compatibility issues between older cards, with smaller capacities, and the newer ones, with 4 GB or more of capacity. The SDHC format is also incompatible with the other two.
The problem lies in the software; physically, all three types of cards measure 24mm by 32mm by 2.1mm.
The Future
High-capacity SD cards will increasingly be in demand as technology becomes more mobile.
In Japan, about 12 million people watch mobile TV programming on their phones and can record the programming with SDHC and SD memory cards.
There are 13 handset models featuring SD recording technologies in Japan, and 75 percent of all mobile phones in Japan are equipped with SD slots.
That leaves us with only one question: When can we expect 64 GB SDHC cards?