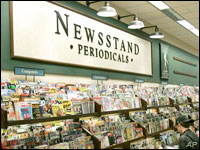 Two major publishers — the Tribune Co. and the Philadelphia Media Network, or PMN — plan to offer long-term subscribers free or heavily subsidized tablet readers.
The Tribune is developing an Android tablet, according to CNN. PMN plans to offer deeply discounted Android tablets together with applications developed in-house.
Whether or not they can pull off these programs is open to question.
"On the surface this sounds like a great lure to try to shore up their dwindling readership, but how are they going to do this?" asked Laura DiDio, principal at ITIC. "The investment's going to be huge; if they are talking to Samsung, that' s not going to come cheap."
Tribune Co. spokesperson Gary Weitman declined comment.
The Tribune's Tablet Plans
The Tribune Co. is one of the largest multimedia companies in the United States. Its dailies include the Los Angeles Times, the Chicago Tribune, the Baltimore Sun, the Orlando Sentinel and the Hartford Courant.
The company's broadcasting group operates 23 TV stations, and it also has several news and information websites.
The Tribune Co. offers free applications for smartphones and for the iPad. It also has a multimedia program called "Mosaic" for Windows tablets and phones, and for Samsung's Galaxy Tab, which runs Android.
Its planned tablet will reportedly run a customized version of the Android OS, and will be offered free or heavily subsidized to long-term subscribers.
However, the project has reportedly been delayed. Tribune was apparently scheduled to begin testing the tablet in Chicago and Southern California in mid-August but may not be able to meet that deadline.
The Tribune Co. is said to be in negotiations with Samsung and other mobile device manufacturers. It hasn't announced which carrier it will work with, either.
The Tablets of Brotherly Love
The Philadelphia Media Network will offer deeply discounted Android tablets packaged with four apps that will display digital versions of its two newspapers, the Inquirer and the Daily News.
The apps will also display additional content from Inquirer and the company's Philly.com website.
PMN said it would offer Android tablets at up to 50 percent off to subscribers who sign on for at least a one-year term. It did not disclose details about which device maker it's partnering with.
PMN spokesperson Mark Block told TechNewsWorld the project will be launched in "the last week of August and into early September."
"We have identified a tablet that will be more affordable for the consumer, while still providing the excellent reliability and customer service associated with Apple products," he said, noting that a tablet supplier has been selected.
It's All About the Money
It's unclear whether the tablets will help rescue the Tribune Co. and PMN.
Like many publishers, the two companies have been suffering from readership losses, a fall-off in advertising revenue and a rise in printing and other costs.
The Tribune Co. filed for Chapter 11 protection in 2008 and is now at the tail end of a long and contentious bankruptcy proceeding. In July, the company restructured, and it has laid off editorial staff.
PMN bought the Philadelphia Inquirer and the Philadelphia Daily News out of bankruptcy in September.
"How long can these guys support this tablet plan when they've got their own financial crises going on?" ITIC's DiDio asked.
"I see more downside than upside," she added.
You Gotta Believe in Magic
It's not as if bundling newspapers with digital media is something new.
Several publications have digital versions on the iPad, a few have them on Android tablets, and two years ago the Detroit Media Partnership, which owns the Detroit Free Press and the Detroit News, launched a pilot project under which it distributed the publications on e-readers to subscribers.
One of the e-readers was the Amazon Kindle; the other was Plastic Logic.
"Sure, the Tribune people want to join the digital revolution because they fear they're late and this could be a brilliant way to dive in," ITIC's DiDio said. "But they're not going to break even within one year. Microsoft took three years to break even with the Xbox."
Further, Android-based tablets are doing poorly against the iPad, which currently has about 80 percent of the tablet market.