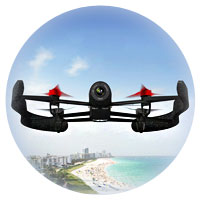 Parrot has added a new model to its line of airborne drones — the Bebop. Demonstrated in San Francisco over the weekend, the lightweight Bebop includes some snappy features, such as built-in image stabilization, a 14-megapixel camera with a fish-eye lens, and support for the Oculus Rift virtual reality headset.
Although a price hasn't been announced, the drone is expected to hit a sweet spot between US$500 and $1,000.
Early reviews have been positive.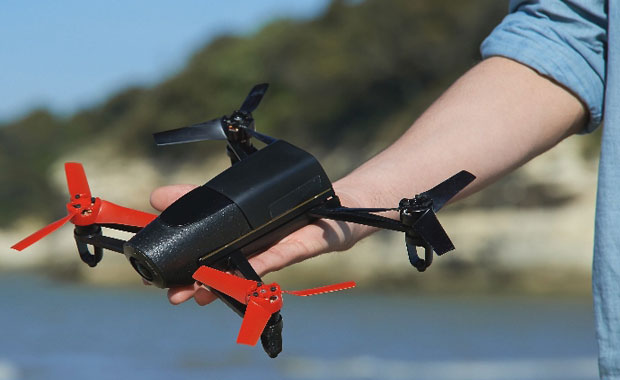 "Image stabilization isn't something that Parrot has addressed before, and it works as advertised in the Bebop," said Andrew Amato, editor-in-chief and cofounder of Dronelife.
"By building image stabilization into the camera, you don't have to spend $100-$200 on an expensive add-on like you have to do for most drone models," he told TechNewsWorld.
New Controller
Oculus support also will be an attractive feature for hobbyists evaluating the Bebop.
"Plenty of hobbyists have gone ahead and customized their own Oculus plug-in for various drones, and now it will be built into the new controller Parrot will be releasing," Amato said. "It's really cool to behold."
It will have two joysticks for controlling the direction and altitude of the Bebop and the orientation of its camera. The controller's release is expected by the end of this year.
The Bebop also can be controlled through an app that runs on Android and iOS devices.
"I've piloted a Parrot before with my tablet," Amato noted. "It's fine. It works well, but I'd prefer having the joysticks. Having that as an option will be helpful and make the drone more accessible to people."
Parrot also has increased the range for live video from the drone by adding additional WiFi chips to the vehicle and optionally with the new controller. Without those new additions, the range for live video is around 100 feet; with them, it's about two kilometers or 1.2 miles.
If live video isn't a necessity, you can shoot stills and video and stash them on the unit's built-in flash storage. In addition, the UAV's GPS can be programmed to follow a route.
"Then it can fly as far as you tell it to — it ignores the WiFi and just goes to the GPS points — so the distance isn't measured by WiFi signal but by how long the battery lasts," Amato explained. According to Parrot, battery life is 12 minutes.
Murky Regulation
Parrot chose to raise the curtain on the Bebop just days after the FAA revealed that the pilot of an American Airlines Group commuter jet told officials on March 22 that his aircraft nearly collided with a drone while approaching Tallahassee airport. He said that the drone was similar to a hobbyist drone not the kind used for commercial purposes.
"Anyone who wants to fly unmanned aircraft for hobby or recreational purposes [does] not need authorization from the FAA," FAA spokesperson Les Dorr told TechNewsWorld, "but we do expect them to follow the model aircraft guidelines that have been in place for more than 30 years."
Those guidelines recommend hobby aircraft fly no higher than 400 feet and stay away from hospitals, schools and airports. What power the FAA has to enforce those guidelines is in doubt, though. A federal court recently through out a US$10,000 fine the FAA imposed on a violator of the guidelines, ruling that the agency had no authority to impose the fine.
Permission to use drones for commercial purposes currently is being granted on a case-by-case basis, but that appears to be very loosely enforced by the agency.
CineDrones, a Florida company which uses drones in its commercial aerial film work, was told by the FAA to ground its UAVs, but it just ignored the order.
"At this point, the FAA doesn't have their finger on the pulse of the industry," CineDrones President Mike Fortin told TechNewsWorld. "They're talking from behind a desk without any hands-on knowledge of what's going on."
Cessna Lessons
Matt Waite, a professor of journalism at the University of Nebraska-Lincoln and founder of the Drone Journalism Lab, also was targeted by the FAA. His program to explore the uses of drones in journalism has been suspended while his drone operators obtain flight certification.
"There's no drone school out there. The FAA doesn't have a set curriculum, so what they're doing is have people take a private pilot's course," Waite told TechNewsWorld. "We're learning a lot about flying a Cessna right now."
Later this year, though, a regulatory framework more suited to UVA operators may be in play.
"We expect to publish proposed rules for small, unmanned aircraft systems," the FAA's Dorr said, "that will offer standards for a wide variety of users of that class of unmanned aircraft."