Intel's Innovation conference was last week. Unlike Intel Vision, which lacked the "Vision" part (I really miss Intel's old CTO Justin Rattner, who made it look like Intel was building magic), there was a lot of innovation at this event.
Intel CEO Pat Gelsinger — who I still believe has the best chance of making Intel a leader again — did an admirable job showcasing that Intel is stepping up. I had a chance to talk to Gelsinger after the keynote. I've always found him to be interesting, approachable, knowledgeable, and fun — rare qualities in a CEO.
I believe we are in the end days of the traditional PC and that it is due to evolve or be replaced by a smartphone derivative. Gelsinger is clearly on the "evolve" path as he discussed a very aggressive cadence for the next several generations of AI-enhanced PCs and servers.
One of my takeaways was that you might want to wait until mid-December to buy your next PC because that evolution will start with a new AI-enhanced processor and improved graphics that better embrace the AI future than what is currently in the market.
This week, let's discuss what emerged from Intel Innovation 2023, and we'll close with my Product of the Week: an "evolved" PC from HP that may be the perfect tool for either a sales rep or a CEO, the Spectre Foldable 3-in-1 PC, which is a sign of things to come.
Building the Six Million Dollar Man
There was a TV show that I enjoyed watching in the '70s called "The Six Million Dollar Man," where an injured test pilot had several parts of his body replaced by robotic prosthetics that gave him superpowers. Yes, there was a spinoff called "The Bionic Woman," but I didn't identify with her quite as much.
Gelsinger presented a set of hearing aids that he used, which he later discussed with me, that use Intel technology to enable hearing-impaired folks to outperform those with natural hearing.
When listening to an audio or participating in a videoconference, the hearing aids do real-time translation and eliminate ambient noise. When someone approaches, they notify the user of a change. If the user wants to talk to that other person, they simply switch the audio from the event to that new person while the AI automatically transcribes what is occurring so that the user doesn't miss any part of the call.
I think this is an early indicator of the next generation of prosthetics, replacement or enhancement parts that not only make up for the disability but create a better result than nature did, making the six-million-dollar-man thing even more possible. For those injured in war or service as first responders — who deserve our greatest support — prosthetics like this will be a game changer.
I expect similar AI technologies will be implemented in smart glasses and other prosthetics in the future.
Preventing E-Commerce Returns
Many retailers are cutting their return policies due to fraud. This is problematic for online clothing purchases because there has been no easy way to ensure the clothing will look right on us or fit, especially since sizes can vary greatly both internationally and within the same store.
Gelsinger showcased another technology: an AI-driven kiosk, available as a PC application, that more accurately matches clothing sizes to your unique build and shows you how you'd look in the attire. This tech would go a long way to assuring that your online clothing purchase will be as trouble-free as if you had bought the item in a brick-and-mortar store.
I've never liked returning things and would really appreciate it if I never had to do that again.
Personally Created Entertainment
I'm a fan of Taylor Swift, but I don't care much for her lyrics, given much of what she writes seems focused on punishing an ex-boyfriend, reminding me of some of my questionable behavior when I was single. Gelsinger demonstrated how this new PC AI technology called an NPU for Neural Processing Unit can create a song that sounded like a Taylor Swift song sung by Taylor Swift, but that was uniquely created by the AI.
He also demonstrated pictures that were created from the description or by merging existing images, like having an astronaut assume the pose of a ballet dancer into a still shot that he was then able to apply motion to. This technology suggests you could create your own TV shows or movies with the right examples and direction given to the AI.
While I'm sure actors are concerned their images would be misused for this purpose, my goal would be to put me, other family members, and friends into the movies I create. I think I could have a lot of fun doing this, though I wonder if my friends and family would be as supportive, given my taste in movies. For instance, I think it would be fun to see myself as John Wick.
Preparing for a Pivot
Gelsinger disclosed that Intel had made a significant investment in ARM's IPO, and in a later break-out session, it was revealed that Intel is also working with RISC-V.
These moves better position Intel if there is a pivot away from PCs into something like Apple's Mac, which blends traditional PC form factors with a smartphone-based ARM processor. Some of my analyst friends have gone on record saying that the latest Macs are the best PCs in the world.
While x86 isn't running out of steam yet, smartphones seem to be advancing more quickly than PCs. Intel may need to make a pivot to this technology in the future. It is part of the CEO's duty to assure his company can pivot if necessary to survive, and Gelsinger appears to be doing precisely that.
I recall a quote by Thomas Watson, Jr. of IBM, about being willing to change everything but who you are. Pat Gelsinger seems to be assuring that Intel, if necessary, will be able to do exactly that.
The AI Centrino Moment
Gelsinger then talked about AI being in a Centrino moment and that he is expecting the technology to mature in 2.5 years like Centrino did. My wife worked with Gelsinger back then, and I recall her telling me that Andy Grove, Intel's then-CEO, referred to the Centrino logo as an image of his prostate. Let's hope that if Gelsinger logos the NPU, it will look better.
There is one big difference between AI and Centrino. Intel drove Centrino, which introduced Wi-Fi to laptops, but AI is being driven externally to Intel and appears to be moving a heck of a lot faster.
In short, I doubt Gelsinger has 2.5 years, but since he is introducing products this year, he is clearly having Intel move as quickly as possible.
Wrapping Up
The next several generations of PCs will be much smarter and more capable. I left the Intel Innovation event impressed with the work the company is doing and the care Gelsinger is taking to ensure Intel's long-term survival, and personally, I enjoyed catching up with him. He once covered for my wife when she worked with him at Intel, and I don't think I've ever thanked him enough for that.
In any case, Intel is preparing for the future of AI. While the company continues to work to undo mistakes that left it behind the competition, the brand remains one of the most powerful in the industry despite an inability to retain CMOs (something Gelsinger still needs to fix).
Intel will emerge stronger from this. It's not a matter of if that will happen but rather when it will occur.

HP Spectre Foldable 3-in-1 PC
I love innovative products. Foldable screens are the new way to put a lot of screen real estate into a mobile platform. I'm also a believer in screen sizes above 15 inches, but notebooks and mobile workstations in this class usually weigh closer to 10 pounds than the three to four pounds I prefer to carry.
At $5,000, the HP Spectre Foldable 3-in-1 isn't for the faint of heart. Its unique foldable 17-inch screen would be awesome for executive or sales presentations or to watch videos while traveling on a plane. I can only imagine the envy in the eyes of the person sitting next to me if I were to pull this puppy out of my computer bag.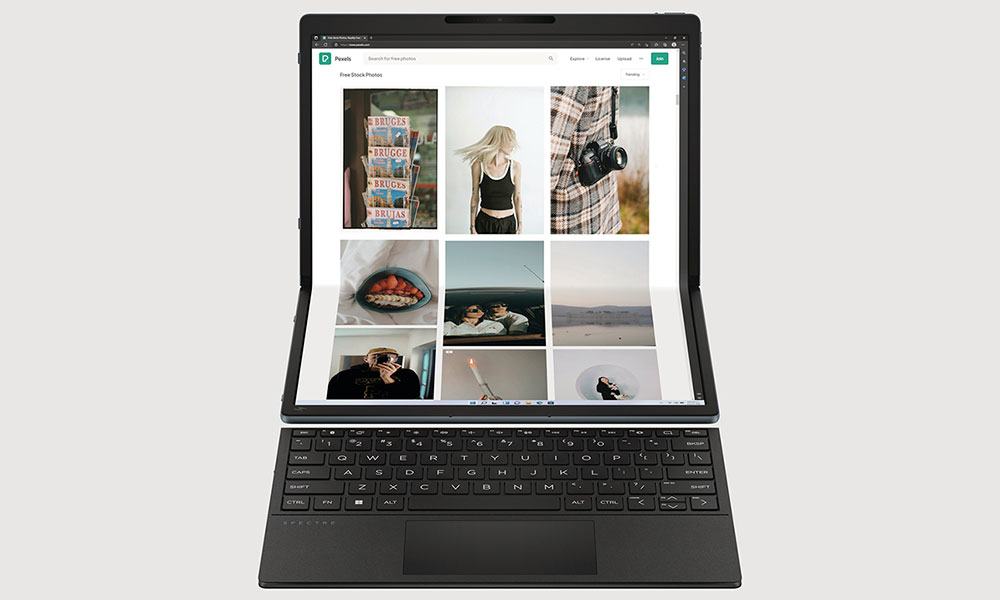 The HP Spectre Foldable PC in extended screen mode (Image Credit: HP)
---
This foldable has a fascinating design because it morphs from a large tablet to a small notebook to an all-in-one PC. The keyboard charges or is powered when in the laptop configuration, which allows the notebook to be usable in a coach seat, and with a built-in kickstand, the fold-out screen makes for a nice video device for your hotel room or when making a presentation.
Given this has a brilliant OLED screen, you'd think the battery life would suck, but it doesn't. It has over 12 hours of battery life, which should be market-leading for a 17-inch class device. This performance is achieved by having two batteries built in that not only enable long battery life but also give it a comfortable balance in either laptop or tablet mode.
The Spectre Foldable 3-in-1 has a dedicated processor to handle some of the security and Intel Unison for smartphone integration. The ideal user for this, given the price, is sales where you need to present your product in a picture or video form, top executives (like Intel's CEO) who need to pitch ideas to investors and other executives, and artists who need to present their concepts and art through digital images.
This laptop is incredibly innovative. I'll admit to having a little lust in my heart for it, so that's why the HP Spectre Foldable 3-in-1 is my Product of the Week.
The scheduled release date is Oct. 5, 2023, and it is available for pre-order now at Best Buy.