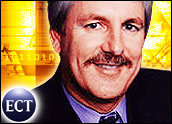 Last week we talked about a number of platform companies that could drive the future of the personal computer. This week we look at PC hardware, and we will talk a bit about some of the unusual products that are already on the market.
Most are built by small companies focused on unique segments, but each, in its own way, is looking towards the future of the PC.
The Automotive PC
How about a full personal computer for your car? Internet connection, e-mail, music, movies, navigation, games and shopping. Think of the fun the kids will have, think of the trouble you can get into, think how cool it would be (at least if you are, like me, really geeky).
Autocom makes a PC just for the car. It has an unusual power supply that lets the PC shut down and start up gracefully while not killing the battery, and it uses a touch-screen to get around the need for a keyboard and mouse. It will do all of the things I mentioned above, assuming you are in range of a hot-spot or wide area network.
The device has a hard drive, so you can put your digital music and pictures on it, and it has a DVD decoder, so you can hook it to a DVD drive and play and record on it. (I don't know why you would want to record, but just think of the bragging rights.) It certainly makes the stuff MTV's "Pimp My Ride" does with game systems and simple DVD players look light-weight. (For some reason they refuse to do my car — probably too much of a challenge).
A Computer for Your Pocket
OQO, maker of the hand-held Windows XP computer, has had a great deal of success. Demand has far outstripped supply for what became one of the most exclusive computers in the fourth quarter of last year. The idea of a small, "pocketable" computer that does everything proved popular. Given that this was designed by the same team that did the Apple Titanium notebook, that shouldn't have been much of a surprise. Sony validated the concept by releasing its U-Series in the U.S., and we now have a viable product category.
In addition, last week Good slapped Research in Motion (maker of the BlackBerry) upside the head (RIM's stock fell on the related analyst downgrade) by announcing an easy-to-use development platform with some of the most powerful partners in the industry behind it. While the focus was clearly on the PalmOne Treo 650, most of the buzz surrounded some soon-to-be-released products we can't yet talk about, as well as one product we can: The Samsung i730 addresses the need for a large screen and a small size by using a slide-out keyboard very similar to OQO's. It even has built-in stereo speakers (take that, iPod). At some point this may be all you'll need. Or perhaps, with this Good announcement, that point has already arrived.
Personalized PCs
Nokia has been the most aggressive in addressing the emerging world of technology as fashion statement. The same can be true of personal computers. For laptops, in particular, Alienware provides a near-exclusive look, and one of my all-time favorite notebooks is the Acer Ferrari.
But if you want to look to the future, think Dow Chemical. Yes, Dow, and, no, I didn't suddenly lose my marbles. Dow has developed a process to make PCs, particularly laptops, look unique. The technology is from their Inclosia division. They can use metals, woods or other materials to make a notebook look like a piece of nautical gear, a purse or anything you might desire. Of course, the hardware OEM has to allow them this opportunity, but getting a PC not to look like a PC is undoubtedly a step into a future that could make for some interesting, and vastly more personal, computers.
Imitation Is the Sincerest Form…
For those that like the quality feel of an Apple machine but need a Windows computer at an aggressive price, Trigem of Korea has come to the rescue. The LLUON All-In-One is actually a better industrial design then the iMac from the standpoint of ergonomics and weight distribution, and the LLUON Modular is a more complete offering than the Mac mini, though it isn't as attractive. The Dreamsys All-In-One is a dead ringer for the new Sony V Series. If you had to emulate two companies on industrial design, the short list would be led by Apple and Sony, and it is clear that Trigem has read that short list.
One of their products that I've used is the Kloss KL-915a. At $350 for a bare bones system, it is impressive. It is dead quiet, very attractive, and with a fully configured price of around $550, it isn't very expensive. I haven't been able to find a negative review, and it is one of the few products that actually looks like a piece of AV equipment.
Extreme Personalization
Attractive products, aggressive prices and a good quality reputation is all fine and good, but what if you want to really push the envelope?
We can't talk about personalization without talking about a semi-whacked group that I unofficially belong to. These are folks that customize PCs to the extreme. They are called Moders. Some feel the need to update designs from Apple; some create a more military look; and some clearly watched too many Star Wars episodes.
The moders show that size and shape are no longer limitations, and that the industry for some time has had the capability to build PCs that could look like anything. Few, other than Apple, consistently work to challenge the concept that a PC has to look a certain way, and I think may of us would prefer a PC that looked like something else and fit more seamlessly into our homes and offices.
We are clearly entering a time when design is more important, when even companies not known for design (such as Dell; we'll talk more about this later) are starting to differentiate themselves by it. I was getting really tired of the same old thing, and I can't help but think this is a good thing.
---
Rob Enderle
, a TechNewsWorld columnist, is the Principal Analyst for the
Enderle Group
, a consultancy that focuses on personal technology products and trends.
---