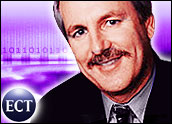 This week, if forecasts are to be believed, 19 million of you will line up to buy fewer than one million first-generation iPhones from Apple. Given Apple's history with first-generation products, I'm not so sure that beating each other silly in a line at an AT&T store is going to be worth the trouble.
Besides, there's already way too much conflict in the world today. I recently got a visit from the Peace One Day organization, and I think this is something more of us should get involved with.
However, if you do make the shopping pilgrimage and manage to get your hands on an iPhone, I'm going to suggest you also buy four accessories that will guarantee you'll feel less foolish than your iPhone-buying peers after you get the thing home and start using it.
I'll also cover the product of the week, which is the very first media center computer that was feature-complete at its launch — and sold out right after. Yes, the two things are connected.
Peace One Day
It isn't often that we get a chance to make a difference — a big difference — in what happens on the world stage. I'mconnected to one organization that is attempting to assure our future,The Lifeboat Foundation, and I've just been introduced to another:Peace One Day.I was able to spend time withthe guy driving this, Jeremy Gilley, and he isn't a whack job and ismaking some incredible progress. There are a number of folks, largely brands and names you'd recognize — like Coke andAngelina Jolie — backing this.
This second organization has one simple initial goal, and that is to drive a one day moratorium on people killing people, and it has the backing of the UN and most of the world's states. This isn't the typical empty gesture either. Every year on this day, the moratorium saveslarge numbers of people by distributing food and medicine, by persuading the parties to conflicts to look for nonviolent resolutions, and by reuniting war-torn families.
As I sit here and watch, once again soldiers from a variety of countries — particularly my own — are leaving behind families and loved ones permanently. This is largely due to a conflict that the concept of democracy should have obviated. I know there is a better way, and I think we should all help Jeremy find it.
In any case, I encourage you to look at the effort, and if you are as frustrated as I am, perhaps use some of that frustration to help out. The only problem is that the day of Peace is September 21st, and I'm thinking it would have been better to have it on June 29th.
Getting Ready for the iPhone
That is because June 29th is the long-awaited launch of the iPhone, Apple's first-generation phone. Folks are already lining up to buy one, and it looks like the demand is 20 times the initial supply. I'll bet a large number of the first buyers intend to offer their phones on eBay at a substantial premium, trying to repeat what happened with the PS3 over Christmas and the Xbox 360 last year.
Given that this is a first-generation phone and is likely to have a lot of problems, I wonder how many will get stuck with these things or feel foolish they paid several times list price to get a phone that will go through what are expected to be dramatic changes — and probablytwo versions — over the next 12 months.
If you do buy an iPhone, I suggest you also buy four other things:
Now, one final thing: If you are buying this phone for a child or another member of your family, please emphasize that entering data on this phone while driving is dangerous. Although you can blind-type — that is, type without looking at the keys — on a traditional cell phone (but shouldn't while driving), that isn't what happens with a screen-based phone, because you can't feel the keys. Refraining from texting while behind the wheel could save your child's life.
My standing advice, however, is to wait until version two or three to purchase an iPhone. The first one comes with a two-year contract, so the good news is, if you do buy one, it likely will be the last time you buy a version one product.
Product of the Week: Alienware Hangar18
I was one of the launch analysts for the original media center PC, and from then until now, I've told vendors they needed to put an amplifier into the product to make it compelling.
That is because the promise of this device is connected directly to ease of use, but it works only if you don't have to have a redundant stereo receiver. Not a single large vendor built one of these until now, and virtually all of the major PC vendors had disappointing sales as a result.
With itsHangar18 product, Alienware, a subsidiary of Dell, finally put an amplifier into the box. It immediately sold out, which means you can't actually get one from the company for a while. The difference is, Alienware built the thing right, and the market has rewarded it with an unplanned — but, I'm sure, welcome — sales bump that it wasn't actually expecting.
Hangar18 starts at $2K, or about three times the real price of an iPhone — and likely less than some fool will probably pay for one — so it's expensive but worth it, given it is also complete.
Hangar18 is product of the week not only because the thing is easily the best in class, but because Alienware allowed me to be able to say, "See? I was right!" That's something I enjoy doing as often as possible.
---
Rob Enderle
is a TechNewsWorld columnist and the principal analyst for the
Enderle Group
, a consultancy that focuses on personal technology products and trends.
---