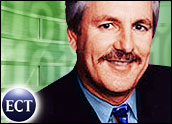 Last week should have been a bigger week than it was with E3, but that show is now a shadow of what it once was, and many of us struggled to pull anything meaningful out of the event.
There are simply way too manylazy game developers right now, and I think that could kill this market. Sony continues to be in serious trouble, and now the fight appears to be between Microsoft and Nintendo, both of which really come at the segment in a vastly different way.
Also last week, Dell announced its SMB (small and medium-sized business) line, Gateway debuted a really nice-looking laptop line, and I spent quality time with HP, which I still think could build a product that could do to the PC market what the iPhone just did to the cell phone market.
Finally, I'll close with my product of the week: a stunning new flying mouse from Logitech.
At E3, Sony Shows Weakness
One of the content conversations I'm having this year concerns whether Sony can come back in the console gaming space. It seems so far out of the race now that recovery is not only elusive — it seems impossible. Still, Nintendo was in this same spot prior to the Wii, and it came back — so Sony could as well.
At E3, the likely platform for Sony to do this seems more the PSP (PlayStation Portable), which underwent somenice changes, than the PS3 (PlayStation 3), which got a price cut — right after Sony said there wasn't going to be one. I really don't think lying is a good idea, and intentionally damaging the integrity of a strong brand like Sony — given Sony's other problems — seems to be foolhardy.
To recover, I think Sony will need to do a fast revision of the PS3, pull a lot of the cost out of it, and both lower the price and fund one or two great games — and it needs to update the damned uncomfortable controllers. My sense is that if it doesn't do something drastic, its gaming future will be the PSP, which admittedly is kind of hot again with these latest changes.
Disney Hooks Up With Microsoft
Microsoftgot Disney to sign up to provide programming for the Xbox. I think this is a bigger win than anyone realizes, as Disney is the only studio people ask for by name. With the others, people tend to chase the titles. If the Xbox is ever to become a set-top box, having Disney on board is critical. The studio is a bellwether, suggesting more will follow its lead.
An interesting side note is that Disney is apparently not happy with Apple at all and is looking to partner with anyone it can find as a result. Apple partnerships often seem to end this way, but having Steve Jobs on the board makes the development somewhat unexpected.
To fully address the risk that Nintendo now represents, I do think that Microsoft needs to better address the health benefits that Nintendo provides and close the cost gap — something that apparentlywill happen shortly.
Nintendo Goes Healthy
Nintendo is focused tightly on its market, hitting its critical price points, and has created more buzz around its limited platform than I've seen in this segment in a while. With the Wii, Nintendo is doing something similar to what Palm did for the original PDA and what Apple did for the iPod: keeping the device simple and focused. It's paying off.
With a heavy and unique focus on health, Nintendo is doing a good job of taking the gaming market back from Sony, and only Microsoft is putting up a credible defense.
In the end, however, I'm still very worried at the lack of really exciting titles in the segment, and I wonder if we aren't moving back to a time when the PC is gaming king again. I saw a gaming rig a few days ago that will launch around back-to-school time that will knock your socks, shoes, hat, and probably your limbs right off your body. Can't talk about it yet, but stand by for when I can.
Apple's Influence
Last week, Gateway announced two nicely redesigned new lines of laptop computers that — like the newDells — come in a number of colors. Features include an HDMI (high-definition multimedia interface) TV out jack and apparently really good battery life. It also offers the choice of Blu-ray or HD DVD. I think every vendor should provide the option until one or the other actually wins or the combo drives drop in price.
Prices, starting below $1,000, aren't bad either. The new line reflects an overall focus on design by every major PC vendor, which can largely be credited to Apple becoming a bellwether for the industry, perhaps for the very first time.
Cool to the Touch
HP'sTouchsmart comes closest to replicating what Apple did with OS X to create the iPhone. I think this, too, will be a direction the industry will go.
Microsoft's Vista has clearlynot created the excitement PC manufacturers had hoped for, and Apple showed the way to creating a wonderful experience on top of a complex product. Its OS X and the iPhone are based on the even more difficult-to-use Unix platform.
If you get a chance to mess with the Touchsmart interface, try it out. It's rather impressive, and the experience is similar to what the iPhone provides. Of course, I should mention that HP came to market first. It is interesting to note that sales of the Touchsmart blew out forecasts, according to HP, and many stores are sold out — so buying one could be difficult. There is a chance, if the company does this right, that HP could iPod — or iPhone — the PC industry. We'll see.
Dell's New Line
Even Dell is running hard. It launched its newVostro small business line, which is designed to give small businesses the kind of experiences large enterprises get.
While this is a nice line, Dell also announced it will focus on getting the crapware — all of the programs you don't want on a new PC — off these systems. By doing so, it would provide an out-of-box experience much more akin to what Apple currently provides. The vendors, in what is a very low-margin market, make a lot of their profit from crapware, but putting this on systems makes as much sense as putting ads on the outsides of new cars to increase margins.
I could suggest an even simpler path: cutting out the middle man. I'll bet Apple would pay up to $10 a PC for the other OEMs (original equipment manufacturers) to intentionally screw up their own user experience. In any case, Dell should be applauded for doing this on the one line, but I'd give a standing ovation if it carried the practice across all of them.
Anyway, nice progress. Gateway, HP and Dell have all stopped whining about low margins, and all seem to be focused on building better products and improving — sometimes dramatically — the user's experience. I think a lot of thanks goes to Apple for waking this industry up.
Product of the Week
What would happen if you took the motion features of the Wii remote and wrapped them in a gorgeous black-and-silver laser mouse? You'd have theLogitech MX Air Mouse, which was announced last week.
It's been a long time since I've been stunned by a mouse, but this thing is just really cool. Granted, it works best if you have a Media Center PC, because it allows you to control the mouse pointer by moving your arm freely in space.
The Gyration mouse did this first, but Logitech's execution is vastly better and puts this mouse in your living room. It's technology is both more precise and more expensive than Nintendo's controllers, but the result is similar.
I can see this thing being incredibly handy for presentations. In any case, just stand out work from Logitech, which continues to impress me with its focus on core strengths and solid execution on keystone and flagship products.
This product is another example of how design is becoming important — but given how much Apple mice have historicallysucked wads, I can't give Apple credit for this one.
---
Rob Enderle
is a TechNewsWorld columnist and the principal analyst for the
Enderle Group
, a consultancy that focuses on personal technology products and trends.
---