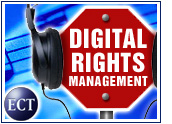 Within six months, Philips Electronics expects to release a new interoperable digital rights management (DRM) system. That will be good news for music consumers currently befuddled by a hodgepodge of schemes promoted by the likes of Apple, Microsoft, Napster and RealNetworks.
"It is Philips' opinion that DRM solutions will be necessary to enable the introduction of many digital services," Philips said in a statement obtained by TechNewsWorld. "At the moment various initiatives have started in the industry in the field of DRM. We think that these solutions should be interoperable to satisfy the needs of consumers."
The DRM on Philips' drawing board is expected to use technology from InterTrust, which the Dutch electronics company and Sony snapped up for about US$453 million in 2002. InterTrust has a patent-infringement lawsuit pending against a leading DRM player, Microsoft.
Although DRM extends beyond simply protecting digital entertainment, its most visible chafing point right now is the online music industry, where tracks protected by one DRM system won't play in software or hardware that recognizes another. Cuts purchased at Apple's iTunes store, for example, won't play in PC software made by other vendors or in player hardware other than the Cupertino company's iPod.
Solution to Real Problem
"Something like this will only work if it is truly open source," Jarad Carleton, an IT industry analyst with Frost & Sullivan in San Francisco, said of the Philips move. "I don't know the details of what Sony and Philips are planning for InterTrust, but I do know that there will be resistance in the market if royalties are too costly for this DRM system."
There is a reason why InterTrust has had financial problems, Carleton told TechNewsWorld. "If Sony and Philips think this new system is going to be a solution to a very real problem with DRM-protected content, I sure hope they have studied the reasons behind the lackluster performance of the InterTrust business in the past."
Competitive Weapon
It has been reported that Philips believes DRM shouldn't be used as a competitive weapon, as some companies are doing. "That's an excellent statement, but I don't know how honest and serious they are about it," Gartner research director Ray Wagner told TechNewsWorld.
"That statement is very much consumer-centric and high-minded," he said. "The issue is that Sony and Philips are saying that it's our system that's the one that should be chosen."
There's no question, said Wagner, that having a "blizzard of proprietary systems" in the marketplace is "making it more difficult for consumers" to do what they want to do.
Apple's Role
As the leader in online music sales, Apple could play an important role in a DRM shakeout, should one occur. "There's no reason why Apple couldn't adopt some or all of Philips' rules in six months," Richard Doherty, an analyst with the Envisioneering Group in Seaford, New York, told TechNewsWorld.
He added that next year, Sony, which co-owns InterTrust with Philips, is expected to throw its sizeable weight into the online music market. "If Sony endorses Philips' DRM service when it launches, it makes the chances of its success even higher," he asserted.
DRM Doomed?
Philips has more technology patents than even IBM, which should be reassuring to those looking to adopt a DRM system that won't be challenged in court. "If you want to have a guarantee, you want to have as many bases covered as possible, which is why Philips' statement has a lot of credibility to it," Doherty said. "They can cover more bases than any two or three other companies."
Whatever DRM system emerges as a standard, there are those who believe its architects are building sand castles against the tide.
"My instincts say that these schemes are doomed," Ken Orr, a fellow at the Cutter Business Technology and Trends Council in Arlington, Massachusetts, told TechNewsWorld. "That's because the technology for breaking these things is so much easier than the technology for making them work."