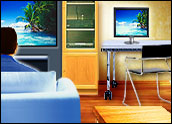 Online video is currently the buzz topic dominating news cycles — technology, content, search, distribution, syndication, aggregation, advertising, widgets … OK, I think you get it. The migration of content delivery has done just that: migrated. Consumption of online video has shifted from cable TV, to satellite and digital video recorder, and now to the Internet. Because of this, individuals are taking the term "on-demand" much more seriously. People have less time and don't want to be limited in what they are able to view. As user experiences shift from passive to more active, we are seeing the Web really prove itself as an ideal mechanism to deliver content because it is fast and can provide high-quality content.
However, the Internet is also very vast and far-reaching, which puts us at a point where fragmentation of online video has begun to frustrate online video users because there is no clear path for them to find what they are looking for. They aren't always sure who the content producer or originator is, so they have to spend time searching the Web for videos they want to consume, when they want, on their terms.
The Rise of Long Content
A recent report issued by Integrated Media Measurement revealed that more than 20 percent of Americans watched some prime-time TV on a computer during the spring TV season, which is a 233 percent increase compared to the fall of 2007. This further strengthens the notion that individuals are moving toward the Internet to consume long-form video content. That's right, LONG form. Previously, many of those in the media industry dismissed the idea of people watching long-form content online, saying it was purely reserved for short-form and user-generated content. Consequently, users aren't merely looking for a video of a horse kicking a beaver in the face; they are now interested in consuming professional content online.
Monetization is a key issue in the online video world. It's a scary word, as those in traditional media believe that no one is able to do it well. However, there are people making a lot of money in online video. They may struggle with their burn rates, technology costs and even basic operational expenses, but they are still monetizing online video.
As online video continues to fragment, more and more rumors about the inability to monetize will only continue to be spread. This speaks to a bigger issue in online video right now: There are very few destination sites.
Rather than focusing on building a solid-serving infrastructure, content creators are more interested in passing their content to as many sources as possible to see where it "sticks" and, more specifically, where it may become "the next big thing." If we see this trend continue, monetization will also continue to be difficult because it will rely heavily on in-video options (pre-rolls, overlays, etc).
Monetizing Content vs. Monetizing a Property
Destination sites need to re-emerge, connecting like-minded people, making richer user experiences and truly engaging the user to a point where they connect a unique property that is specific to the niche they are after. Otherwise, it will be a never-ending battle as to how a content creator can truly build a presence.
There is a big difference between monetizing a piece of content and monetizing a property in which content is delivered. If we continue to see video distributed among various channels, then the video really needs to be the primary source of advertising. A new challenge to advertising is presenting itself: finding unique ways to monetize a piece of content that is going to be embedded pretty much anywhere on the Internet. Properties displaying content will be more likely to rely on traditional banner placements and IAB units as a source for monetization, which means they will need to have massive traffic to truly get traction with this model. Double dipping? There are some sites that are not only commanding good CPMs (cost per impressions) for their traffic, but have also monetized their individual video units. These properties have a better likelihood of being able to grow their fan base to continue to consume their content, which helps them offset technology and operational costs, and also allows them to monetize most effectively.
We are still very early in the progression of online video. What started as a user-generated content space has now sprouted into a viable platform that consumers have accepted in critical mass. Broadband access is now a staple in households; speeds are faster and it provides better-quality content and streams. Although online video consumption is not ready to replace the traditional TV / movie experience, an "active" audience that seeks media and content wherever and whenever they have access to the Internet is awaiting more quality content. Because of this demand, we will see more companies and services ready and willing to meet that need.
---
Dale Bock
is the founder and president of
OVGuide
, a guide to online video including TV shows, movies, user-generated content and video games.
---