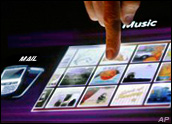 The money trail of big tech pay-offs began with voice, then moved to text and now is headed squarely to image data. No longer are businesses or individuals satisfied with words on a page peppered with flat and lifeless 2-D images. Today's big data boost is far more colorful and dynamic than that.
In the beginning days of image processing, art and photographs were reproduced in shades of gray as though they were nothing more than disfigured text. Fax machines and scanners reproduced images that often looked like indistinguishable black blobs as subtleties bled together in low-resolution mimicry. Certainly scanners got better over time; fax machines, not so much.
Today image processing is a broad-sweeping term referring to practically any form of signal processing used to reproduce an image input, be that photographs or frames of video. While most image processing techniques still treat the image as a 2-D signal and apply standard signal-processing, the thirst for visual performance is driving more fluid approaches.
Another Dimension
For example, take Adobe's 3-D PDF service, which generates three-dimensional PDF documents from Computer Aided Design (CAD), Computer Aided Engineering (CAE), and Computer Aided Manufacturing (CAM) applications. It requires Acrobat Pro Extended 9.0 on a LiveCycle ES server.
Adobe explains it as "the ability to tightly integrate the 3-D models, contained in 3-D annotations, in a PDF with the surrounding 2-D document. JavaScript in the PDF as well as the plug-in API can be used to control animation, visibility, color of meshes and a wide variety of other aspects of the 3-D model right from the main PDF document. Additionally, if a developer already has a U3D or PRC file, the Acrobat [software developer kit] can be used to add a 3-D model to the PDF using custom tools rather than the Acrobat 3-D tool."
The 3-D PDF is taking off among pros, but it has yet to filter down to everyday users. "At the industrial level, 3-D PDF is ubiquitous," Harry Vitelli, vice president of Product Management at Bentley Systems, told TechNewsWorld. "It's not ubiquitous at the consumer level — yet. But games will probably be the driver that pushes it there as consumers increasingly come to expect 3-D."
The privately held, US$450 million company Bentley Systems has leveraged Adobe's 3-D PDF and added it to its flagship product, Microstation, which serves the infrastructure industry worldwide. Anything designed in Microstation by an engineer or architect, or as a collaborative effort, can be printed to 3-D PDF as easily as if you were printing to paper. The end result can then be used in any way any regular PDF can be used, with one exception: The view on the screen moves, pivots and rotates for a true 3-D representation. Further good news: You don't need those tacky cardboard glasses.
Easier to Visualize
Beyond assisting collaboration and communication, the 3-D PDF enables clear communication with non-technical groups invaluable to these projects. "Citizens pay for bridges and other projects through bonds and taxes, and government agencies typically have to show the design and explain intent and value, usually through drawings and videos," explained Vitelli. "This is an easier, more comprehensive way to accomplish that."
The 3-D PDFs are invaluable in training manuals and even work orders so "builders can actually see what they are building from all angles," Vitelli said. This is a far cry from the bane of indecipherable assembly instructions, user manuals and even flat blueprints.
But be warned, 3-D PDF is not the same as a truly animated graphic. That requires specialized animation skills, but "I don't see fully animated PDFs coming on the scene in a big way anytime soon," Vitelli says.
Scratching the Surface
Adobe and Bentley are not the only ones stepping up to the plate on emerging promises of image processing. Microsoft, too, is poised to score a home run or two.
"The cool thing about today's technology is that you are not as much restricted by bandwidth or the size of the images," Bruce Harris, technical evangelist of Microsoft Institute for Advanced Technology in Governments, told TechNewsWorld. Recent advances in camera and sensor technology and software for stitching images together now contain billions of pixels (gigapixels) that cover very wide fields of view in penetrating detail, he said. This has provided unique content that people now want easy ways to use and share.
Among Microsoft's more interesting forays into image play are DeepZoom and Seadragon, both used in Silverlight, Surface and other products.
Essentially, DeepZoom streams videos and images very rapidly. It does this by streaming in layers, but a specified portion of the image comes first, allowing very fast zoom, pan and tilts without the normal lag associated with streaming. "DeepZoom loads progressively higher resolutions of the image so you lose none of the richness captured by the camera or sensor even when the image is greatly enlarged," says Harris.
Seadragon is a core enabling technology for Photosynth and is partially incorporated in Silverlight. While the Microsoft team is still playing around with the technology, it is already showing some interesting applications. Specifically, it presents smooth, seamless browsing of vast quantities of visual information on wall-sized displays or tiny mobile devices, regardless of the amount of data.
Photosynth automatically reconstructs a 3-D space from a collection of photos of a place or an object using Seadragon. So, your photo album in the future can contain 3-D and even animated photos rather than the flat 2-D prints you have now. How very Harry Potter of Microsoft! By contrast, Silverlight delivers interactive video across Web and mobile devices.
More Than a Pretty Picture
MS Surface is a touch interface that currently ships in table devices, most commonly as a coffee table for hotel lobbies and retail locations. Using MS Surface, a user can download a picture from a cell phone by merely putting the phone on the table. When the picture comes up, the user can get a variety of information from the picture. If the picture were of a magazine cover, for example, the user can immediately go to the magazine's Web site to read the story, or get the GPS coordinates for the building, or even tap into the restaurant inside the building and make dining reservations. The user can also swipe a credit card to buy theater tickets from an ad listed on the table's surface, and so it goes ad infinitum.
"I think you hit the nail on the head with DeepZoom on the display side of image processing. That is some amazing technology," Markus Egger, president and chief software architect of EPS Software and Microsoft MVP since 1995, told TechNewsWorld. "And MS Surface is super-interesting."
Yes, it is the coolness factor as much as the data depth that is leading the money trail to image processing. Look for image work to rocket forward soon in the consumer space.
"It's the perfect storm. Ubiquitous connectivity, increasing computing power, perfected cameras and sensors, and readily available content all come together to feed a demand that was always there but unrequited," explains Harris.