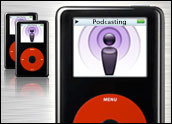 Podcasting changed the face of audio on the Web and now it's altering the face of hosting, too.
The technology that moved blogging from eye to ear has hosting services revising their pricing to attract the growing ranks of podcasters to their servers and has increased pressure on niche players to rethink their offerings.
Last month, for example, 1&1 Internet, of Philadelphia, upgraded all its hosting packages, including its home plan. Storage for that US$4.99-a-month offering was bumped from one to five gigabytes and traffic allowances, or bandwidth, boosted from 100 to 250 gigabytes.
Earlier this month, Go Daddy, of Phoenix, followed suit with across-the-board increases, including an economy plan with the same storage and bandwidth limits as 1&1's home plan but selling for $3.95 a month.
And last week, Netfirms, of Toronto, joined the upgrading fray. Its plan restructuring included a bottom-level offering with 6 GB of storage and 300 gigs of bandwidth at $4.95 a month.
Feeling the Heat
"We're feeling the heat here because customers want more space and more bandwidth because they're getting into online video and podcasting and multimedia stuff," Netfirms Product Manager Jason Matheson told TechNewsWorld.
Hosting firms like Netfirms need to offer consumers a compelling proposition to use them because they're charging for things that some competitors are offering for free.
"Customers who choose Netfirms find that those free services don't give you enough of anything," Matheson maintained.
For example, he noted that at Google-owned Blogger.com it's easier to create a blog but it's very very difficult to add media to it.
Then there are services like Flickr that make it impossible to share anything but photos there, he added.
Everything on One Platform
"What we're finding is that most people want to share everything that they have and they want to talk about it," he observed. "And really the only good solution right now is the ones coming from these hosting companies, like Netfirms."
"They bring everything together on one platform," he said. "You have all the disk space you need and all the bandwidth that you need, which is something you don't get at a lot of at these free sites."
Free sites aren't the hosting services only competition, especially when it comes to podcasters. There are niche players who cater to that new breed of broadcaster.
More Convenient
According to one of those players David Janes, founder of BlogMatrix in Toronto, services like his offer audio and video bloggers convenience.
"You don't have to know how to put together RSS feeds, how to create a blog, how to set up WordPress or get a blogger site or any of those things," he told TechNewsWorld.
"Once your podcast is created, it's just a matter of going to the site, creating an account and uploading," he said.
BlogMatrix charges its users for storage but not bandwidth. Rates range from 15 cents a day for up to 100 MB of storage to 90 cents a day for up to 800 MB of space.
Beyond Hosting
Eric Rice, co-founder of AudioBlog.com based in Plano, Texas, asserted that his service goes beyond mere hosting.
"We're a creation and publishing tool," he told TechNewsWorld. "Hosting is a gimme for us. It's built into our system."
He explained that AudioBlog subscribers can create their podcasts over the telephone, through a Web browser or by uploading a file.
Video files created in programs like Microsoft MovieMaker and Apple iMovie can be directly uploaded into the system, he added. "We can convert pretty much every format of video," he said.
AudioBlog doesn't charge for storage space, but it does charge for bandwidth. Subscribers pay $4.95 a month for a gigabyte of traffic and $1 more for every additional gigabyte.