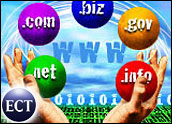 Porn, spam and jobs are among the subjects found in the latest list of proposed top-level domains (TLDs) hoping to join the ranks of .com, .net, .org and others.
According to the Internet Corporation for Assigned Names and Numbers (ICANN), the governing body of the Internet, 10 groups have applied for nine new top-level domains. The proposed TLDs are .xxx, .mail, .jobs, .asia, .cat, .mobl, .post, .travel and .tel, which has been suggested by two sponsors.
The so-called triple-x suffix has been proposed before, but its sponsors, who had to shell out US$45,000 to apply for creation of the new TLD, believe .xxx will fare better this time around.
"The initial round back in 2000 from ICANN was really just a testbed, proof-of-concept type of round," Stuart Lawley, chairman and president of ICM Registry in Jupiter, Florida, the group sponsoring .xxx top-level domain, told TechNewsWorld.
"This time around, it's not just a beauty parade as it was last time, when they were only going to accept a certain number regardless of how many people applied," he said. "Now it's a matter of meeting certain criteria and less of a beauty parade."
Industry Supports XXX
He maintained the online adult industry is "very supportive" of the group's proposal, as evidenced by the supporters list (which has not been made public) submitted by his organization with its application.
"That strikes to the very heart of the application," Lawley said. "You have to show support of your community, and we have that."
He explained that the new suffix would allow the industry to create an identifiable space where it could organize and create guidelines to foster credible self-regulation.
Civil Rights Concerns
There is some concern, however, that a triple-x designation will give legislators and regulators a powerful prod to herd pornographers into an online ghetto where they can be more tightly controlled.
"That is a concern," Wendy Seltzer, a staff attorney with the Electronic Frontier Foundation in San Francisco, told TechNewsWorld. "Anything that would try to regulate protected speech, prevent people from creating Web sites or punish people for appearing outside that domain would raise First Amendment concerns."
"We've gone to some of the top lawyers in the country who've said that wouldn't pass muster under the First Amendment," Lawley observed.
TLD Fights Spam
Seltzer added, "There has been talk around Congress about putting people into specialized domains for particular kinds of activity, but the one that they have so far — .kids.us — has been an abject failure."
While TLDs are seen primarily as an organizational tool, Spamhaus believes it can use its proposed suffix — .mail — to fight spam. The idea is to create a domain guaranteed to be spam free, explained Spamhaus volunteer John Reid.
"It allows places that don't spam to use this TLD and the system behind it to send mail that will be vouched for by Spamhaus and the group behind it to be spam free," he told TechNewsWorld.
False Positives
"If you're doing legitimate mailing, your mail should be allowed to go through," Reid added.
Internet service providers will be able to deliver .mail messages with confidence that they're not spam, he asserted. "And if ever there is spam coming from a dot-mail address, within a few hours there won't be anymore, because it will be locked down," he said.
What's nice about this positive approach to fighting spam is that you eliminate "false positives," he continued. "If you want to block spam, you can really block spam — in the 99 percent range. But the false positives will kill you."
Find Jobs Easier
Although the Internet has become fecund territory for job searchers, the Society for Human Resource Management (SHRM) in Alexandria, Virginia, believes it can make those searches easier with the .jobs TLD.
"We'd like to make it easier for individuals charged with recruiting responsibilities on behalf of their companies, [giving them] the ability to communicate the exact destination of their organization's employment-related content," SHRM vice president for publications and new media Gary Rubin told TechNewsWorld.
For instance, if you were looking for a job at General Motors, you could go to gm.jobs and be taken to the company's employment content.
Not Changing World
"We're not trying to change the world, but simply make it easier for people to find jobs and for people that have jobs available to find those people that want to work there," Rubin said.
During the month of April, ICANN will be accepting public comment on the proposed domains. After the comment period, the domains will be evaluated by an independent panel. Final ICANN action on the proposals is expected late this summer.