While no one should expect to beam up to the starship Enterprise anytime soon — or ever — researchers from the University of Vienna and the Austrian Academy of Sciences announced Thursday that they have achieved a new record in quantum teleportation.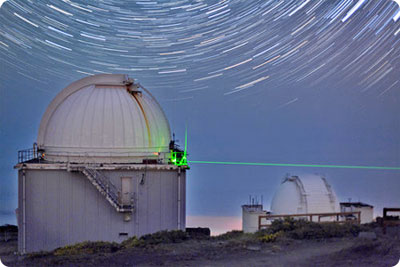 Quantum teleportation experiment opens up new horizons.(Photo: IQOQI/Vienna)
This isn't anything close to teleportation to near orbit. In fact, this new record resulted in teleportation of just 143 kilometers (roughly 89 miles), as the international team was able to successfully transmit quantum states between the Canary Islands of Palma and Tenerife. This surpassed the previous record of 97km set by researchers in China earlier this year.
Breaking the distance record wasn't actually the goal of this research, which represents a major step toward satellite-based quantum communication that could lead to a "quantum Internet."
"Our experiment shows how mature quantum technologies are today, and how useful they can be for practical applications," said Anton Zeilinger, Austrian physicist and leader of the international team.
"The next step is satellite-based quantum teleportation, which should enable quantum communication on a global scale," he explained. "We have now taken a major step in this direction and will use our know-how in an international cooperation, which involves our colleagues at the Chinese Academy of Sciences. The goal is to launch a quantum satellite mission."
Telecommunications Through Teleportation
So, while that trip to the moon without a spaceship is likely not in the cards, the technology could vastly improve communication around the world. And that is just the beginning.
"Quantum communications provides two very powerful benefits," said Rob Enderle, principal analyst at the Enderle Group. "It is zero latency, and you can tell if the information has been observed before you get it."
It could also provide a greater level of security that is simply not available in most wireless communications today.
"Even quantum-level encryption could be decrypted with similar technology — but if you know the information is being observed without permission, you can act instantly to stop the exposure," Enderle told TechNewsWorld.
Those close to the program also emphasize the security benefits.
"Quantum communication has some advantages with regards to classified communication," said Rupert Ursin, deputy director of the Institute for Quantum Optics and Quantum Information at the Austrian Academy of Sciences. "It can be made absolutely secure. But unfortunately, if the channel is blocked, it's also blocked for the quantum."
In addition to the communication applications, quantum teleportation could allow for control of devices from greater distances, so that people could do jobs remotely.
"This technology could be used to have centralized people or systems fly planes, drive cars, pilot ships or fly spaceships." Enderle added. "Remote robots could be more reliably used — and human controlled — for everything from deep sea exploration and repair to exploring the galaxy. Imagine medical specialists being able to instantly appear to save lives anyplace in the world through even more capable remote operating rooms, both for civilians and soldiers. This technology could even make physical travel obsolete."
Quantum Hurdles to Overcome
However, even with the potential that quantum teleportation could offer, there are still many hurdles that have yet to be cleared. Among the next steps is to beam signals — but not actual matter — to satellites that fly in low orbit, between 200 and 1,200 km above the Earth.
This is just one of many challenges the researchers face.
"The quantum memory is still very much in its infancy," said Ursin.
Sending the signals via quantum teleportation is far more complex than sending traditional wireless signals he added.
"You can't measure and repeat as you can with WiFi," Ursin, who has worked with Zeilinger since 2002, told TechNewsWorld. "This is something that is far more complex. Additionally, we need memory and we're not quite there yet."
The reward could certainly be worth the effort, as it could allow for communication to distant parts, even if we still need to figure out how to get there.
"Quantum teleportation for communication is a big deal, as it may make nearly instant communication with other planets possible," said futurist Glen Hiemstra. "Imagine what could be done with no delay between Earth and Mars, instead of the 7-minute round trip that scientists must cope with now."
Back at home it could be useful too.
"In the world of global trading, there is a race to have the fastest communication possible," added Hiemstra. "Using quantum states and entangled photons could again make communication essentially instant."