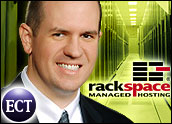 Founded in 1998 in San Antonio, Rackspace started as a managed hosting company for small businesses. Today, it includes Fortune 500 firms in its customer Rolodex, as well. However, just as when it first opened its doors, Rackspace offers no add-on services such as hardware sales or phone company services to supplement its bottom line.
When Rackspace started, it offered only Linux-based Internet and networking solutions. Gradually, though, it began offering full network services and other related Internet services. Currently, it offers a broad range of hosting services to customers wanting to outsource some or all of their network management tasks.
"We have remained true to that specialized offering, which has helped us to maintain profitability since February 2001," Rackspace CTO John Engates told TechNewsWorld. "As a result, we are the fastest-growing managed hosting specialist in the world."
Engates pegged that growth at 60 percent annually.
The firm has been steadily increasing the number of workers it hires to service an expanding customer base. Rackspace does not purchase other companies and absorb those workers, Engates said.
Though Rackspace remains committed to Linux, it includes Windows-based offerings to provide its customers with more complete choices. Fifty percent of Rackspace's Web infrastructure uses Linux; the other half runs Windows.
Within that 50-50 infrastructure split, Rackspace hosts over 22,000 servers. The company employs 1,200 workers, including 200 based in London. The remaining workforce is deployed throughout seven data centers.
Fanaticism Rules
According to Engates, the company successfully manages its customers' Internet and IT needs using a process he dubs "fanatical support." It addresses, he said, the concept that customer service is a lost art.
"Being better than others is the sweet spot," he noted. "We handle the gamut of clients, from those wanting to do it themselves to those that want to outsource everything."
Unordinary Host
Rackspace's customers retain full control of their operating systems and applications. This balance of responsibilities allows for levels of security, scalability and uptime that far exceed basic dedicated hosting and other hosting options, noted Engates.
Rackspace threads this control factor into its two product divisions — managed hosting and intensive hosting. The key difference between the two approaches is the level of control and flexibility a customer may wish to exert over its hosting environment.
Managed hosting as a unique niche in a critical businesses support industry, an advanced type of dedicated hosting that offers system-level administration and support, comprehensive Internet infrastructure, and extensive services that relieve IT departments of many costly critical responsibilities, according to Engates.
Managed services typically include advanced monitoring, load balancing, elevated security, data storage, stress testing, technical support and content delivery. What distinguishes Rackspace from its competitors is the level of control retained by its customers, Engates explained.
For example, Rackspace owns the data centers, the network, the server and other devices, and is responsible for installing, maintaining and monitoring them.
"We don't dictate the applications that customers use or design sites for our customers," explained Engates.
IT to Go
Despite the enhanced mission of managed hosting, it does not completely eliminate the need for IT involvement in the daily operation of a company's network. However, the managed hosting approach provided by Rackspace allows client companies to get by with fewer hands-on duties.
"We can eliminate some but not all of the IT tasks," claimed Engates. "We handle the stuff that nobody likes to do. The difference is how much they want us to do. It is much like ordering a la carte in a restaurant."
This critical "stuff" differentiates Rackspace from its competitors. "Our secret is not requiring our customers to give up control of their corporate product," Engates noted.
The trend of corporate outsourcing is going to accelerate over the next few years, he said, adding, "Global broadband is a driver for us."
The need for companies to comply with federal regulations for information security is also a driver for Rackspace. "We are squarely in that segment of [providing] IT support for customers," Engates said.