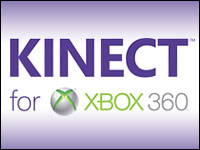 Ubi Interactive, a graduate of the Microsoft Kinect Accelerator program, has begun taking orders for software that will turn almost any surface into a 3D touchscreen when combined with a Kinect device and a projector.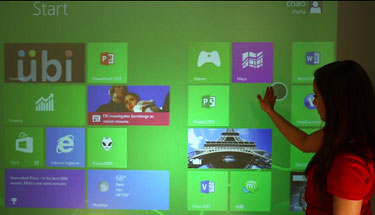 Numerous companies including Microsoft and Intel have already been testing the software in a variety of applications for conference-room presentations and beyond. Teachers, for example, can use it to enable interactive lectures, recipes can be projected onto kitchen countertops and shoppers can access product information on a store's windowfront even after hours, Ubi pointed out.
Children, meanwhile, "can use their entire bedroom wall to play interactive games like Angry Birds," noted Ubi cofounder and CEO Anup Chathoth.
The company is offering perpetual licenses on a per-PC basis. Available in basic, professional, business and enterprise versions, the software ranges in price from US$150 to $1,500. All versions include one year of free updates.
'Plug-and-Play'
Using Ubi's software involves setting up a Kinect for Windows sensor to capture the user's gestures, a projector and a computer running the application.
"You can use any projector as long as the display is visible to the camera," Chathoth told TechNewsWorld. "This is intended to be plug-and-play for nontechies."
Ubi's software includes gesture recognition. When users are in contact with the touchscreen, the software will pass on this information as a standard touch event to any touch-optimized Windows 8 application.
Enabling those capabilities are a vision engine that can precisely detect the position of a user's fingertips or hand relative to a display along with an interpretation engine that analyzes the movements and converts them into standard touchscreen events for Windows 8.
It currently detects up to 20 touch points. In hand mode, the touch point is the center of the palm; in finger mode, it's the tip of a user's outstretched finger.
Gesture Recognition
The sensor is designed to be set up facing a display beamed from the projector. The user interacts with the display as if it is a touchscreen — think of kids running up and waving their hands in front of a slide show on a screen, except in this case the screen will recognize the gestures.
The software analyzes the images captured by the sensor to detect the position of the user's hands or fingers in the space in front of the display. It can detect when the user is touching the display as well.
Ubi developed its own tools and algorithms to track users' motions and positions, Chathoth said. It does not use any Kinect SDK features.
Microsoft, which reportedly responded initially to Ubi's work with threats of legal action, is now a booster and has described the software as the future of digital displays. It has also thrown its weight behind Ubi's software.
Might Redmond take the next step and purchase Ubi?
Microsoft declined to provide further details.
'A Nice Niche Product'
"The software's pricing is reasonable and the Kinect device is inexpensive and it's a nice technology, but I don't think it's going to be a game-changer," Andrew Eisner, chief gadgetologist at Retrevo, told TechNewsWorld. "Poor Microsoft; they're trying so hard."
Businesses "may find it interesting, although a lot of them do quite well with $5 pointers," Eisner continued. "It's a nice niche product that may be used in businesses and schools but may not be as popular in homes, where projection displays are rarely used."