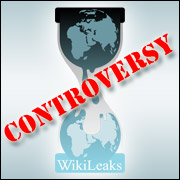 The State Department has begun reaching out to hundreds of people identified in diplomatic cables obtained by WikiLeaks, some of which were published recently, The New York Timesreports.
It has reportedly relocated some locally in their own countries, and others to foreign sites for their own safety.
In the weeks since the start of "Cablegate" — when WikiLeaks began releasing a slew of U.S. diplomatic cables onto the Internet — the media buzz around the issue has taken interesting turns.
Among other things, the media has focused on a statement by U.S. Rep. Darrell Issa, chairman of the House of Representatives Oversight Committee, that he'll seek to have WikiLeaks founder Julian Assange tried on criminal charges in the United States; his assertions that some of the cables include references to UFOs; and disclosure that Assange is being sought for prosecution by the Swedish authorities for reportedly not using condoms during consensual sex.
Are these stories a diversion from the real issue of serious wrongdoing by the U.S. government and its allies?
The State Department Two-Step
The U.S. State Department has a team of 30 people led by Assistant Secretary of State Michael H. Posner to reach out to human rights activists, foreign government officials, and businesspeople identified in the leaked U.S. diplomatic cables published by WikiLeaks, the Times reported.
U.S. embassies around the world are participating in this action.
The State Department admits it's not aware of anyone who's been attacked or jailed because of information in any of the 2,700 U.S. diplomatic cables leaked so far, but say that many dissidents are under constant harassment from their governments and it's difficult to discern the exact cause.
Apparently the State Department is more concerned about the rest of the nearly 250,000 cables WikiLeaks has, which have not yet been released. It has gone through most of these and is trying to protect people identified in those cables.
A State Department staff member, who declined to be named, referred TechNewsWorld to the Department's previous statements on Cablegate.
"You don't need that," he said when asked for his name, and hung up.
Avoiding the Real News
Could the media be ignoring the real evidence of serious government misbehavior detailed in the leaked cables that have been published so far?
Here's one example of Washington's misdeeds revealed in the leaked cables: The U.S. has ordered its diplomats around the world to conduct mass surveillance of UN officials and, in some cases, try to steal credit card data, passwords and personal encryption keys from them. The diplomats were also reportedly ordered to collect DNA samples from UN officials.
These orders were included in the National Humint Collection Directive, a secret document signed by U.S. Secretary of State Hillary Clinton last year. The word "humint" stands for "human intelligence."
Another cable revealed that Yemen had agreed to take responsibility for bombing raids in the country that were really carried out by U.S. warplanes. Several civilians were killed in a U.S. airstrike in Yemen December 24, which Yemen claimed credit for and the U.S. denied knowledge of.
A State Department document dated 2007 revealed that Washington warned the West German government not to act against CIA agents who kidnapped a West German citizen in 2004 and sent him to Baghdad and later, Afghanistan, where he was tortured repeatedly before the U.S. discovered he was the wrong man.
"The WikiLeaks cables showcased a massive amount of government wrongdoing, and the focus of government is to go after the folks that leaked that information," Rob Enderle, principal analyst at the Enderle Group, told TechNewsWorld.
"I think most of the focus should be on behavior that was inappropriate," Enderle added. "We seem to be shunting that aside."