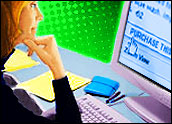 A majority of Web sites fail to meet the search desires of their visitors, according to a report prepared by Cambridge, Mass.-based research firm Forrester Research.
"Although consumers value search as a standalone function, search functionalities within company Web sites are not delivering satisfactory results," said the report, a copy of which was obtained by TechNewsWorld.
Iris Cremers, an analyst for customer experience and consumer markets in Forrester's office in Amsterdam, The Netherlands, explained that searching is one of the most important elements of a Web site today, especially if it wants to retain new customers.
"When people visit a site and are unfamiliar with it, people use the search engine on the site immediately," she told TechNewsWorld.
Getting Users' Attention
Moreover, some 13 percent of European consumers say they'll bolt from a Web site if they can't find what they want at the location immediately, the report noted. "For companies this means a lost opportunity to establish a relationship with or gain revenue from the customer," the report said.
"It's very important that companies look into search," Cremers commented. "They need to beef up their search engines and start investing in them because people expect them to work."
"Consumers expect search functionality to be built into a site. It's almost a point of entry," ComScore Vice President James Lamberti told TechNewsWorld.
"If you have any sort of substantial content, it's absolutely implied that you have search and if you don't, you're degrading your user's experience," he added.
What's Wrong
After evaluating 179 Web sites, the report continued, researchers found that 56 percent of them did not have a search engine that supported users' goals.
Among the failings found at some sites were:
Irrelevant results returned by the search engine. At the T-Mobile site in Germany, a search for "Tarife SMS" returned a results list topped with items like Samsung SGH-ZM60, Nokia 6101 and T-Mobile Sidekick II. "As well as being irritated by irrelevant results, users won't be happy if they have to scroll to the 100th result to find the one that best matches their inquiry," the report noted.
Poorly worded results. "Search results must clearly tell consumers if clicking on them will give a good return on their click investment," the report said.
Failure to show a user's query. The report explained, "If a search engine fails to return any results, users must be able to check whether they misspelled a search term or if it's a fault that they can't control."
Insufficient tools for winnowing results. "To get a good overview of the results and select the appropriate ones, consumers need to be able to sort the results by other, relevant criteria," the report noted. "Color, brand and size might be helpful for clothing shoppers, while travel bookers might want to sort by flight time or price."
Spoiled by Google
Most consumers have been spoiled by Google, remarked Chris Sherman, executive editor of SearchEngineWatch.com.
"Google has trained us not only that search can be very good but that it can be very easy," he told TechNewsWorld.
"The problem with most e-commerce sites is that they don't have Google-like site search tools," he added.
He maintained that can be more of a challenge for an e-commerce site than it may appear to be at first blush.
Messy Web
"Web search and site search, even though they seem similar are really very different things," he contended.
"The Web is this messy, unstructured collection of text documents," he explained. "Google is really good at wading into that mess and finding what you're looking for.
"Most e-commerce sites are very structured," he continued. "They have data about product names and prices and skews. Searching that kind of data is an entirely different technical challenge than searching the messy Web.
"In some ways, it should be an easier problem," he added, "but I don't think it's gotten the same attention from site search vendors that Google, Yahoo and the others have put into Web search."