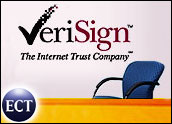 Action by a committee probing a controversial Internet redirection service operated by VeriSign could be taken as soon as two weeks from now, according to the chairman of the panel.
"There's a major ICANN meeting the week after next in Tunisia, and I hope we can get our stuff done before that," said Steve Crocker, who chairs a panel of the Security and Stability Advisory Committee of the Internet Corporation for Assigned Names and Numbers (ICANN), which oversees the Internet domain name system.
"I don't know if it's going to come together that quickly, but we're working as hard as we can," he continued.
Working Diligently
"We're working very diligently to complete a report that's as complete as it can be," added Ram Mohan, a committee member and chief technology officer for Afilias Limited, the administrator of the .info top-level domain. "Having said that, I anticipate that we will have a report in Tunisia for the Carthage meeting."
Mohan noted that the Tunisian report probably will be supplemented later with additional material. That's because, he said, "the ramifications of this problem are still coming in" and "the ripples are still spreading."
Crocker's group held a public meeting yesterday in Washington, D.C., to gather information and hear views on SiteFinder, a redirection service launched by VeriSign, the administrator of the .com and .net domains.
Cans Spam Filters
SiteFinder is a service that redirects users who enter nonexistent Internet addresses into their Web browsers to a VeriSign site, which offers possible alternatives to the dead-end address as well as search functions, browsing features and advertisements.
Critics of the service assert that VeriSign is unfairly exploiting its position as the caretaker of all domain names and their numerical equivalents on the Internet.
They've also rapped the service for increasing the load on e-mail transfer agents and interfering with some spam filters.
VeriSign Counterattacks
In response to a request from ICANN, VeriSign suspended operation of SiteFinder on October 3rd for an unspecified period of time. At yesterday's meeting, VeriSign said it will give 30 to 60 days notice before it relaunches SiteFinder.
At the session, VeriSign countered detractors' attacks on the service, saying that 35 companies who were briefed about the service before its launch found no problems with it. Although VeriSign admitted its own expert group did find some issues with the service, that group dismissed the issues as "minor or inconvenient."
Two problems the company said it would address before the relaunch of SiteFinder are foreign language support and the way e-mail routed to nonexistent domains works.
VeriSign also reiterated findings it released last week about consumer satisfaction with SiteFinder. In a survey conducted by Maritecture and Harris Interactive for VeriSign, 84 percent of Internet users said they would rather be redirected to SiteFinder than receive an error message.
However, when pressed by committee members about the methodology and data behind the study, VeriSign executives claimed the information was proprietary and said the company would not reveal it. The company also asserted that its re-examination of its SiteFinder service showed that it created no security or stability problems for the Internet.
Red Herring
During the gathering, which became heated at times, VeriSign suggested that ICANN was more concerned about the interests of the Internet bureaucracy than those of consumers.
"Of course the consumer is important, but that just seems to me to be a red herring," Mohan said. "Simply demonizing everybody on the committee does little to [promote] a normal debate."
Crocker added that VeriSign has taken the position that it is in a competitive market and has to be allowed to make changes in the system to innovate and create new revenue. "It's not at all clear to me where that fits into the larger issues of the public trust and running a very sensitive core service," said Crocker.
"I expect we'll speak to some of those issues, some of which won't be easily resolved," he added. "But in the end, I think this is going to be a very healthy dialogue."