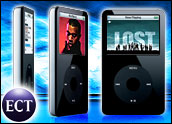 Apple Computer's introduction of its video iPod set off a big bang that will fuel phenomenal market growth for years, according to a report released Monday byABI Research.
While the push to video online started well before the launch of the video iPod, ABI acknowledged, Apple's announcement triggered an online video explosion that echoed throughout the Consumer Electronics Show held in Las Vegas earlier this month.
That big bang will be felt for years to come, ABI declared, predicting that the premium online video market — the market for video that people will be willing to pay for — will grow, on average, 89 percent annually through 2010.
Taking the Plunge
"Before Apple's move, there were some players dipping their toes in the pool, but Apple was the guy that pushed everyone in," Mike Wolf, the principal analyst for broadband and multimedia at ABI, told TechNewsWorld.
"Over the last year, a lot of these companies were getting more comfortable in ," he said. "When Apple made its announcement, it added a lot of momentum to the market."
Content providers view that emerging market as a way to offset disappointing performance of DVD sales, box office grosses and broadcast TV audience ratings, Wolf maintained.
"They realize they have to move this way because traditional broadcast channels are seeing their ratings decline," he said. "They know they need a way to reach 18-to 25-year-old males, because more and more of these guys are playing video games instead of watching movies."
Lovable Package
There isn't any question that Apple changed the rules in the video marketplace with its video iPod, opined Stephen Baker, an analyst with theNPD Group.
"They had a solution that was a little bit different than what was being provided — it didn't just surround movies. It surrounded the television market and other opportunities in the video marketplace," he told TechNewsWorld, "and it was wrapped in a package that people love."
Content Impediments
Apple showed that consumers were interested in this form of video content, noted Michael Gartenberg, vice president and research director atJupiterResearch. "It showed there was strong consumer interest in good, premium legal content," he told TechNewsWorld.
"I'm sure many discussions about video were ongoing, but the Apple announcement served as a catalyst to get many things going quicker as people realized there was a market for this stuff and that consumers were willing to pay for it," he said.
"The challenge is getting the people who hold the keys to the content to make it available," Gartenberg pointed out.
A major impediment to the market is the content companies' reluctance to step up and provide the entertainment and the products that people want to download, NPD's Baker added. "The device companies and the software companies are ready to go and are anxious to make this work, but it doesn't work without content," he said.
Caution Flag
However, Baker envisaged growth for the video market to be slower than it was for its music counterpart, because technical and business-model issues have been thornier to resolve.
"We don't have all the infrastructure building blocks in place to make all this stuff work right," he explained. "It isn't as easy and seamless to download video as it is to download a music file.
"Video is more complicated and takes up more bandwidth than audio," Baker added. "While the two are related to some extent, video will require much more from the marketplace in terms of infrastructure to support it than the audio market did."
A caution flag about growth predictions for the online video market was also raised by Mukul Krishna, industry manager for digital media at Frost & Sullivan.
"Right now, what the iPod video is doing in its present incarnation is just scratching the surface," he said. "After the dot-com bust, I tend not to get excited by initial numbers."