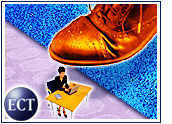 If you're one of the remaining 260 defendants targeted in lawsuits by the Recording Industry Association of America (RIAA) for music piracy on the Internet, don't count on being bailed out of your jam by P2P United.
The group, which represents major file-sharing sites on the Net, has pledged to pay the US$2,000 settlement in the case of a 12-year-old Manhattan honor student targeted by the RIAA for illegally downloading music.
But the group's beneficence will be limited to this single episode, according to P2P United executive director Adam Eisgrau.
"We have no shame in both being very sincere in our concern over this particular family's circumstances, but also because of the attention that it's gotten, we felt that it was an ideal opportunity to call the world's attention to just how legally suspect and morally reprehensible this terror campaign is," Eisgrau told TechNewsWorld.
RIAA's Terror Campaign
The so-called terror campaign is Eisgrau's characterization of the RIAA announcement on Monday that it had filed 261 lawsuits against "major offenders" illegally distributing substantial numbers of copyrighted music files on peer-to-peer networks.
The day following the move, the RIAA announced it had settled the first case for $2,000. That case involved a curly-haired 12-year-old named Brianna LaHara who had just started the seventh grade at St. Gregory the Great Catholic School in Manhattan on the day the lawsuits were filed.
Although LaHara's mother, Sylvia Torres, vowed to fight the lawsuit when initially contacted by reporters about the action, she adopted a more contrite posture in the statement issued by the RIAA announcing the settlement.
Penalty-Go-Lightly
"We understand now that file-sharing the music was illegal," Torres said in the statement. "You can be sure Brianna won't be doing it any more."
"I am sorry for what I have done," LaHara added. "I love music and don't want to hurt the artists I love."
While $2,000 is no small sum for a single mother living in public housing like Torres, the penalty could have been a lot worse — $150,000 per pirated song, according to the RIAA.
"We're trying to send a strong message that you are not anonymous when you participate in peer-to-peer file sharing and that the illegal distribution of copyrighted music has consequences," Mitch Bainwol, RIAA chairman and CEO, said in a statement.
"And as this case illustrates, parents need to be aware of what their children are doing on their computers."
Stalin Not Dead
That strong message has been met with strong language from some quarters. "I thought Joe McCarthy and Joe Stalin were dead, but obviously they're alive and well and running the RIAA," Wayne Rosso, president of Grokster, a peer-to-peer Internet service, told TechNewsWorld.
Earlier this year, the RIAA tried to press its "you are not anonymous" message on music pirates through an instant-messaging campaign. But, apparently, that strategy wasn't yielding results.
"We tried to raise awareness through instant messaging, but people became aware a lot faster when we began gathering evidence for subpoenas," observed Thomas F. Lee, president of the American Federation of Musicians in New York City. "Now that this has happened, it's going to raise the awareness level even higher, and it's just unfortunate that these actions have to be taken to get the attention of the people that are doing this.
"Electronic shoplifting can't be condoned in any fashion," he added. "This was an expensive lesson for the parents of this child."
Lessons for RIAA
But it might be an expensive lesson for the recording industry, too, according to P2P United's Eisgrau. "There is precious little time before the public washes its hands of the industry entirely," he said.
"The public will begin to seek music actively, using technology, from virtually any and all sources other than what is perceived to be the official industry," Eisgrau added.