They don't make any noise. They don't vibrate. They don't rely on the many tiny controlled explosions of internal combustion. Electric motorcycles, in short, are completely different beasts from their gasoline cousins.
"It's the magic carpet ride," Abe Askenazi, chief technology officer for electric motorcycle manufacturer Zero Motorcycles, told TechNewsWorld. "You're being propelled forward, but you're not aware of all the drama that's normally involved in that propulsion. It's almost like you've distilled the real purity of motorcycle riding to its basic dynamic. It's almost like flying."
Lex Kendall, founding partner of Evolve Motorcycles, has a similar take on electric bikes.
"The experience of riding an electric motorcycle is unique," Kendall told TechNewsWorld. "Even hardcore gear heads, myself included, are constantly surprised at the sensation of zipping quietly along a road with the wind in your face."
How They Work
At the heart of electric motorcycles, like all electric vehicles, is the battery, which stores a charge, either from being plugged into a typical wall outlet or into a more powerful charging system. This lithium ion or other chemically related battery powers the bike for a distance determined by its storage capacity, the design of the bike, and the riding conditions — anywhere from 25 to more than 100 miles.
"Turning on" an electric motorcycle means discharging the energy from the battery, and the rider then rolls on the throttle and goes forward, with the power from the battery converted into propulsion and movement via variations on a motor, gearbox and belt, depending on the design of particular models.
Electric motorcycles have few moving parts when compared to gasoline bikes, and for that reason, they tend to be relatively low on maintenance.
"Whereas a gas engine has dozens of moving parts, the electric motor is pretty elegant," explained Askenazi. "It's a very efficient way of providing power to the rear wheel."
What's Available Now
People who want an electric motorcycle can get their hands on several different models.
Zero's 2012 line-up, for instance, includes a street bike, Zero S, with two different battery options: a ZF6, with a range of 43 miles (highway) to 76 miles (city) per charge, and a ZF9, with a range of 63 to 114.
Another street bike option, the Zero XU, has a range of 28 to 42 miles. The company is also selling several dirtbike models and a dual sport bike. Top speeds range from 54-56 mph for its dirtbikes to 88 mph for the Zero S. These bikes can be ordered through its website or one of its dealers.
The Xenon by Evolve
Evolve offers several scooter-style bikes for pre-order: Titanium, Neon, Helium and Zinc. It also has in the works several full-fledged motorcycles: the Lithium and the high-end Xenon.
Brammo offers its Enertia, Enertia Plus, Empulse and Engage.
For those who are just interested in scooters, companies like Vectrix have a variety of options.
Electric motorcycles and scooters are still a tiny market compared to the overall industry, but Askenazi thinks that market share is only going to grow as people realize the benefits of electrics, including less emissions, reduced noise pollution, and fuel savings. Because of their built-in efficiencies, electric bikes use significantly less energy than gasoline bikes — with some models reaching the electric equivalent of 537 mpg.
"It's going to be a matter of time," said Askenazi. "I do believe that it's the future, but I don't know how long it's going to take."
Racing Into the Future
Electric motorcycles are also making their way onto the racetrack, proving that they're not only energy-efficient — they can also be fast.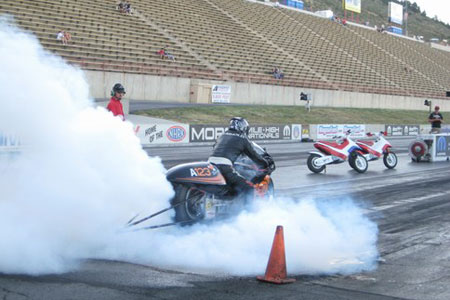 The KillaCycle can accelerate from 0 to 60 in less than a second.
Bill Dube and Eva Hakansson, for instance, build and race electric motorcycles — including the record-setting KillaCycle, which has 500 horsepower, accelerates from 0 to 60 mph in less than a second, and has reached a top speed of 174.05 mph in a quarter mile.
Though their bikes aren't available to the general public, Dube and Hakansson think that what they're doing shows the future of both the sport and the electric motorcycle industry.
"What we've proven is that electric vehicles are not nerdmobiles," Dube told TechNewsWorld. "They can be very powerful."
Hakansson, who grew up in Sweden helping her father build electric vehicles and eventually designed, built and raced her own — called the "ElectroCat" — concurs.
"We want to show that electric vehicles can be really fast, and that it's really cool to have an electric vehicle," Hakansson told TechNewsWorld. "You might have not only the fastest vehicle on the block, but also the smartest."