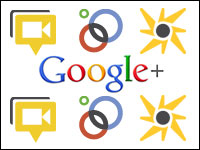 Engineers from Facebook, Twitter and MySpace have released a bookmarklet called "Don't Be Evil" for the Google Chrome browser.
A bookmarklet is a bit of code that runs in a Web browser and temporarily enables added functionality. This one adds more social search results to Google's new Search Plus Your World feature.
DBE uses Google's own relevance measure to determine the additional social content that its developers say should appear in the areas where Google+ results are currently hardcoded. Clicking on it reorders search results to include information from other social networks.
The social networking coders have set up a website, Focusontheuser, explaining how the bookmarklet works.
You can see a video demo of the bookmarklet here.
"The bookmarklet is a kind of insurgent move, trying to improve the Search Plus Your World results to include other social networks," Greg Sterling, a senior analyst at Opus Research, told TechNewsWorld. "It's an improvement in many circumstances, since Google is artificially favoring Google+ results in many cases."
Focusontheuser.org did not respond to our request for further details.
What the Bookmarklet Does
Users have to go to Google.com and click on the bookmarklet to use it. The code will work for all queries until users click away from Google.com.
The bookmarklet automatically conducts a search on Google to see if there are results that are more relevant than those Search Plus Your World regularly throws up.
It looks at the three places where SPYW normally only shows results from Google+: the "People and Pages" results box, the organic result and the autocomplete results.
The last is where Google automatically throws up the most relevant possibilities when you type a word into the Google search box. For example, typing in the letters "to" brings up "toys r us," "toyota," "toms" and "today show." That list of possibilities changes as you continue typing.
Searching with Google's Search Plus Your World unfairly gives Google+ results additional weighting, Facebook and Twitter have stated. For example, a search for chef Jamie Oliver on Google with Search Plus Your World enabled favors a link to his Google+ profile, which Focusontheuser.org says was updated nearly two months ago.
However, searching for Oliver using the bookmarklet will throw up his profiles on other social sites, which have been updated more recently.
Google did not respond to our request to comment for this story.
Innocence Is All in the Mind
"Google has the dominant search technology, and it appears that with [Search Plus Your World], they are effectively locking out better results from competitors to Google+," Rob Enderle, principal analyst at the Enderle Group, told TechNewsWorld.
"The other social network providers are only providing tools to search their own sites; they aren't in a position to compete with Google on global search, and now they are concerned that Google is using its massive market position to put them out of business," Enderle added.
Results from Facebook and Twitter are themselves biased, but "that's to be expected," said Andrew Girdwood, media innovations director at Bigmouth Media.
"When a platform believes a service is fundamental to its health, to its users and it's important that they control it … then they are likely to develop that functionality themselves," Girdwood told TechNewsWorld. "Twitter, Facebook, Google and countless other sites have all done this."
It's not clear whether any of the involved search engines consider Focusontheuser an official project. Facebook spokesperson Barry Schnitt declined to provide further details, and Twitter did not respond to our request to comment for this story.
No Escape From SPYW?
Users can turn off Search Plus Your World, and thus get a broader range of results for their searches, Opus Research's Sterling pointed out.
However, Google has opted people in, "so there's a sense that [Search Plus Your World] becomes the default and there's less choice," Sterling pointed out. "Most users are passive."
On the other hand, searchers already know how to use Google, and "it seems unlikely that [they] will search for [a] celebrity by name and then press the 'Don't be Evil' button just to see which network the tool suggests," Bigmouth Media's Girdwood pointed out.