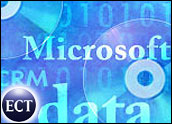 Microsoft's expected announcement today that it was broadening its presence in the on-demand software market isn't causing leading players in the arena to quake in their code.
"I truly don't think Microsoft has anything to sell in that space," maintained Zach Nelson, CEO of NetSuite in San Mateo, Calif.
"I don't think they've built anything from a business applications perspective to sell as an on-demand service," he told TechNewsWorld.
Late to the Party
Phil Robinson, senior vice president for marketing for Salesforce.com in San Francisco, added, "Microsoft is pretty late if it's announcing an on-demand strategy."
Nevertheless, he told TechNewsWorld that Microsoft's expected move will "validate what Salesforce has pioneered over the last five years.
"It's good for the market, and it's good for Salesforce that Microsoft would announce an on-demand strategy," he said. "But we're not entirely sure that they really get it or what it means.
"It means a complete shift of their business model, their technology model and the way they come to market," he added.
Offloading Costs Onto Developer
NetSuite, along with Salesforce.com, make best of breed on-demand software for enterprise functions like CRM and ERP. In the on-demand model, software, instead of being purchased and installed locally, is leased and run on host computers outside the enterprise.
Nelson explained that managing traditional software costs four times as much as purchasing the initial license for the programs.
"There's an enormous amount of cost involved in maintaining and upgrading these applications," he said, "and historically, the customer has had to bear that cost.
"What software on demand enables the customer to do is to offload that cost onto the software developer," he added.
Survival Strategy?
"That's the way that customers want to buy software going forward," he maintained. "So if you're not delivering software as a service, you're not going to be in the software applications business for very much longer.
"It's clear that most new software purchases are going to software on demand versus software on a disk," he added. "That's why Microsoft is trying to make noise about on-demand software right now."
Microsoft has tinkered with hosting applications in the past, according to Rob Helm, director of research at Directions on Microsoft in Kirkland, Wash. He cited a venture called B Central, which hosted applications for small businesses, including a CRM application called Clearly, and an online data storage project code named Hailstorm.
"They announced that plan just about the time that the dot-com crash began and ended up retreating for awhile to lick their wounds," he told TechNewsWorld, "and now they're back."
Partners in Lurch
In recent times, Microsoft has turned to partners to host on-demand versions of its software. That could put the code giant in some dicey situations should it launch its own hosting operation.
"There's no question that any expansion on Microsoft's part is going to eat into the partnerships," Helm observed. "But Microsoft is convinced that because of its size and its ability to tie stuff to its software, it's in a unique position to make money off hosting."
Liz Herbert, an analyst with Forrester Research in Boston, told TechNewsWorld, "If Microsoft were to get into this business, there would be no reason to rely on a partner for hosting, but those same partners could be involved in reselling and implementing Microsoft CRM."
Not Going Hog Wild
Helm cast doubt on the prospect that Microsoft would buy into the on-demand idea "whole hog."
"Microsoft is interested in hosting services that help it sell software," he contended. "It is interested in making money off web applications without writing the applications themselves."
He added that it may also see those apps as a way to erode resistance to upgrading to new versions of its products, as it has done by building "hooks" into the Office 2003 suite to its SharePoint web services technology.
Although the outfits like NetSuite and Salesforce has a head start on Microsoft, it hasn't relinquished its mindshare of the corporate marketplace.
During a survey of potential CRM software buyers conducted by Forrester in the summer, more respondents were looking at a Microsoft solution than any other. "Microsoft came out on top and Salesforce.com came in fourth on that list," Herbert said.