Roku on Monday unveiled its new Roku 3 and an updated Roku 2.
The Roku 3 brings voice search and private listening via a headphone jack on the remote control.

Roku 3 Streaming Player
The Roku 3 is available for US$99.99.
The Roku 2 received a buff so that its speed falls in line with the company's latest flagship streamer.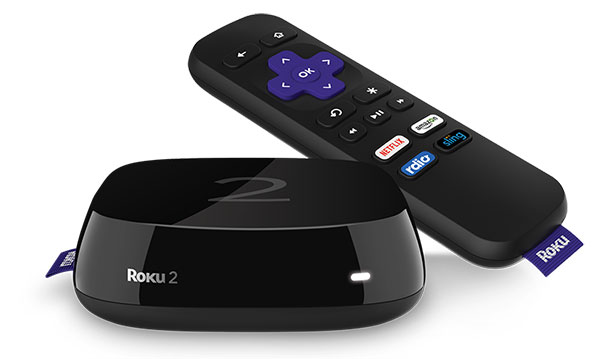 Roku 2 Streaming Player
The Roku 2 is priced at $69.99.
The Revolution Will Be Streamed
Roku's share of the streaming hardware market fell from about 48 percent in 2013 to about 27 percent last year, according to Parks Associates.
While Roku's share of the market, percentage wise, has shrunk over the last few years, the sector has grown immensely during that time period.
Although Google Chromecast and Amazon Fire TV became major players in 2014, Roku is poised to fend off the newcomers, suggested Hilary Perchard, vice president of business development for Sky, a Roku investor.
"As long as they can keep their lead in choice of content and user experience, then they can keep winning," he told TechNewsWorld. "Unlike Amazon and, to a lesser extent, Google, they aren't shackled to their own content business, so they can offer the widest choice of content — and a big choice of apps."
Sky has discovered that its NowTV app has been keeping customers engaged with the company's programming even longer. However, even though streaming devices are at the center of a TV revolution, Roku-style boxes still have a ways to go before they completely usurp traditional cable and satellite boxes, according to Perchard.
"The challenge for the cable and satellite operators is to keep giving their customers more benefits to maintain the gap between full-fat pay TV and streamer pay TV," he said. "You have to keep innovating to stay ahead."
The Cord Cutter's Manifesto
The success of Roku and other manufacturers of streaming hardware has been fueled in large part by those who are exploring ways to cut costs, which is a slightly different group from those who drop pay TV and don't look back.
Both groups have been embracing streaming devices and services, but Roku-style boxes often overlap with traditional set-top boxes, according to Joe Ward, CEO of xTV.
"They look at the cost-benefit ratio — and then they cut the cords," he told TechNewsWorld.
This mass migration of customers who gradually step away from traditional cable packages has not gone unnoticed by the cable and satellite companies.
Dish Network and others a have tested "skinny" or "slim" packages — collections of channels that are more concentrated than the large packages that contain channels many consumers don't watch. Dish has even jumped out in front of the Internet TV curve, which is just starting to get its legs.
"I think it's a very big gamble, that's for sure," said Ward of slim packages and Internet-TV services. "I think it's a gamble that's going to take quite a bit of time to pay off."
Although a cautious approach to Internet TV is warranted right now, the sector eventually will take off, he predicted.
Companies also are taking an interest in branded media channels, which will let businesses interface with consumers via Web video instead of traditional text chats.
"I think, clearly, Internet-driven services are the only way to go — and it will never change from here on out," said Ward. "I mean, there is one path forward. It's just a matter of where it's going."