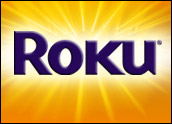 Roku has announced a new HDMI dongle for televisions.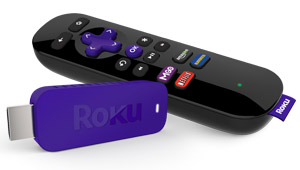 The Streaming Stick is a compact Roku player that plugs inconspicuously into an HDMI port, offering a streamlined look that Roku suggests is suited to wall-mounted TVs. It is paired with a remote control that can be used to navigate the Roku interface. The device offers shortcuts to movies, TV series, news, search, the Roku Channel Store, and more functions.
Meanwhile, smartphone and tablet owners can use the Roku app on their device to navigate and choose which channel to stream. They also can choose to cast Netflix and YouTube content, as well as their personal media (such as videos, photos, and music) to the stick from their mobile devices.
'Form Factor Change'
"The Roku Streaming Stick is a form factor change and works like other Roku devices accessing content directly from the Internet, in this case via WiFi — which is the same for interacting with the Roku mobile app via Wi-Fi as well," Roku spokesperson Kelly Hickman told TechNewsWorld.
The Streaming Stick operates on a/b/g/n compatible 802.11 dual-band WiFi, with WEP, WPA and WPA2 support. It measures 3.1 x 1.1 x 0.5 inches and weighs 0.64 ounces.
Users can stream from more than 1,200 channels — or more than 750 for those based in Canada, the UK or the Republic of Ireland. Those channels consist of movies, TV shows, news, sports, music, free programming and kids' shows in up to 1080p resolution high-definition video.
Roku has recently added Showtime Anytime, Watch ESPN, Conde Nast Entertainment, Watch Disney Channel, and YouTube to its lineup of channels. Users also can stream Netflix, Hulu Plus, HBO Go and Amazon Instant Video.
Computer Streaming
Roku expects to add more features over time, including the option to cast content from a computer to the stick.
The HDMI Streaming stick is expected to ship to consumers and become available in retail stores in April for US$49.99 in the U.S., CA$59.99 in Canada, and Pounds 49.99 in the UK and the Republic of Ireland.
Roku has formidable competition in the streaming content peripheral market from Apple TV and Google's Chromecast dongle, as well as the native content streaming capabilities of Smart TVs.
"I think it's likely to fare well against Chromecast. Roku has a very strong brand in this space, and their content offering is far more diverse than anything Chromecast can currently offer," said Greg Scoblete, editor for RealClearTechnology.
However, "Chromecast is more versatile now that Google has opened it up to app makers," he told TechNewsWorld.
Temperature Trouble
"As far as streaming sticks go," Scoblete added, "I've heard several set-top box component manufacturers say that these are still somewhat problematic compared to a box or TV. They're so small that they trap a lot of heat, and the more graphics-rich the content, the hotter these things get. There haven't been any real issues with Chromecast but Roku will be more of a test of how well the stick form factor holds up under demanding use."
"This is essentially just a form factor change from the existing Roku boxes," Jim McGregor, principal analyst at Tirias Research, told TechNewsWorld.
"So, unlike Chromecast, which relies on streaming from a mobile device, the Roku Streaming Stick pulls it directly from the user's WiFi router," he noted.
"In other words, Roku is a better solution for someone that has a broadband connection and a WiFi router," McGregor explained, " because it avoids the link through the mobile device and avoids the potential data charges if the mobile device is forced to use a cellular connection."