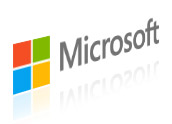 Microsoft is said to be preparing the launch of a wearable fitness device that will be compatible with the iOS and Android platforms, as well as Windows Phone.
While the device likely will display the time, along with notifications from the user's smartphone, the form factor is a wristband rather than a smartwatch, according to Paul Thurrott's SuperSite for Windows.
The band reportedly will function mainly as a fitness tracker, recording the number of steps the wearer has taken, calories burned, heart rate and so on. Microsoft already has fitness-oriented apps available, such as Bing Health & Fitness and Healthvault, though the band apparently will work with third-party apps as well.
Uncertain Branding
The band will be announced in the fourth quarter of this year, according to Thurrott, and will hit the market in the same period.
The pricing will likely be similar to that of the Samsung Galaxy Gear, which sells for US$300. It's not quite clear how the device will be branded, though Thurrott speculated it would be either a Nokia/Lumia or Surface-branded wristband.
It is the opening of the wristband to platforms outside of Microsoft's own Windows Phone ecosystem that perhaps is the most notable aspect of Thurrott's report.
"It's no secret that Microsoft has lagged behind in the mobility market and is playing catch-up to competitors," said Laura DiDio, principal at ITIC.
"This is a very significant move on Microsoft's part to launch a pan-platform product/application. While some might view this as a me-too effort, this is exactly the type of initiative that Microsoft needs to take if it is to have any chance of being a major player in the mobile device and application market," she told TechNewsWorld.
"Today's digital consumers are not nearly as interested in the application brand as they are in the functionality of the application," continued DiDio. "Today's digital consumers also want cross- platform capabilities, and that's what Microsoft is doing. I see this as a positive for Microsoft and consumers."
Walled Gardens
Other manufacturers stick within their own confines: Samsung's smartwatches work only with its own smartphones. Android Wear devices function only with newer Android phones, and the smartwatch Apple is rumored to be working on presumably will work only with the iPhone or iPad.
Apple's rumored device is said to combine the functions of a smartwatch and a fitness-tracking band. The company last month revealed a new app, Health, intended to track users' health and fitness stats. That bolstered rumors Apple would release a device to track movements and fitness data to feed into the application.
Several third-party wearable devices are compatible with multiple mobile platforms. Fitbit has apps for both iOS and Android, and recently announced it was developing an app for Windows Phone 8.1.
Jawbone Up has Android and iOS apps, but not one for Windows Phone. The same holds true for the Nike+ FuelBand SE.
Company Strategy
Indications that Microsoft is taking a stab at a wearable fitness device, and the plan to make it compatible with mobile platforms other than its own, reflect the company's strategy under its new chief executive, Satya Nadella, which puts "less emphasis on Microsoft-exclusive platforms and more on heterogeneity," suggested Roger L. Kay, principal at Endpoint Technologies Associates.
"With the exception of the Xbox, though, Microsoft hasn't had much luck with consumers," Kay told TechNewsWorld. "Typically, it has a wooden ear with regard to market tastes. Perhaps driven by its research orientation toward customer types rather than usage models. However, it's early days in the wearables, Internet of Things, multipoint connection era, and Microsoft wants a piece of it. No reason why it can't win at least some share."
It is not quite clear why Microsoft appears to be opting for a wristband over a smartwatch, but with the wearables market growing quickly, it's perhaps more important for Microsoft to push into the market sooner rather than later.
" It's always tough to predict whether users will choose one device type over another. Microsoft's offering is a later entrant to this market," ITIC's DiDio noted. "On the other hand, as the saying goes: 'To win it, you've got to be in it,' so give Microsoft credit for getting into the game. Marketing, pricing and cross-platform support will hold the key to their success."