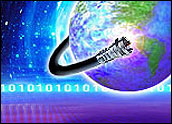 Broadband penetration of the nation's rural areas has more than doubled since 2003, but it still lags behind urban and suburban areas by a substantial margin, according to a survey released this week by the Pew Internet & American Life Project.
By the end of 2005, surveyors found, 24 percent of rural Americans had broadband Internet connections, compared to only nine percent in 2003. However, that number significantly trails the rest of the nation, where broadband penetration is 39 percent.
"Even though there is a substantial gap, it is closing at a fairly good rate, which was a bit of a surprise to us," Pew Associate Director John Horrigan told TechNewsWorld.
Availability Gap
The reason the gap is closing so fast is broadband availability, according to Bruce Leichtman, president and principal analyst with the Leichtman Research Group in Durham, N.H. "If you turn back the clock just two years, the availability was much lower in rural America than it is today," he told TechNewsWorld.
The survey — based on information gathered in September and December of 2005 from 5,262 adult Americans — also showed a notable increase in overall Internet usage, regardless of connection type, by rural Americans. Some 62 percent of rural adults use the Net, compared to 70 percent in the rest of the country. However, that eight percent gap is about half of what is was in 2003.
There's a definite relationship between Internet usage and broadband service, Horrigan noted.
"One finding that's been consistent throughout our work has been that a broadband Internet connection really expands the scope of what people do online and increases the frequency of people going online and using the Internet," he said.
Cable and DSL Rule
As for reception of broadband service, the Pew poll revealed that rural citizens weren't very different from other Americans. Some 46 percent use DSL, compared to 47 percent in urban and suburban America; 44 percent have cable modems, compared to 45 percent elsewhere; and six percent have wireless or satellite access, compared to five percent elsewhere.
Of the alternative technologies for delivering broadband access to rural areas, satellite delivery appears to be the most promising, according to Leichtman. "Now there is at least a consumer-priced satellite offering in WildBlue," he maintained. "That's something that really didn't exist a year ago."
WildBlue, located in Greenwood Village, Colo., offers home delivery of broadband via satellite at 512 kbps for US$49.95 a month, plus the cost of installation, $179.95, and equipment, $299.
Filling Divide
Asked if the new numbers on broadband penetration into rural areas are cause for optimism that the so-called "Information Divide" may be less serious than predicted by some tech pundits, Horrigan observed:
"Yes and no. Yes, in the sense that the fact that rural users are, at a fairly quick rate, getting broadband shows that demand is active in that part of the country. The other issue, though, is that there are still problems with the availability of high speed infrastructure in rural America."
Country folk also use the Internet slightly differently than their urban and suburban counterparts, according to the survey. "Rural Americans definitely use the Internet as a distance-killing application," Horrigan avers.
Convenient Classroom
That was most vivid in the area of education, he said. According to the survey, 15 percent of rural Americans had used the Internet to take a class for college credit, compared to 11 percent in cities and 'burbs.
"Regardless of connection speed, the Internet can be a more convenient way to take a class when it's a very long drive to an actual educational institution," Horrigan explained.
Rural Websters also download screensavers more than surfers in other areas, 28 percent versus 22 percent, as well as computer games, 25 percent versus 20 percent.
On the flip side of usage, rural Americans were less likely than citizens living elsewhere to use the Internet to buy or make a reservation for travel service, by a margin of 51 percent to 65 percent; to bank online, 34 percent versus 43 percent; use online classifieds, 30 percent to 37 percent; or read a blog, 21 percent versus 28 percent.