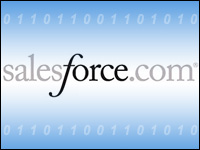 Salesforce.com has taken an interesting step in stemming the fallout from its recent hackathon by deciding to award a second prize of US$1 million to another team of developers.
At the Dreamforce software conference last month, Salesforce.com held a Salesforce1 Hackathon, in which more than 4,500 developers were encouraged to build apps using the company's customer relationship management platform.
Firestorm Over Judging
A firestorm erupted over the judges' decision to crown Upshot the million-dollar winning team for an app that generates mobile reports for sales people. One of the team members was a Salesforce.com employee for several years, and the judges were unaware that the app had been in at least some form of development for months. Apps typically are created from scratch during hackathons.
Salesforce.com carried out an internal review of the judging process afterward and ruled that all five of the finalist teams, from more than 150 submitted apps, met eligibility requirements for the hackathon. However, it noted that at the final stage, the judges might not have had all of the information they needed to properly evaluate how competitors used existing code in their apps.
Prize Money Boost
In the end, Salesforce.com decided to award the Healthcare.love team — which originally won the second-place $50,000 prize for an app that helps people find a health plan — with $1 million as well. That decision might go some way toward soothing concerns within the developer community over how Salesforce.com handled the judging process.
"It seems like it's very fair because that way, no one loses," Godard Abel, founder and chief executive officer of G2Crowd, told TechNewsWorld. "I think I saw Salesforce said it was the first time they put up this kind of a prize, and they needed to be clearer on the rules up front."
No Losers
"They're also learning. I thought they handled it transparently and well. Obviously, they can learn from it, and I'm sure next year they can make the rules clearer to begin with so they have less controversy. I think in awarding a second prize, they make sure there's no losers in the situation," Abel added.
Salesforce.com was unable to determine whether the use of pre-existing code would have affected the final outcome, so instead declared a tie between Upshot and Healthcare.love, awarding the additional $1 million prize, said Chief Legal Officer Burke Norton.
Another concern arose over one of the Upshot developers having previously been a Salesforce employee (and possibly familiar to a final round judge who also was an employee). However, he was eligible to participate in the hackathon per the rules, since he left the firm before Aug. 31.
Previous Code Allowed
Although Upshot used code written before the hackathon, Salesforce.com permitted it, since the majority of the app was created during the event and did not violate the rights of any third party.
Meanwhile, the internal review also looked at a claim that some Healthcare.love team members were ineligible to take part since they worked for a company in which Salesforce.com held a small equity investment. However, the developers were eligible to take part, the audit found, since the investment was "immaterial" and Salesforce.com had no sway over the team members' employer. That company was not a Salesforce.com-related entity, per the rules.
Execution Issues
"The Dreamforce Hackathon had several structural flaws and execution issues, but we never viewed any malicious intent from Salesforce and their latest response shows that," Narinder Singh, president of TopCoder and cofounder of Appirio, told TechNewsWorld.
"Communities require trust and transparency. Too often companies inadvertently attempt to create egosystems instead of ecosystems. Focusing more on the end developer and their needs as an individual vs. only on firms ultimately results in a better outcome for all sides," Singh added.
"The Salesforce Platform and partners are a key part of their strategy, so I think having a happy developer ecosystem is very important," G2Crowd's Abel said. "I think they want to make sure that continues."