Samsung on Wednesday showed off its much-anticipated Galaxy Gear smartwatch at the IFA consumer show in Berlin.
The device serves as an ancillary to a user's Galaxy Note 3 and Galaxy Note 10.1 tablet, both also unveiled at IFA on Wednesday.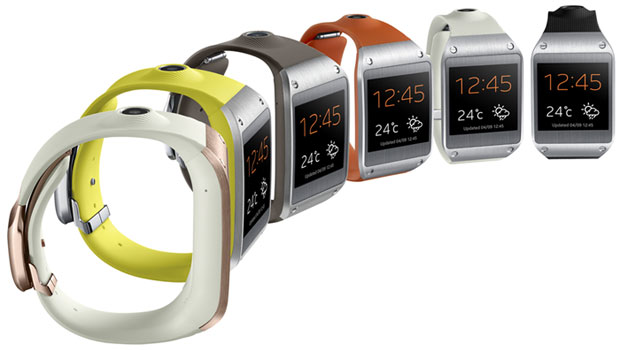 Both these devices run Android 4.3, which support the Bluetooth Low Energy standard.
Priced at US$300, the Galaxy Gear will be available in the United States in October.
The smartwatch has drawn fire for its clunky design, inadequate battery power, high price and other perceived flaws, yet the company is offering little response to the criticism.
Samsung "is not providing any executive interviews regarding products at this time," spokesperson Kimberly Kulesh told TechNewsWorld.
The Galaxy Gear's Features
The Galaxy Gear has an 800-MHz processor and a 1.63-inch Super Amoled display with 320 x 320 pixel resolution.
It has a 1.9-MP camera with autofocus that can take stills or record and playback video at 720p.
The smartwatch notifies users of incoming messages and delivers them a preview. Users can accept or ignore messages.
A built-in speaker lets users conduct hands-free calls through the Gear, in theory, although some complaints suggest that the speaker is weak and can only be used in relatively quiet areas.
The Gear's S Voice feature lets users draft messages, create new calendar entries, set alarms, and check the weather hands-free.
A variety of third-party apps are available for the Galaxy Gear, including Evernote, an eBay app and global messaging service Line.
The smartwatch has an accelerometer and a gyroscope, as well as 4 GB of internal memory.
Users can browse, play and control songs on their mobile device using the Galaxy Gear.
An Auto Lock feature automatically secures the screen of the user's smartphone when the Galaxy Gear is more than 1.5 meters away from it, and unlocks the screen when the two are in close proximity again.
The Galaxy Gear also serves as a pedometer, monitoring and tracking users' physical activity through built-in sensors.
Stripping Down the Gear
"I saw the presentation today, and one thing that really struck me was how it seems like because they're trying to satisfy every customer need, their device has become a lot more complex," Darren Hayes, a professor at Pace University, told TechNewsWorld.
The Gear is "way too large and heavy," remarked Daniel Matte, an analyst at Canalys. "I personally think the camera embedded in the strap is quite obtrusive and ugly."
On the other hand, the Galaxy Gear is "targeting a much younger, more tech-savvy audience, and I think they have a very different strategy as opposed to Apple's easy-to-use interface," Hayes remarked.
At $300, the Galaxy Gear is "pricey for me, and I've seen other smartwatches offered at a lower price point, but kids always seem to find the money to buy new toys," Hayes continued.
The smartwatch has less than one day's battery life, "which is not adequate for the mass market consumer," Canalys' Matte commented. Its user interface "does appear sluggish, though it's not a final product."
Samsung has promised to roll out Galaxy Gear support for the Galaxy S III and S4, as well as the Galaxy Note II, by October, Matte said.
Clutching at Cupertino
Samsung's announcement of the Galaxy Gear appears to have stolen the thunder from Apple's highly anticipated iWatch, which is expected to be unveiled at some as-yet-undetermined date falling somewhere between later this year and the second half of 2014.
However, "Apple in all honesty doesn't care," Canalys' Matte told TechNewsWorld.
As for the Galaxy Gear's other major current competitors, the Sony SmartWatch and the Pebble, Sony "plans to ship quite a few SmartWatch 2s at a more affordable price than the Gear," Matte stated. However, "the SmartWatch 2 is still a very iterative, uncompelling product.
Pebble "has Android and iOS interoperability going for it," Matte opined. "It's also a more focused product — but they don't have the channel and marketing of Samsung or Sony."