Samsung on Thursday announced the Galaxy S III mini, a smaller version of its Galaxy S III 4.8-inch smartphone.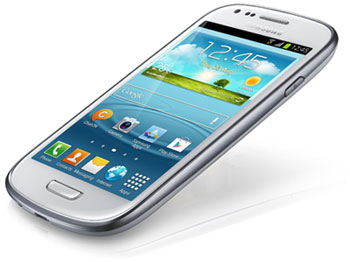 The Galaxy S III mini
With a 4-inch screen, the S III mini is aimed at consumers who are looking for more practical smartphones, Samsung said.
Does this mean the full-fledged Galaxy S III is impractical? Or could the statement be a swipe at the iPhone 5, which Samsung has been sniping at?
"It means that the market is used to smartphones, and the new customers coming into the smartphone world are not the adventurous early adopters who pay a premium for any technology features," Michael Morgan, a senior analyst at ABI Research, said. "It's more of an attempt to go after those that may get a Motorola M, or even an iPhone 4S instead of the iPhone 5."
Pricing and availability for the Galaxy S III mini were not disclosed. Samsung also has not made any official announcements regarding availability. A company spokesperson declined to provide further details.
The Mighty, Mighty S III Mini
The S III mini is a compact version of its flagship big brother. It runs Android 4.1, aka Jelly Bean, and has a 4-inch Super Amoled screen.
Although Jelly Bean has its own intelligent personal assistant, Google Now, Samsung has equipped the S III mini with S Voice, its answer to Apple's Siri. S Voice lets users unlock the phone, play songs, adjust the volume, organize their schedules, or launch the camera and snap pix by voice commands.
The S III mini also understands gestures. Just like its big brother, it has Samsung's Smart Stay eye tracking feature and TouchWiz user interface. It also has Direct Call, which lets users automatically dial a number by lifting the phone to an ear, and Smart Alert, which alerts users to missed calls or messages when they pick up the phone.
There are the usual front and back cameras, an accelerometer, a digital compass, a proximity sensor and a gyroscope. The device runs on HSPA and EDGE/GPRS networks.
The Galaxy S III mini supports WiFi a/b/g/n and Bluetooth 4.0. It comes preloaded with Google applications, including Google Maps, Gmail and Google Search.
Lack of LTE
"I'm not seeing any language that states the [S III] mini will support LTE," ABI's Morgan commented. "It could have been omitted from the documentation but I don't think that was an oversight."
The lack of LTE capability, the smaller screen and other features means "the price of this device will really help drive it towards mass market sales and users who are still looking to upgrade from feature phones but don't want a cheap smartphone that's barely better than their old feature phone," Morgan told TechNewsWorld. "They are selling state of the art technology minus LTE at a better price."
Samsung is "probably targeting the European market, which prefers a smaller screen," Ramon Llamas, a senior research analyst at IDC, told TechNewsWorld. "They're just taking their expertise and offering it in a smaller package."
Stomping on Apple's Toes
It's also possible that Samsung's taking a swipe at Apple with its use of the word "mini" in the upcoming device's name, IDC's Llamas speculated.
"When did the term 'mini' ever really apply to a 4-inch screen?" Llamas asked. "And what other device with the word 'mini' in its name is coming out?" That could be a swipe at the upcoming iPad mini.
Further, Samsung might also be taking a shot at the iPhone 5, Llamas suggested. "Samsung might be saying, 'Your iPhone 5, Apple, is just our Galaxy S III mini, it's not even comparable to our full-sized S III. Samsung has relished its marketing campaign taking punches at the iPhone 5."