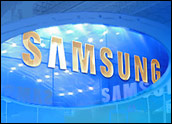 Samsung on Wednesday announced a portable Blu-ray disc player with 3D capabilities for the United States market.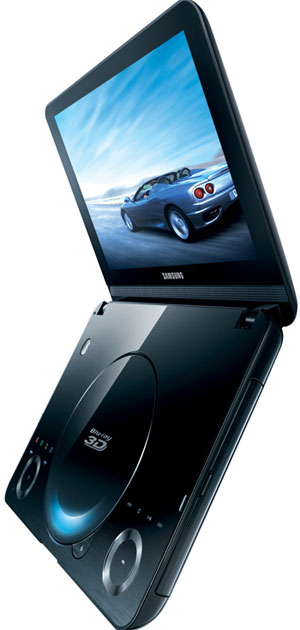 The Samsung BD C8000 Portable 3D Blu-ray Player
This was one of a slew of Blu-ray announcements that included new products and an expanded selection of 3D Blu-ray content.
Samsung also announced a line of 3D-capable high-definition television sets (HDTVs) that included a very competitively priced 50-inch TV set coming in at under US$1,100.
The Blu-ray of Happiness
Samsung claims a world's first with its BD-C8000 portable Blu-ray player. It can play full 1080p HD video, enable 3D playback when connected to a 3D-capable TV set and used with 3D glasses, and has a 10.1-inch screen.
The BD-C8000 has built-in WiFi and users can access a library content and applications through Samsung Apps and HDMI 1.4a support. It offers three hours of battery life.
Pricing stands at about $500.
"That"s a pretty good price for a portable 3D Blu-ray player," Rob Enderle, principal analyst at the Enderle Group, told TechNewsWorld.
Portable Blu-ray players are not new; Panasonic has had one out for about one and a half years, and RCA came out with one some time later, Enderle pointed out. However, they didn't have 3D and "never sold particularly well," he said.
Samsung did not respond to requests for comment by press time.
Pros and Cons of Portable Blu-ray Players
Would anyone want a portable Blu-ray player? And isn't the format in danger because of the growing popularity of online video?
"I think the portable Blu-ray market is pretty limited because the downloadable digital media market has grown so quickly," Carl Howe, director of anywhere consumer research at the Yankee Group, told TechNewsWorld. "People are grabbing their iPhone or iPad and playing high-definition movies on those devices."
Other manufacturers, such as Archos, also offer portable devices that play streaming HD video, Howe added.
"Does Samsung need to make a portable Blu-ray player?" Howe asked. "The Blu-ray market is a tough one to penetrate, and when you add a portable aspect, that may make the niche more marketable, but it's still a niche," he pointed out.
"Sony is looking at another technology already to replace Blu-ray," Enderle said. "Blu-ray came too late and was too expensive to ramp in a timely fashion, and it's now being eclipsed by online content."
Blu-ray and 3D: Joined at the Pixel
"If 3D is going to be successful, it will be on Blu-ray, because that's the only format that gives you full 3D resolution for each eye," said Pietro Macchiarella, a research analyst at Parks Associates. "Every other resolution gives you half the 1080p resolution for each eye."
Further, Blu-ray isn't so bad off, Macchiarella indicated.
"From the distribution and logistical point of view, a Blu-ray disk is compatible with both 3D and 2D, so it has a built-in market," Macchiarella said. "If you don't have a 3D player, you can still watch the Blu-ray disk on a legacy 2D player."
Samsung's pushing Blu-ray technology hard. It will offer the 3D Blu-ray version of the DreamWorks animated movie "How to Train Your Dragon" exclusively with its 3D starter kit this fall. Later this year, it will also exclusively offer DreamWorks' "Shrek" film series in 3D Blu-ray for the first time.
Further, Samsung will offer two Imax productions, "Into the Deep" and "Galapagos," and Giant Screen Films' "Mummies: Secrets of the Pharaohs" in 3D later this year.
3D TV Prices to Fall
On Wednesday, Samsung also introduced new 3D LED and plasma television sets.
The LED set is the UN65C8000. This has a 65-inch screen, and Samsung claims it's the largest full HD 3D LED TV set available for the home. It has Samsung's proprietary Precision Dimming technology, is WiFi ready and supports Skype through Samsung Apps. Owners can access other apps, such as Hulu Plus and ESPN Next Level, through Samsung Apps.
The UN65C8000 is priced at about $6,000 and will be available this month.
Three 3D plasma HDTVs were also unveiled. One, the PN50C490, has a 50-inch screen and has Clear Image Panel technology as well as 600 Hz Subfield Motion technology.
The PN50C490 is priced at just under $1,100 and will be available this month.
"3D carries a large premium, and $1,100 is a very nice price for a 3D-capable TV set," Enderle said.
Samsung's low asking price hints of falling prices for other 3D-capable TV sets.
"By the fourth-quarter market ramp, it's likely we'll see price cuts for 3D-capable TVs," Enderle said. "Currently, they're too expensive for the market."
Over time, the prices of 3D TV sets will fall, Parks Associates' Macchiarella predicted. That will partly be due to their widespread acceptance among consumers and the consequent economies of scale in production.
"We think 3D will be a standard feature of 80 percent of TV sets by 2014," Parks' Macchiarella said. "It will be there but you won't necessarily have to watch every program in 3D."